Stress analysis simulation: efficient until the last link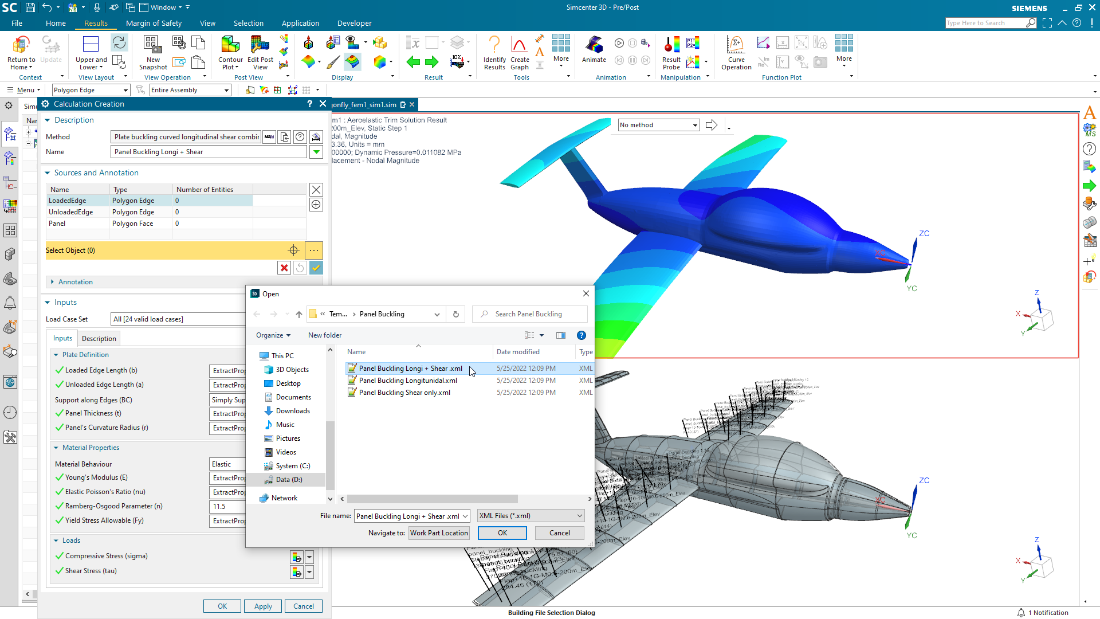 Stress analysis engineers know they must prepare well because they are the last link in the simulation chain! Any unexpected event will result in delays, and there is no further step to compensate! Plus, structural assessment is mandatory for certification, so there is no way to avoid it.
The following may sound familiar to most aerostructure stress analysis leads.
"We worked hard to put together the Global Finite Element Model (GFEM) modeling rules. As a result, we've been able to automate the load extraction from our pre/post stress analysis! We also put in place some spreadsheets to ensure we get the correct dimensions of each component from the design department.
I'm glad to have a team member who's very good at scripting! We automated a lot of the data populating, ran our analytical methods with a tool they made for this purpose, and created a pretty nice UI. Fortunately, they made the documentation that comes with the tool so we can easily ramp up newcomers. It's not really stress analysis work, and they spend most of their time on this, but hey, all the teammates use this, so it's worth the investment! When there is a design change, we can reuse the same approach once the team has properly set up the GFEM."
Aircraft have been designed and certified this way for decades, so what's the problem?
First, GFEM models do evolve with time. In turn, scripts need to be updated accordingly, and the team will also need to validate the work. Finally, the team may need to add changes such as additional dimensions to the UI. What at first seemed like a small task escalates into an extensive project.
Once you have created an updated tool, you still need to keep existing tools for MRO activities on legacy models. The cost of such a change is not only about updating the modeling rules, but also about maintaining a hand-made workflow in line with both legacy and recent GFEM. That's a very significant maintenance effort, even for small changes!
Secondly, did you ever see a program without any unexpected event? Of course not! We all strive to reduce their occurrences but never reach 0%. What then? We need to urgently adapt the stress analysis setup, which likely leads to heavy, tedious work and cross-checking.
Finally, what happens if the "script guy" is not available for some reason? Even worse, what if they leave the company? How much additional delay will be the result of the two previous cases?
How can you minimize the stress analysis simulation risk?
Flexibility is great.
Contrary to traditional approaches in stress analysis, Margin of Safety is natively fully integrated into Simcenter 3D. Out-of-the-box, it provides means to get dimensions from the CAD and/or the FEM by clicking on related geometries and loads. It can also be extracted via referencing a set of elements or the underlying CAD geometry. Built for flexibility, it allows the user to manipulate the dimensions, material specifications, and loads of any model. In turn, there is no need to duplicate analytical methods for each modeling ruleset. The software comes with the most renowned airframe structural assessment methods (from Bruhn, NACA…).
Additionally, you can add your own specific methods (just the mechanical part!), based on the one provided by the software or on your already existing tools. However, provided all appear seamlessly to the end-user in a fully harmonized pre/post/stress analysis platform, you no longer need to maintain a UI and duplicate or enhance mapping depending on the model ruleset.
Thanks to this unique flexibility of setup, you can react to any change in the modeling rules. Any user can adapt the mapping between the model and the method without any scripting knowledge. Moreover, this flexibility allows you to account for any unexpected event such as a last-minute change in a method to cope with recent physical test results, GFEM not following all the modeling rules properly, etc.
Auto-updates a very useful too.
Once your model is setup, you do not need to spend days updating the whole thing due to a design change event. The GFEM idealized geometry will update automatically, and so will the associated mesh. Happily, the stress analysis setup will also update automatically, with new dimensions, materials, and loads!
With the latest addition to the Margin of Safety tool, The Calculation Template, you can reuse a setup from a previous model in a new model. All you have to do is save your existing setup as a template file. You can easily share the template file across your stress team, saving analysis setup time and ensuring consistency.
The calculation templates give the user complete flexibility in their work and the tools used. The calculation templates enable this flexibility by allowing the user to reuse and partially modify the setup. The templates, therefore, facilitate the user to use the same extracted loads but choose to get their dimensions from FEM rather than CAD or save numerous templates to streamline their setup when they have differing modeling rules in multiple projects.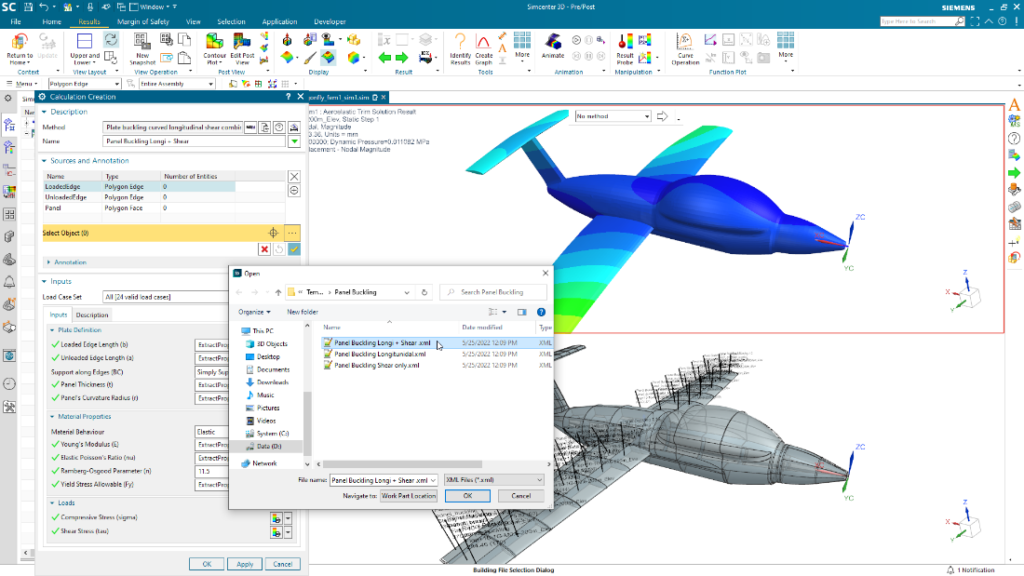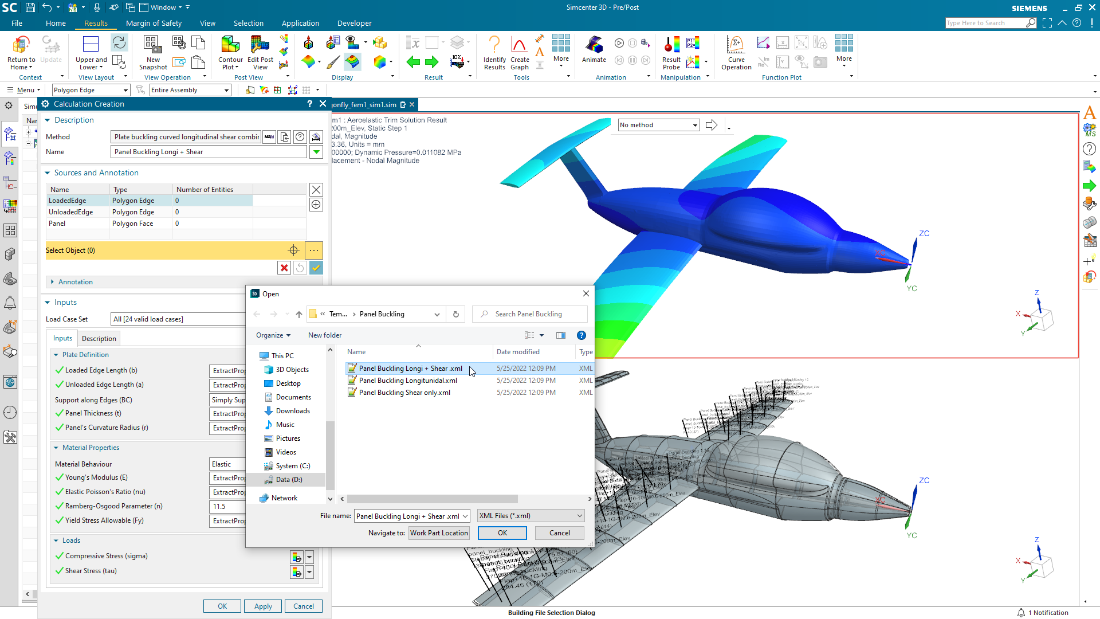 Oh, and I almost forgot about our "script guy" … he's finally back to being a full-time stress engineer, and the stress team is performing better than ever!
Other blogs you may find interesting
Strength and fatigue analysis in Simcenter 3D 2206
Perovskite solar cells: mitigating the cracks in the energy crisis
This article first appeared on the Siemens Digital Industries Software blog at https://blogs.sw.siemens.com/simcenter/stress-analysis-simulation-efficient-until-the-last-link/