Products
Are our inventions making us deaf?
Before you start reading this blog, I encourage you to pause and take in the noise around you. What do you hear? For me, it is the sound of a train passing over two miles away. Cars driving by my office window. The hum of my refrigerator. A plane overhead getting ready to land at the airport over 20 miles away from my home.
These sounds did not exist until recently. With the Industrial Revolution and our ever-increasing reliance on machinery came a whole world of noise that our ears were not designed to handle. In fact, research shows that the Industrial Revolution and urbanization had a direct impact on the decibel levels we are exposed to on a daily basis, which has a detrimental effect on our hearing.
How does noise affect our hearing?
Our inner ear (cochlea) is composed of about 16,000 tiny hair cells that enable our brains to detect sounds. These hairs can be damaged by one-time exposure to an extremely loud noise, or by listening to sustained loud noises over time. Once these hairs sustain too much damage, it is impossible to rebuild them. Often, we do not even notice hearing loss until 30-50% of hairs have died.
The WHO estimates that, by 2050, 1 in 4 people will have some degree of hearing loss. At least 700 million will require ear or hearing care.  
We as a species have created the very machines that are destroying our hearing.
Noise and invention: A complicated relationship
In the past, human invention prioritized speed and convenience over safety and sustainability. It was acceptable for cars, planes, and other machines so ubiquitous in our everyday lives to be loud and potentially unsafe. As long as they got the job done, right?
Today's engineers don't have this luxury. Governments are placing stricter regulations on the level of noise that cars can emit. Consumer preference is shifting to quieter, smoother cars. Workers' rights laws now include ear protection for workers in loud environments. People who live close to airports have banded together to demand less airplane noise.  
In other words, the future of human invention will be quieter. In this blog post, we will explore how companies in the automotive and heavy equipment industries are using technology to make quieter, better products.
Chasing (quiet) cars
In the automotive industry, noise, vibration and harshness (NVH) has historically been one of the last areas of vehicle development that automakers have analyzed. As a result, NVH issues were often only addressed right before production, which is extremely disruptive and expensive.
Additionally, many automakers still perform NVH analysis on a steel test bench. This is problematic for many reasons. The first is that it is near impossible to physically test every single condition or scenario that a vehicle component may be exposed to by relying only on a test bench. Another reason is that, once engineers move the component from the bench to a car, the vibration often increases significantly. This makes the steel test bench-solution alone unsuitable for accurately predicting noise and vibration levels.
In a recent example, Hitachi Automotive Systems partnered with Simcenter Engineering and Consulting to transition the NVH testing of a steering system from a steel test bench to a simulation-based approach. The Simcenter Engineering team used component-based transfer path analysis (TPA) to "split" the components apart. This allowed them to see how the steering system was behaving and how this behavior affected overall NVH in the vehicle.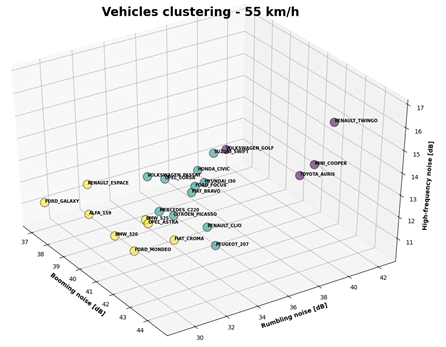 As a result, Hitachi Automotive Systems anticipates that they will be able to reduce the number of prototypes from at least 4 to just 2. This would result in time reduction of 50% in prototyping, component testing and vehicle testing.
Balancing car handling, noise and ride comfort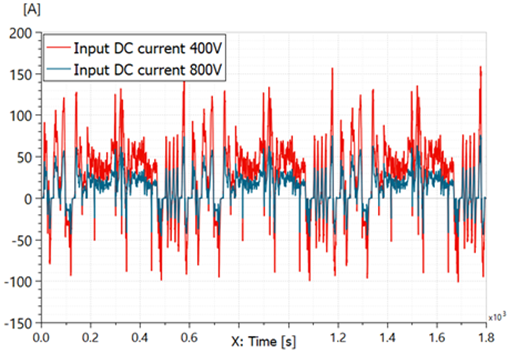 In another example, Hyundai Motor Corporation worked with Simcenter Engineering to go beyond troubleshooting NVH. In an unreleased minibus variant, Hyundai engineers identified a constant vibration on the rear seats as well as at the driver's foot location. This vibration resulted in a booming noise.
From the outset, Hyundai Motor Company were convinced that resolving this vibration was to be part of a multi-attribute balancing (MAB) approach. This would include competition benchmarking, target setting, design and validation in order to balance handling, NVH and ride comfort.
In order to achieve proper balancing both subjectively and objectively, Hyundai and Simcenter Engineering determined that the best approach would be to simultaneously apply test and simulation to identify the current design issues. Using a TPA approach, engineers at Simcenter were able to identify the source of the booming noise and determine countermeasures.
Using this unified test and simulation approach, Hyundai realized a final improvement of up to -5 decibels for the most critical points. "Hyundai Motor Company and Siemens will remain important partners for optimizing NVH in the future," stated Taehoon Lee, senior research engineer at Hyundai.
Quieter tractors = more productive farmers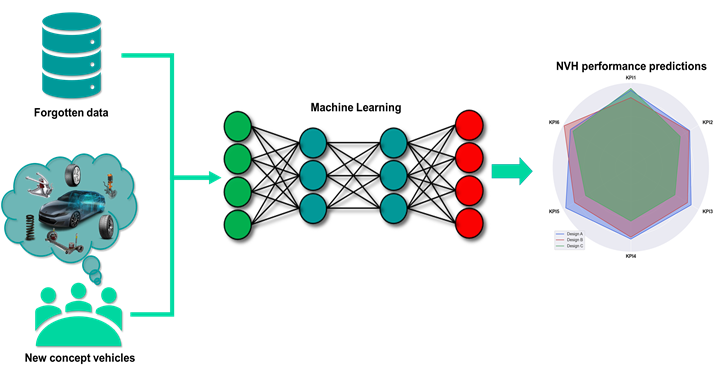 Today's farmers feed the world faster than ever before: the average farmer produces 12 times more agricultural output per hour than in the 1950s. This is due to improved agriculture techniques and high-performance equipment, such as GPS, intelligent power management systems, powerful engines, high-torque transmissions and other advanced technologies.
With this new technology also comes an NVH problem: a booming noise in the cab at high speeds. This is a problem for an industry that relies on farmers being able to stay in the cab all day without suffering from fatigue.
To solve this issue, John Deere partnered with Simcenter Engineering Services. Using acoustic simulation software and experimental techniques, Simcenter Engineering services helped John Deere spot a resonance from an unexpected source, giving John Deere the tools and insight to further improve the acoustic quality in its next generation of products.
"The result of the analysis together with our in-house experience on the machine allowed us to quickly identify possibilities to enhance the cab acoustics. This hybrid approach – the use of experimental and numerical acoustic analysis – is helping us to shift the NVH optimization of our tractors upfront in the development process. That helps us to better understand the complex acoustic system that we are dealing with," said Dr. Ing. Christian von Holst, group leader of suspension systems at John Deere Werke Mannheim. 
If you'd like to learn more about how the Simcenter portfolio helps reduce noise in heavy machinery, view our on-demand webinar.
One size doesn't fit all
The agricultural industry has recently adopted continuously variable transmission (CVT), particularly among vegetable and specialist growers, due to its flexibility. CVT is a step-less transmission that doesn't require a gear stick. This in turn frees up more time for the driver in the cab. Furthermore, CVT offers better fuel economy than conventional transmissions since the engine can run at its most efficient revolutions per minute (RPM) in a range of speeds. However, in CVTs, noise issues are more prevalent and more difficult to solve. This is due to the infinite number of effective gear ratios and the complex structure of the CVT drive that contains a hydrostatic unit and open planetary gear.

Finnish tractor manufacturer Valtra partnered with Simcenter Engineering to reduce the noise of a CVT tractor. Working together, the two teams determined the correlation between alignment parameters and noise. Using a combination of test and simulation, Simcenter Engineering helped Valtra reduce transmission noise by more than 3dB in critical conditions and significantly improved cabin sound quality.
The future of invention is quiet
These stories prove that human advancement does not need to come at the expense of our health and safety. Machines can still take us further, feed us more efficiently and perform at a higher level, while also being quieter.
The future of invention is quiet. Will your products be part of it?
To learn more about Simcenter Engineering and Consulting services, click here or get in touch by emailing us at engineeringservices.sisw@siemens.com.
This article first appeared on the Siemens Digital Industries Software blog at https://blogs.sw.siemens.com/simcenter/are-our-inventions-making-us-deaf/