Corporate
Build a sales and marketing engine that thrives in a SaaS world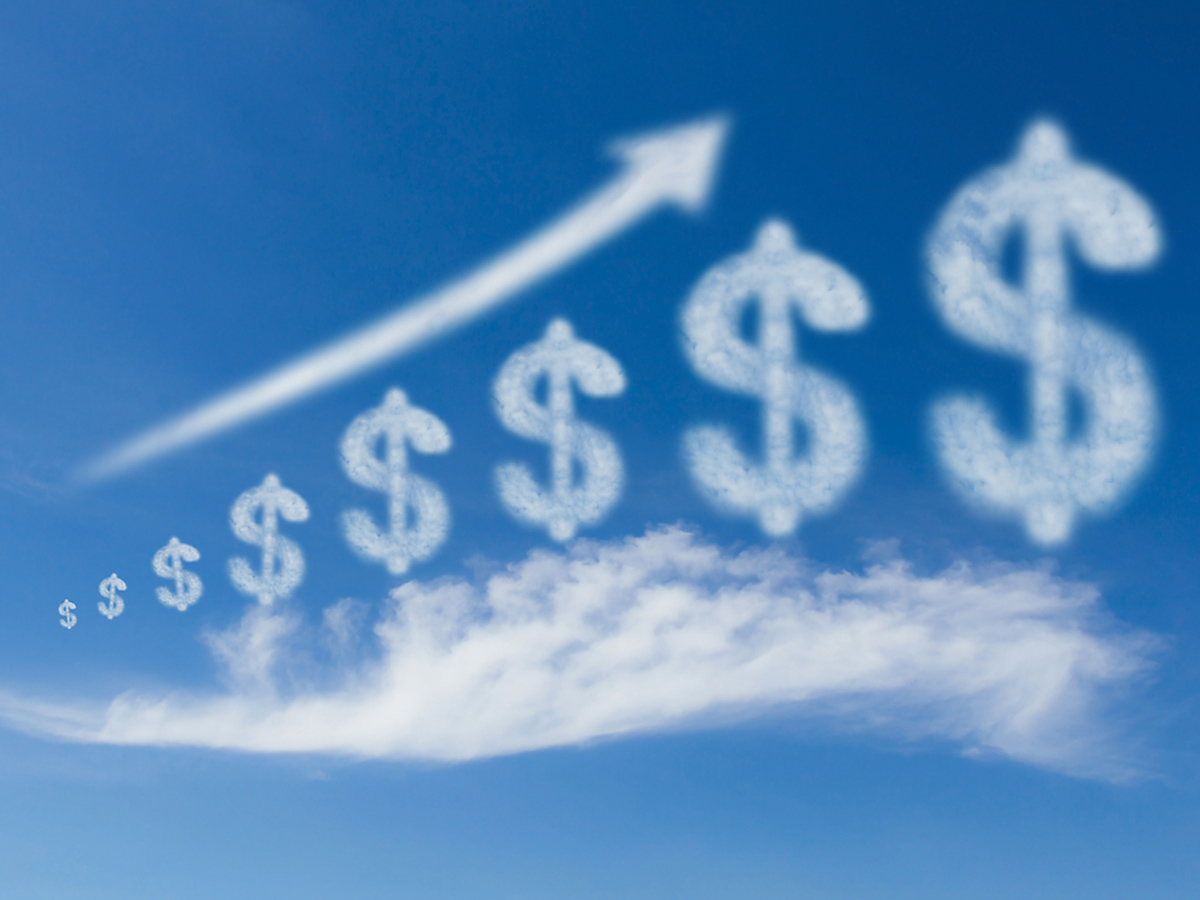 Begin with the End in Mind
Times have changed. The B2B technology market can no longer grow by simply selling products and services. Even if the approach results in a successful transaction, it will not address the longer-term, more critical customer goal: achieving strategic business outcomes. Enabling better customer outcomes takes more than just a good sales pitch. It requires forethought across technical, sales and services capabilities. This is the only path to relevance and durability in today's highly competitive SaaS market.
Even sellers committed to this new way of doing business too often overlook the need for an integrated approach to the whole customer lifecycle. It takes strong digital marketing skills to identify relevant opportunities and continues by delivering customer success and support services that drive adoption and retention. The common thread is an in-depth understanding of the customer's business needs. Demonstrating this level of commitment – not products – drives brand loyalty because customers feel they can expect an ongoing dedication to meeting their needs.
By consistently delivering measurable business outcomes, vendors can partner with customers' businesses, driving higher customer retention and rapid account expansion. In other words, customers only want to pay for business outcomes, and they will reward those partners with long-term, mutually beneficial relationships. Sellers must provide more than a deep knowledge of their products and the transactional process of selling products and services.
Engage multiple decision-makers on their turf
Understandably, purchase decisions impacting an entire business require buy-in from numerous stakeholders and increasingly involve decision-makers across more business lines. Successful cloud/SaaS suppliers have a strategy to meaningfully engage each customer persona (for example, CEO, CTO, LOB leaders, engineering, etc.). They plan to nurture the sales cycle to a successful close by considering the purchasing body's individual and collective needs.
In today's world, it's common for various departments, including procurement and a consortium of VPs, users and C-level executives (each with unique needs and pain points) to be involved in the decision-making process. A seller must begin by asking their main contact questions such as: "Who is involved and when?" "What are their roles and influence in the process?" and "What are the stages in the decision-making process?"
Mapping stakeholders helps identify the influencers and decision-makers participating in the process. Learn as much as you can about each contact. Use corporate bios and social media such as LinkedIn to determine their buyer personas and develop their profiles, including length of time with the company, level of investment in the buying process, alliances within the organization and more.
Here are some tips for selling software as a service (SaaS) to multiple decision-makers:
Develop a strategy: Proactively engage relevant decision-makers and ensure you are addressing the needs of each player. Many sales representatives mistakenly stay with their primary contact throughout the process. The key is to develop relationships with all the players.
Provide critical information: Clearly communicate how your solution will help the business and each decision-maker to achieve their desired outcomes. Verbalize key differentiators and benefits that align with each stakeholder's needs and demonstrate your depth of understanding of their needs.
It is also critical to develop a positive consensus among the stakeholders. While there may be multiple individual evaluators with unique needs, the seller must lead the customer to a coordinated 'yes' based on achieving the greater interest of the business. Research shows this approach leads to a longer enduring supplier-customer relationship, especially in SaaS-based relationships.
Multiply the 'front end' of your SaaS opportunity pipeline
As the B2B software market shifts increasingly to cloud/SaaS solutions, there will be a direct implication on channel partners' financial model and cash flow. These changing market forces make it essential for partners to focus on the "front end" of their businesses and develop a capability to create, engage and win more customer opportunities.
Digital marketing becomes a key sales enabler by offloading the responsibility of "high quantity outreach" from sales reps, allowing them to focus on engaging and winning opportunities. Effective digital marketing campaign strategies must align with your brand, create connections with your audience and produce measurable outcomes.
Know Your Audience – Understanding your target audience is key to creating effective digital marketing campaigns. Know their demographics, interests, and industry-specific pain points.
Optimize Your Website – Your web presence is the foundation of your digital marketing strategy. Ensure it's optimized for search engines, mobile devices, and user experience.
Create Valuable Content – Content is king in digital marketing. Create valuable content that educates, entertains, or inspires your audience. Deliver content on a regular cadence.
To drive sales momentum from strong digital marketing partners should focus on:
Driving down the cost of customer acquisition (COCA) with rapid engagement tactics and fast, agile sales cycles
Optimizing pricing models to ensure each customer engagement is profitable and positioned effectively versus competitors based on customer outcomes
Investing in customer success resources. This post-sales resource is essential to driving user satisfaction, which leads to expansion opportunities and customer retention
Leveraging new partnerships and integrations. Build complementary relationships with collaborators who can deliver additional solutions that drive greater value for your customers
Expanding into new markets. Leverage your expertise in solution delivery to engage customers in additional market segments or vertical categories
Create a financial productivity machine
While the core software solutions you sell may not change in a cloud/SaaS model, how IT solution partners make money will change. Aligning with customer and market dynamics requires effort, investment and time. However, if well executed, the rewards are very much worth it.
As customers demand the affordability, flexibility and scalability of cloud and SaaS solutions and the presence of hyperscaler marketplaces becomes more essential, pressures on product margins for vendors and channel partners will increase. To mitigate this pressure, partners must strengthen their services capabilities, expanding from technical solution services to include professional services that enable customer business outcomes.
SaaS and cloud solutions multiply the opportunity potential for partners and present engagement opportunities that yield greater revenues than traditional reselling. The key to SaaS and cloud model success is shifting from 'margin' to 'multiplier' – which requires changing the scope of your business model and your basic sales conversations.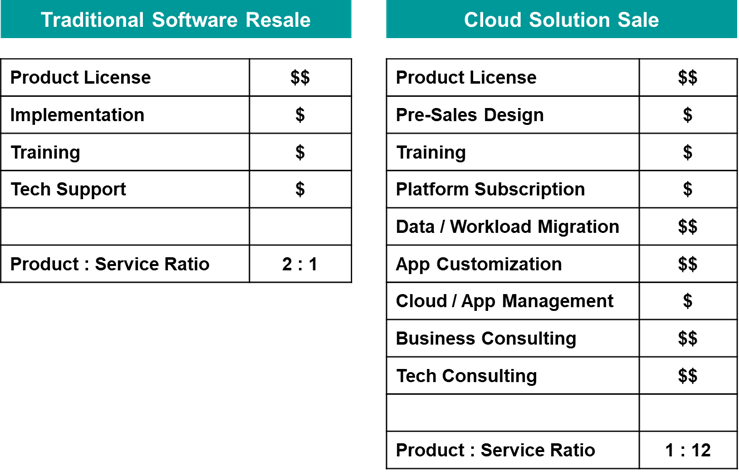 Previously, your business model was built on software license transactions, maintenance/support, and directly related technical and training services. This model would reliably produce a revenue mix of product-to-service revenue of 2:1. That meant for every dollar of software you sold, you could expect to generate a half-dollar of services. However, a holistic approach to cloud/SaaS engagements expands how a solution provider generates money by adding business and technology consulting opportunities, process and workflow design, infrastructure and platforms, and extensive post-sales integration and business productivity improvement. This new business model can reliably yield product-to-services ratios that reach 1:4, 1:6, and even as high as 1:12. This change will not happen overnight. Still, it's vital for your longevity to begin considering opportunities that allow you to deliver more complete solutions and collect more revenue in return.
Look out for our next blog, "Building a Professional Services Practice to Multiply Your Profitability," the fourth in this five-part series on helping partners understand and overcome the challenges of moving their business to the cloud.
Catch up on the Siemens Xcelerator for Partner Excellence blog series by reading Part 1 and Part 2. If you're a Siemens Partner, check out the Siemens XPE team's recent webinar on boosting success leveraging hyperscalers!
About the authors
Toni Reszka is Director of Global Partner enablement at Siemens Digital Industries Software. He has over 30 years of experience in partner business development and managing several major partners across international territories. He is currently leading Siemens' XPE program, which helps partner businesses transform to XaaS.
Ryan Morris is Principal Consultant for Morris Management Partners. He has more than 25 years of experience in sales, marketing and management in the B2B technology solutions industry – specifically focused on building successful multi-tier channel solutions and profitable solution provider businesses.
This article first appeared on the Siemens Digital Industries Software blog at https://blogs.sw.siemens.com/partners/build-saas-sales-marketing-engine/