Products
How the IFP-Drive library helps you explore innovative powertrains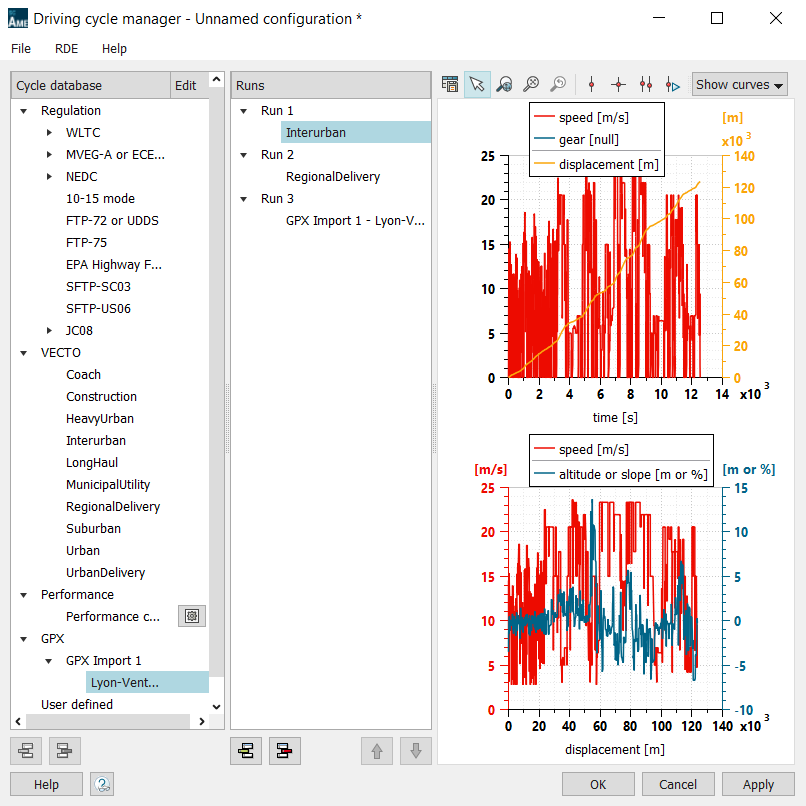 One could say that system simulation's purpose is to get relatively accurate results quickly with little efforts and few input data. This is easier said than done.
However, with the Simcenter Amesim 2210 release, we believe we made a great leap towards this goal with the IFP-Drive library.
In this blog, we will demonstrate the workflow in Simcenter Amesim that supports a European truck OEM in developing a new truck that complies with CO2 emission reduction targets set by the European Commission and how critical decisions for powertrain configuration can be made in confidence as early as possible.
Start with a driving cycle
The European Commission uses the VECTO tool to certify the CO2 emissions reduction of new trucks. This tool proposes a set of reference cycles depending on the type of truck to be certified.
These reference cycles have been made available in Simcenter Amesim through the newly released Driving cycle manager App. This App is available in the App Space and allows users to concatenate or batch several driving cycles available in a database. It also gathers other driving cycle-related tools like GPX Import and RDE checker. The video below demonstrates how to generate a batch run configuration made of two VECTO cycles, Interurban and urban.
Hydrogen internal combustion engines to reduce tailpipe CO2 emissions
European trucks traditionally rely on diesel engines to move the payload. With tightening CO2 and pollutant emissions regulations (See Euro7 recently released), alternatives to diesel combustion are needed.
Hydrogen engines is a potential solution that is being explored by the industry. Therefore, the Simcenter Amesim IFP-Drive engine table creator App has been validated for hydrogen engines. Indeed, by providing the proper hydrogen fuel information, the App can generate a Break Specific Fuel Consumption table with an average accuracy of 5.5% concerning test results.
This allows the estimate of the hydrogen consumption over realistic driving cycles and properly size the hydrogen tank and the powertrain.
VECTO tables conversion
We have the driving cycles and the engine; we now need to model a gearbox. Starting from an existing truck, its VECTO model probably exists since it is required to declare CO2 emissions. So, we leverage the newly released VECTO converter App to automatically convert VECTO gearbox losses tables (from VECTO declaration mode) to Simcenter Amesim compatible tables.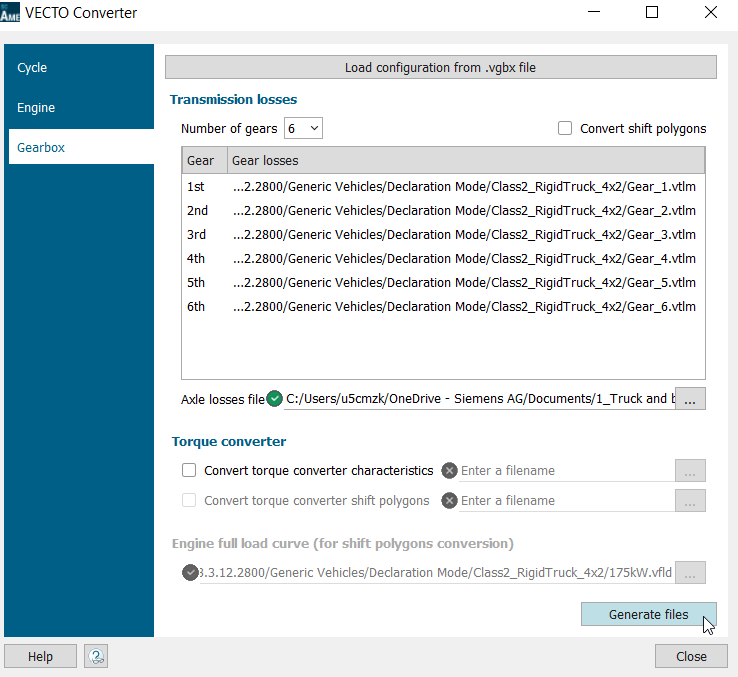 The VECTO converter can also handle driving cycle and engine tables conversion. It represents significant time saved during the parametrization phase of the model.
Active aerodynamics
Finally, improving the truck's aerodynamics could be interesting to reduce its energy consumption. For example, we could explore active aerodynamics using the vehicle model's new Simcenter Amesim variable S/Cx capability. It allows to dynamic modify the frontal area (S) or drag coefficient (Cx or Cd) value during the simulation to consider an active grille shutter, for example. The simulation results below show our delivery hydrogen engine truck on an interurban cycle using or not an active grille shutter.
The hydrogen consumption reduction reaches 1%. A delivery truck is indeed not the best application for active aerodynamics since the aerodynamic losses on such a truck are relatively low compared to other losses.
Switch to battery electric truck?
Even though we estimated the technical feasibility of a hydrogen engine truck, there might still be some roadblocks to making it a product (hydrogen cost, infrastructure, …). So, some OEMs have bet on battery electric trucks. Simulating battery electric trucks require the capability to handle an electric machine coupled to a gearbox. This has been made more straightforward in the new Simcenter Amesim release, thanks to the eTCU (Transmission Control Unit for electric vehicle) model.
This model allows to handle gearshifts as well as electric machine speed management during gearshifts.
Our delivery truck has been converted to a 375 kWh battery-electric truck, keeping the same 6-speed gearbox for simplicity's sake. The primary outcomes of this model are depicted below (vehicle range and electric motor operating points).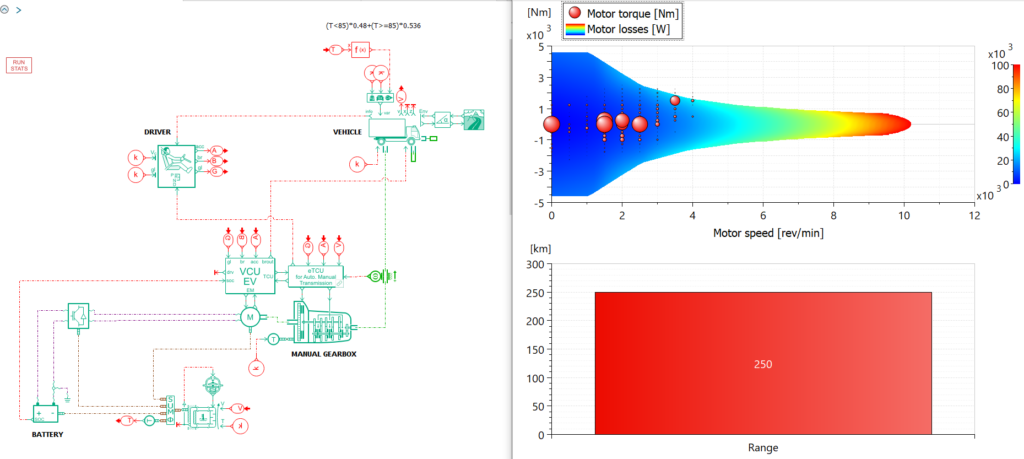 To conclude, we have shown that the Simcenter Amesim 2210 release and its IFP-Drive library enable simulation engineers to simulate hydrogen engines or battery electric trucks with gearbox on a VECTO driving cycle, eventually starting from VECTO data.
Overall, the new features enable simulation engineers to go faster, model more complexity, and stay integrated with other tools, particularly in truck and bus applications.
These are just few new features available in Simcenter Amesim 2210, please check this blog to see the full list of new features.
This article first appeared on the Siemens Digital Industries Software blog at https://blogs.sw.siemens.com/simcenter/ifp-drive-exploring-powertrains/