Corporate
Get an edge on high-performance computing
We live in unprecedented times, with organizations reeling under the burdens of a global pandemic while facing a shifting landscape of economic and competitive threats.
Just as the world doesn't stand still, high-performance computing (HPC) is also going through dynamic changes that are creating opportunities. Some of those opportunities are made possible by the broad transformation that's underway in HPC. In this blog, I'll describe this transformation and show how you can take advantage of it.
Three inflection points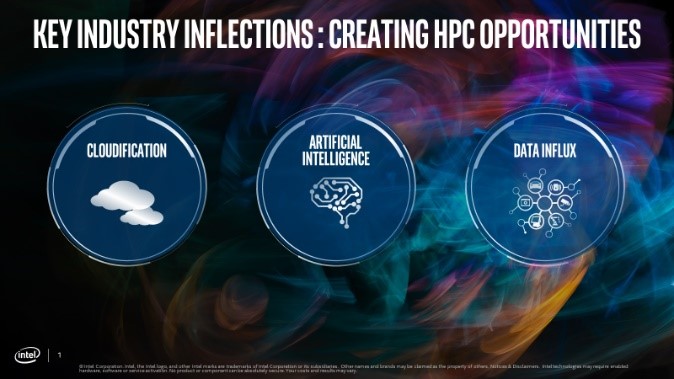 HPC in the cloud creates unique opportunities for all industries, offering easier, faster, and more economical access to HPC resources. Along with a new generation of HPC appliances with seamless burst options, HPC-focused cloud computing is democratizing HPC. Cloud-based HPC is predicted to increase at a compounded annual growth rate (CAGR) of nearly 25 percent over the next five years.
Artificial intelligence (AI) brings new capabilities for turning data into insights and amplifying HPC's traditional modeling and simulation workflows. Analysts expect the HPC server-based AI market will expand at an impressive 30% CAGR by 2023. Digital industries, including manufacturing, life sciences, weather, oil and gas, climate, defense, and others, are integrating AI into their workflows to drive faster time-to-insights.
The data deluge continues to grow. From sensor-generated data to social media feeds, the world is creating more data than ever. The total amount of digital data is predicted to reach 175 zettabytes by 2025. This data provides the raw material for dramatic advances everywhere, from smart cities to genomics-based drug design. But the data must be captured, managed, analyzed, and stored effectively to provide the competitive advantage that we expect it to.
Capitalizing on the trends
These three inflection points together are expanding opportunities for digital industries of every size and scale. Organizations that lack specialized expertise can adopt HPC for the first time. Large companies can create agile hybrid environments that blend on-premises infrastructure with public cloud resources. Organizations can bring the power of AI and data analytics to their HPC workloads, accelerating time-to-market while improving product quality and design innovation.
To unlock the full potential of HPC and AI, companies need versatile HPC hardware and HPC-focused software stacks. They need solution partners with strong relationships throughout the industry.
Intel has a longstanding commitment to accelerating HPC innovation through our technology innovation and our partnerships with industry leaders such as Siemens Digital Industries Software. We drive new features such as Intel® Deep Learning Boost (Intel DL Boost) technology to deliver performance for converged AI-HPC workloads on general-purpose processors. We develop groundbreaking innovations in memory and storage technology, intelligent interconnects, and silicon-enabled security to efficiently manage massive data volumes. We're creating advanced architectures for HPC workloads today and in the future.
In addition to our broad ecosystem of independent software vendors (ISVs), original equipment manufacturers (OEMs), and system integrators (SIs), we work with industry standards bodies such as the OpenFabrics Alliance. We are the top contributor to the Linux open-source code.
Building your HPC success
HPC is more vital than ever as companies seek faster paths to solving their toughest technical and research challenges. Intel is uniquely positioned to help build organizations' HPC success. With our world-changing technologies, our deep roots in HPC, and our long history of successful partnership with the industry, we offer the broadest range and depth of HPC capabilities, technologies, products, and investments.
By understanding the trends that are reshaping HPC and putting Intel technologies at the center of your HPC roadmap, you can be set to take maximum advantage of all that HPC offers. You can thrive whatever challenges and opportunities the future brings. Learn more about HPC on Intel.
Kirti Devi is Director of HPC Global Alliances at Intel, responsible for driving revenue and business engagements in the HPC, HPC-AI, and HPC-Cloud market segments. Kirti is a leader in delivering customer value through strategic alliances with Intel's extensive ecosystem of ISVs, OEMs, and SIs.
Intel is a Siemens Digital Industries Software Software and Technology Partner. Software and Technology partners are leaders in their domain and leverage the open Xcelerator portfolio to provide customers with a comprehensive set of integrated solutions.
This article first appeared on the Siemens Digital Industries Software blog at https://blogs.sw.siemens.com/partners/what-does-high-performance-computing-do-for-the-design-process/