Products
How Simcenter system simulation is deployed in the academic world
Discovering the concept of system simulation
To start 2021, let's dive right into the third part of our series, Simcenter for Academia. In this part, we want to focus on The Voice of Academic Peers and the Learning Process. In other words, how are the latest engineering developments being taught in the academic world? Critical skills and know-how like system simulation, 3D simulation and testing are all high on the must-have list to land that first job, or even internship. So let's start with the topic of system simulation and explore how students are learning about this job-critical engineering concept.
How are engineering students learning about system simulation?
One of the first steps in the life of an engineering student is hands-on experience with typical software and techniques. To make this happen, they, obviously, need easy access the right tools and some tips to get started. So the first stop to start learning about system simulation should be a Student Edition of Simcenter Amesim. This free student version lets students develop basic simulation skills during group projects and homework. They can test and analyze engineering ideas, and really start learning what is behind the system simulation concept.
More than 15,000 students worldwide are already using the Simcenter Amesim Student Edition. Free access to online tutorials means getting started is a snap. And thanks to the built-in "Help" feature, students can quickly check out a demo, quick-start movie, tutorials, and model documentation if they get stuck. Of course, the best experience is hands-on practice, so there are actual application examples and short exercises to follow as well.
Connecting students with actual hands-on software experience
Hands-on experience is much more than being a wiz with some software. A core understanding of how it all works together (the theory, physics, mathematics, and real engineering problem solving) is essential as well. This is why leading professors around the planet put the focus on real-world experience to prepare their engineering students for future challenges.
"System simulation will certainly constitute the basis of the design of engineering products. Still, the engineers will need to be able to elaborate and understand the basic physical principles that affect the design of a product. Even though the software and the mathematical models do a great job in understanding system behavior, we must not forget the basics and completely rely on these tools. The academic preparation of future engineers to face challenges depends as much on their basic fundamentals as on their usage of tools like Simcenter Amesim" states Andrea Vacca, associate professor at Purdue University. (read the complete story)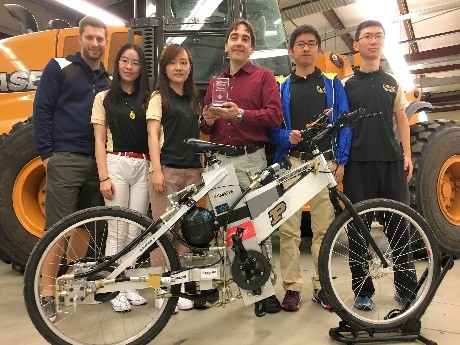 Another example is the University of Bath. There, students who follow the mechanical engineering course learn how to use physical science, mathematics, and computing to assess engineering systems. Students combine this with studies in design and manufacturing processes to really understand how modern companies work. At Bath, practical project work is central to the education experience. Group and individual projects enable students to put theory into practice. They gain experience in engineering enterprise management by using professional software, such as Simcenter Flomaster. (read the complete story)
Teaching System Simulation
Professors teach the fundamentals. This is obvious and that's what Massimo Rundo from Politecnico di Torino expressed in this article. He has been using Simcenter Amesim in the classroom since 1995. Like Prof. Vacca, he champions the idea that preparing the next generation of engineers to face tough real-world challenges is a must. This means putting that basic knowledge into practice with real use cases. By using Simcenter system simulation academic bundles and deploying ready-to-be-used curriculum in their classroom, professors can give hands-on software experience to their students.
The engineering student competitions
Ask any young-ish engineer about their college days and most likely you'll hear all about student competitions. Such as the solar car project, the hyperloop project, the student car project, the student boat project…Another popular and, in our Simcenter opinion, an essential part of engineering education is the get-your-hands-dirty real engineering experience.
Engineering competitions, like World Solar Challenge or Formula Student or the EcoCAR, are brilliant learning experiences for all types of students from business and communication majors to, of course, engineers. Especially from an engineering point of view, the team needs to work together to optimize its product design by doing simulation and testing analysis.
Today, it is pretty common that major industry partners sponsor and advice successful student team will be sponsored in kind and advice from . This is what a team from Centrale Lyon (France) experienced when they built a race car for Formula Student international. Using Simcenter system simulation helped them precisely understand the behavior of all engine subsystems, and consequently develop an accurate mechanical model of the car engine. (Read complete case here: Engineering school uses Simcenter Amesim to gain five horsepower in racecar engine). And also at the University of Bath, a team of students participated in the Formula Student competition, where they used system simulation to create a representative transient thermal model of a cooling and lubrication system. (Read: the complete case here: Team Bath Racing takes to the track with improved thermal performance with Simcenter Flomaster).
The right simulation skills for their engineering career
"I started using Simcenter Amesim at university. It's more than just a tool it's part of my method. I started using it at an early stage of my professional career and so it followed me everywhere" states Alex Marcello, powertrain integration project manager at IDIADA.
Alex represents the new generation of engineers who learn about system simulation early and take advantage of these acquired simulation skills to move on the right career path. Indeed, as explained in the article, What is the future for the next generation of engineers?, companies need to hire the right engineers to meet future challenges. These are engineers who understand the big picture of system simulation. They understand the power of digitalization and comprehensive digital twins. And they are able apply cross-domain technology to solve problems, like the work Alex has done, creating innovative solutions for vehicle powertrain development that meet more stringent regulations for lower emissions.
Going the distance: PhD and research
More and more engineering students are opting for the academic route, working on a PhD. thesis to further simulation techniques on a fundamental or industry-oriented application case. That's what Dr. Luca Simoni from the University of Brescia (UNIBS) did. From 2014 to 2017, he worked in two research fields. The first related to robotics and developing friction models that accounted for temperatures inside the robotic joints. The second topic dealt with mechatronics system modeling and control. He joined the European I-Mech project, which aimed to bridge the gap between the latest research results and the best industrial practices in machine control development. Supported by the Simcenter Amesim Research and Development teams, they developed methods using a digital twin to validate advanced mechatronic motion control systems. Today, Luca and the team can proudly say that their early digital twins were critical to the project's success.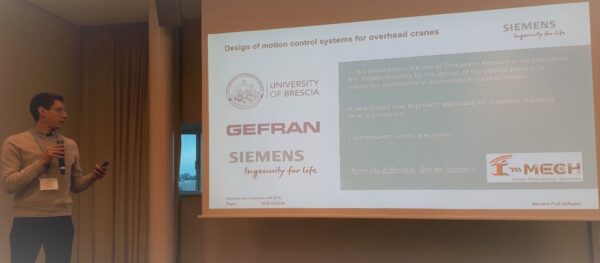 What do we offer to the academic world to deploy system simulation in classes and laboratories?
This article first appeared on the Siemens Digital Industries Software blog at https://blogs.sw.siemens.com/simcenter/how-simcenter-system-simulation-is-deployed-in-the-academic-world/