Products
Chengdu: battery management system lab to reduce testing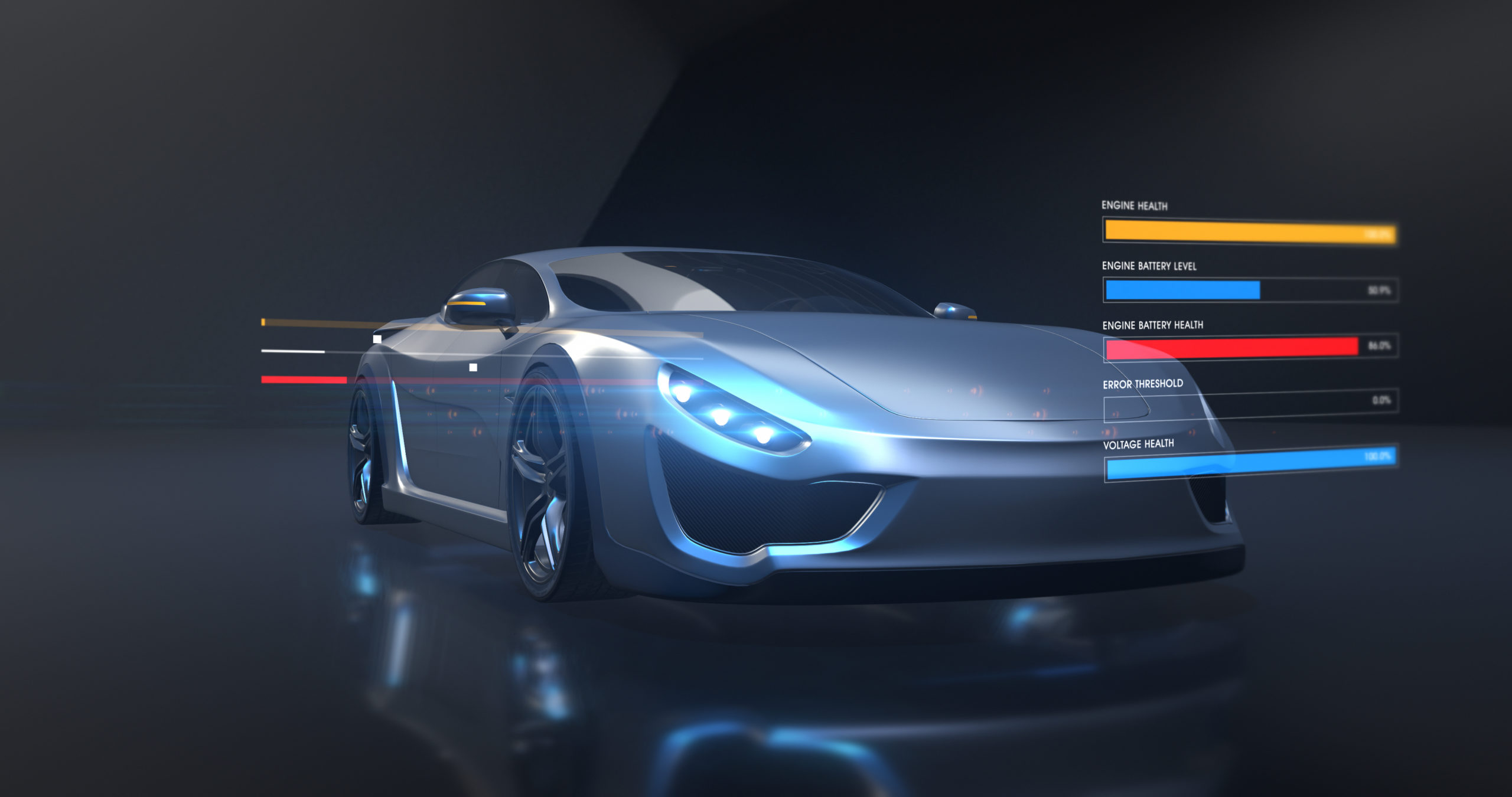 In Chengdu, China, construction is underway for Siemens' AV/EV Engineering Center. This innovative vehicle engineering center of excellence will offer companies from large OEMs to small suppliers the opportunity to technologically advance their operations. As the Chengdu 'Auto Silicon Valley' continues to grow, a facility like this will ensure automotive companies have access to the experience and solutions of Siemens Digital Industry Software to develop electric and autonomous vehicles better, smarter and more efficiently.
In the previous blog post from this series, we discussed how the multi-attribute balancing lab at the Chengdu engineering center will help automakers balance attributes and enhance their battery design capabilities to ensure a high-performing vehicle.
In this post, we will focus on the Chengdu battery management system lab and how virtual testing can help minimize the costly and time-consuming task of testing physical battery prototypes.
Importance of battery management systems in Chengdu
Chengdu is one of the technology centers for the electric vehicle (EV) industry in China and is part of a growing global network of OEMs and suppliers with a vast deployment of electric vehicles including China, the United States, Europe, and India.
The technology provided at the center enables automakers to efficiently optimize their own battery management system and promotes continuous development of their solutions, minimizing their dependence on external suppliers.
The typical approach to software development for vehicle battery management system is to write the code and then test it on the hardware. However, waiting for physical prototypes to test and troubleshoot the software in testing facilities is costly and often leads to unforeseen schedule delays. OEMs would prefer to use a model-based design approach but often lack the technology and know-how to put a lot of development and process into the virtual development.
Defining the Chengdu battery management system lab
The Chengdu engineering center provides a very efficient approach for implementing and using the model-based virtual design and verification for developing the battery management system.
The Chengdu battery management systems (BMS) lab offers an end-to-end workflow including the development process of a BMS on a virtual battery pack.
In the second phase of the project, we will implement the developed battery management system algorithm software on a rapid prototyping electronic control unit and validate the algorithm through open-loop testing.
The unique solution relies on a system engineering tool developed by Simcenter Engineering & Consulting services to gather and efficiently manage test case organization and project management. There is also the use of a model-based software development environment, including a 1D model of the battery pack system for highly efficient simulation. This allows for performing fast validation of the software with a rapid prototyping tool.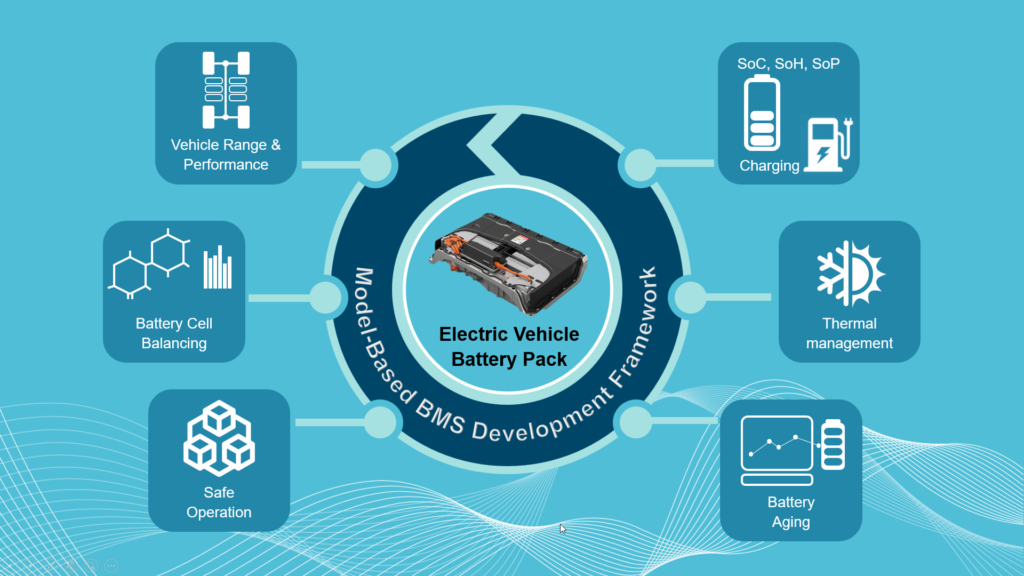 The power of virtually developing and testing battery management systems
This setup empowers customers to first develop and then test the battery management systems within a fully virtual testing environment; thereby enabling a significant reduction in costs associated with testing and validation.
The system also allows full traceability of the overall development process: from requirement gathering to test case establishment to the implementation of the results. All focused on expediting the overall BMS development process.
An example to illustrate the potential cost and time savings
Take a BMS being verified using a physical battery pack in a test facility. After a major discharge cycle when the battery pack is taken through some power load cycle, the battery is likely down to 20 percent state of charge. To rerun tests with a fully charged battery pack would require that the battery be charged back to 80-90 percent and that can take at least four more hours just to "fill up" the tank.
If the team is running 10 different cycles, and each cycle depletes the fuel system, this could add 40+ hours to the process. And that doesn't take into account downtime associated with other mechanical issues that come up in physical test. As a result, the actual utility time in a test facility is typically around 30-40 percent. In short, when you consider the engineering staff, cost of mechanical materials and the test facility itself, physical testing can literally require months of time and millions of dollars.
In the virtual world, like the lab at the Chengdu facility, the battery is recharged virtually and reset to the initial condition on the battery energy. Dozens of tests can be performed in a matter of hours enabling the BMS team to quickly find software issues and optimize the software performance.
The future of battery management systems in Chengdu
The Siemens AV/EV Engineering Center in general, and the battery management lab in particular, will help the EV industry in Chengdu to develop BMS solutions and become more independent from suppliers. Both OEMs and startups will be able to easily integrate their battery packs into their existing vehicle control systems, initiate research and development of a project, and improve their battery performance according to their different requirements. The results will be significant savings in time and money as they bring ever more advanced BMS solutions to market.
On top of that, other industries such as heavy equipment can take advantage of the battery management systems lab as they advance toward electrification. For example, when they are ready to implement electrification for heavy-duty vehicles or off-road machines.
Reducing physical prototype testing from weeks to hours
We must stress that the virtual test environment doesn't diminish the importance of physical prototyping. It simply accelerates development early in the design cycle, uncovering issues and resolving them in a virtual world before they become major issues when the physical prototype comes together.
Then, during the hardware prototype stage, these virtual test benches can be used to augment physical prototyping. The data from the hardware testing can be fed back to fine-tune the virtual models. Now when an issue is encountered during the physical test, the team can quickly examine possible solutions in the virtual world and then test the most promising on the hardware prototype.
As an example, let's say there's a thermal issue in the battery pack. If you have to change the thermal cooling loop on a battery pack, it could take weeks or months to resolve and test with a physical prototype. But in the virtual world, it might be a matter of a few hours to change the cooling loop and zero in on the best result quickly.
Conclusion
With any new type of approach or technology there's bound to be some apprehension. In this case, questions arise such as, how do you make these virtual models and how much effort is needed? And how do you keep up the quality of these models to match reality?
Simcenter has years of experience helping the top OEMs in every global region implement and enhance their EV battery management systems—both in the virtual and real-world testing domains. With the Chengdu engineering center, startups, Tier 1 suppliers and OEMs can directly access Simcenter to help them successfully implement the development process through our engineering services and guide them through this digital and technological transformation.
The team can help you get a model together rather quickly and use it as part of this virtual development process through the combined virtual and real test systems. The center will also accelerate technology transfer thus Simcenter Engineering and Consulting services can be a partner in the journey to help them accelerate the process as you adopt these new technologies.
The virtual environment can help you save a significant amount of time and cost for battery management system development. Also, our software solutions address the full spectrum of battery management system development challenges. Different customers have different requirements, cases and applications according to their own needs. The Siemens Xcelerator portfolio of solutions and services is fully capable of providing customizable solutions to all EV customers.
Stay tuned for the next blog in this series where we discuss the vehicle energy management lab. A special thanks to the experts Shiva Sivashankar and Jing Wang for their insight and input for writing this post.
This article first appeared on the Siemens Digital Industries Software blog at https://blogs.sw.siemens.com/simcenter/chengdu-battery-management-system-lab-to-reduce-testing/