Chengdu: building China's Auto Silicon Valley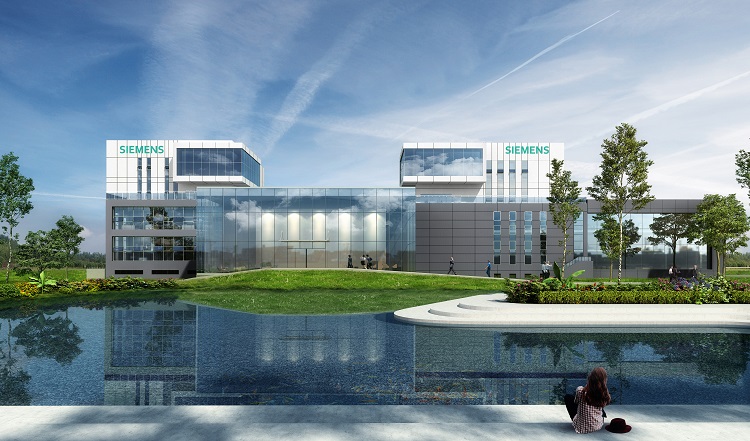 Construction is underway on the AV/EV Engineering Center in Chengdu.
In Western China, there's a city that bustles with innovation. The automotive, machinery, medicine and information technology industries located in Chengdu make up some of the country's most advanced sectors. It's no wonder then that the government sought to create an electrical and autonomous vehicle center of excellence here and turned to Siemens for support as they embarked on this massive undertaking.
While the AV/EV Engineering Center will promote a wide range of Siemens solutions, Simcenter Engineering will deliver and operate several key application-oriented demonstrations and testing facilities. Once open, this vehicle center will lift Chengdu's innovation, technology and the automotive industry to a whole new level. Visitors will see the comprehensive engineering solutions in action and get hands-on experience of what Siemens can deliver.
"The Engineering Center is an important part of Siemens' efforts to boost the development of Chengdu's auto industry. Siemens will be employing a sustainable operation mechanism to bring in our leading technologies and best practices from around the world to better equip local teams, cultivate creative talents, incubate innovative enterprises, and drive high-quality development of Chengdu's auto industry with open and digital innovation, helping to create China's 'Auto Silicon Valley' and future auto industry"

– Tony Hemmelgarn, President and CEO of Siemens Digital Industries Software
Construction Engineering Center has started
The Chengdu government wanted to build an autonomous vehicle and electric vehicle engineering center to showcase the latest technology to their visitors. This is no vision of the future, but rather real-world capabilities which the user can immediately deploy in their development projects.
The construction of the AV/EV engineering center has now started. Soon visitors and potential customers will experience a complete overview, from vehicle design to manufacturing and integrated simulation and testing solutions. They'll see how a comprehensive digital twin will transform the future of engineering innovation and how it will free engineers from the constraints of today to build the products of tomorrow.
Simcenter technology, part the Xcelerator portfolio, forms the basis of all these setups.
"Simulation and test are the beating heart of the digital twin. We provide a predictive capability that captures every aspect of product performance and allows the digital twin to evolve throughout every challenge a product faces in its operational lifetime"

– Leo Liang, Senior Vice President, Global Sales, Marketing & Services
Setting up with Simcenter Engineering
Siemens will deliver the integrated simulation and test solutions and demonstration labs, hardware, software licenses and services. By combining multi-physics simulation and testing, integrated within product lifecycle activities, these solutions help to accelerate engineering innovation. Simcenter Engineering and Consulting services experts take the lead to provide application technology in six demonstration labs. The overall project consists of five phases.
Simcenter Engineering is currently executing the first phase by building five demonstrators and test labs. In the second phase, the digital twin e-driveline will be built.
These are the demonstrators and test labs currently being built:
Autonomous driver assistance systems (ADAS). Validates the ADAS algorithms in order to deliver safe and tested products to the customer and the roads.
Vehicle energy management. Captures the global energy distribution and meet range, drivability and performance expectations.
Battery simulation. Allows battery pack sizing in early stage design using high fidelity analysis tools while evaluating realistic drive cycles.
Battery management system. Monitors the battery pack's temperature, state-of-health and charge level, ensuring optimal performance while keeping the pack in safe operating condition.
Multi-attribute balancing. Balances and optimizes seemingly conflicting performance requirements of individual attributes.
Digital twin e-driveline. Studies the performance of key e-driveline components such as battery pack, e-motor, transmission and inverter.
Simcenter Engineering experts will help bring the technology directly to the automotive industry. The multiple disciplines offer real-world examples that customers can immediately deploy in their own development projects.
5 years from now
Both startups and larger car companies can use the Chengdu center's technologies. However, startups will reap the biggest advantage because, for them, it provides invaluable hands-on experience. With these capabilities, they can rethink and optimize their development approach and quickly deploy their technology solutions.
The center also includes the ability for these companies to set up tests and validate systems at their own companies similar to the ones shown in the Chengdu showroom. Due to these advanced technologies, the Chengdu area expects to attract companies starting their autonomous vehicle development. This in turn will enable the area to become a magnate for autonomous and electric vehicle development.
"The auto industry is one of Chengdu's pillar industries, and the Internet of Vehicles (Intelligent Connected Vehicles) is the future of vehicles. Siemens boasts a long history of innovation and is a leader in this field. This is a massive step toward building Chengdu into the 'Auto Silicon Valley' and becoming a leading base for the Internet of Vehicles (Intelligent Connected Vehicles)"

Mayor of Chengdu
This blog series will focus on the many different aspects of the Chengdu AV/EV Engineering Center, giving you a glimpse into how the advanced solutions are helping build next generation of vehicles. Chengdu is truly where today meets tomorrow in the automotive industry.
Want to know more? We discussed the various supporting labs here:
This article first appeared on the Siemens Digital Industries Software blog at https://blogs.sw.siemens.com/simcenter/chengdu-to-build-chinas-auto-silicon-valley/