Safeguarding the semiconductor supply chain
As we shared in "The Voice of Smart Digital Manufacturing" podcast last month, the COVID-19 pandemic pushed electronics manufacturers to build better digital infrastructures to support manufacturing flexibility and manage supply chain disruptions. As explained earlier this month, the story is no different in the semiconductor industry. It stressed our global supply chain networks more than ever. Manufacturers dealt with a disrupted supply chain, unqualified products, material shortages and factory shutdowns. The stress caused a decreased supply – at a time when demand increased. 
Managing increasing semiconductor demand by new market segments
Further compounding the shortage is the expanded need for more. IoT, AI and autonomous vehicles are driving new market segments, shortened lifecycles and product complexity. In an already stretched industry, shortening lifecycles to meet the demands of new markets is proving difficult with fragmented, antiquated semiconductor systems. Seamlessly managing new product introductions (NPIs) and project deliverables requires a better way.
What are semiconductor companies doing to address the supply chain?
So, what are semiconductor companies doing to address supply chain issues of both semiconductors and within their manufacturing processes? The pandemic signaled the need to rethink suppliers, inventories, logistics and trade partners. It is now even more imperative that design and manufacturing become tightly integrated, even when outsourcing manufacturing to a foundry or an offset. Companies must create effective digitalization platforms that span the entire product development process.
Lifecycle management's impact on flexibility and NPI cycle time
With lifecycle management, semiconductor companies gain the flexibility to adapt to business changes and manage product development challenges by connecting manufacturing process and data management to collaboratively create, validate, and optimize manufacturing plans concurrently with product designs.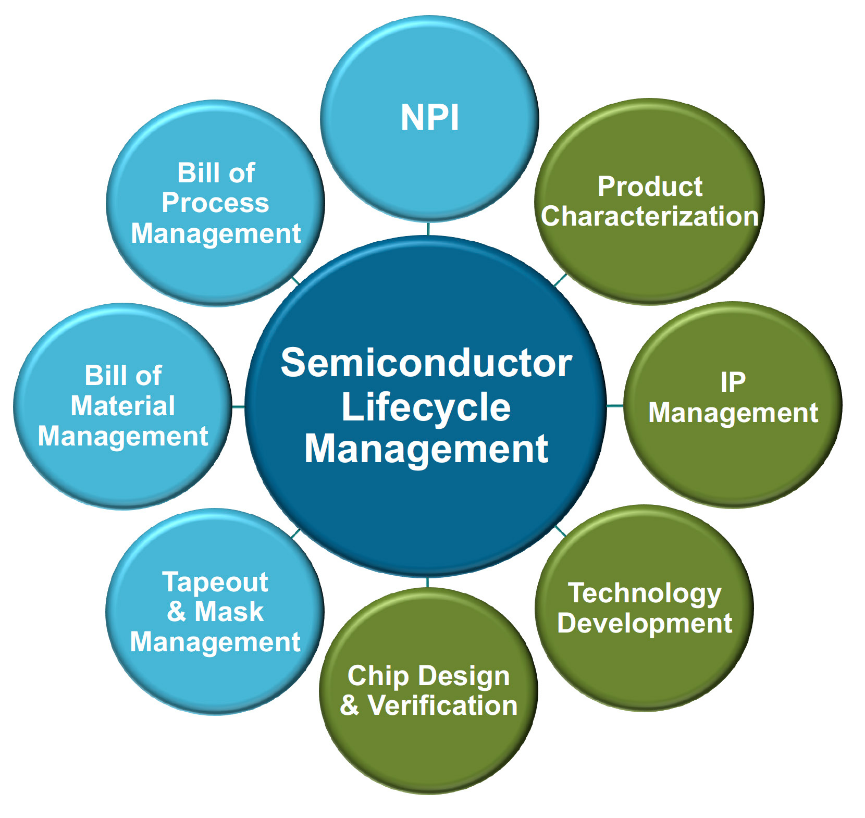 Gain a complete picture of a semiconductor product using PLM data from different design, engineering, testing, simulation, and validation platforms. This picture enables semiconductor companies to focus on making accurate, up-to-date data available for use across disciplines, partners and phases of a product's lifecycle. As a result, PLM unleashes collaboration and innovation based on easy-to-find product information about engineering intent, decision criteria and rationale, and events throughout the product lifecycle to enable faster processes for shorter NPIs.
NPI time depends on holistic engineering processes. Reduce NPI cycle time by improving data accuracy, efficiency and collaboration in engineering, design, simulation, verification, testing, and production. Teams can avoid errors created by outdated, inaccurate or incomplete data that disrupts the NPI cycle with better data.
Learn more about how all semiconductor businesses, from fabs, fabless, integrated database management (IDM), foundries, and outsourced semiconductor assembly and tests (OSATs) to subcons, can use PLM software solutions to safeguard the supply chain and speed NPIs in the new ebook.
This article first appeared on the Siemens Digital Industries Software blog at https://blogs.sw.siemens.com/electronics-semiconductors/2022/03/18/safeguarding-the-semiconductor-supply-chain/