Products
How to get to Win-Win-Win in conflict management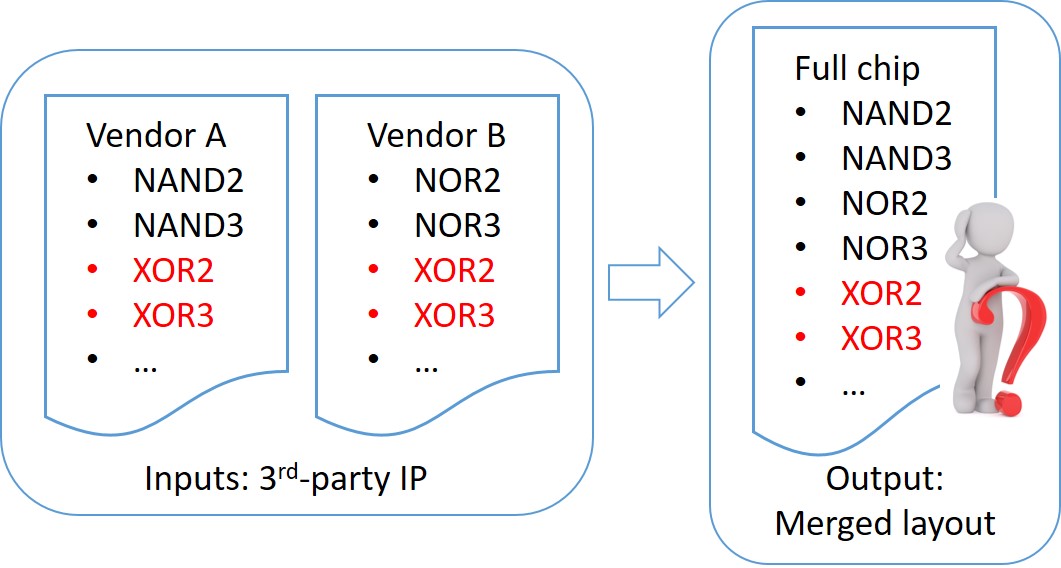 By Shelly Stalnaker & Calibre Design staff
Anyone who's been through conflict management training understands the three basic scenarios. There's Lose-Lose (no one wants this), Win-Lose (the winner loves this one) and Win-Win (everyone gets a trophy!). However, in the TV show The Office, they took it one step further, and created a Win-Win-Win option, in which the manager got an "extra" win for facilitating the win-win outcome. Who wouldn't like to get to Win-Win-Win?
Using third-party intellectual property (IP) has become a popular and frequently-used option for system-on-chip (SoC) designers. By using "off-the-shelf" IP for common functionality, design teams can spend their valuable time creating the proprietary IP that gives their products a market advantage. Of course, there's always a catch, or in this case, a conflict.
One challenge that quickly becomes obvious during integration of multiple third-party IP is the existence of duplicate cell names. If designers don't handle these conflicts correctly, they may see unexpected layout results at the full-chip level, create larger file sizes that take more time to run, and/or degrade their ability to run their layout verification tools efficiently in hierarchical mode. Imagine running your physical or circuit verification for hours, and getting meaningless error results. You've just wasted a huge chunk of time and resources, and probably impacted your tapeout schedule as well.
Short of renaming every cell in every third-party IP, what can you do? (By the way, please don't rename every cell—it's a bad idea.) Fortunately, there are automated EDA solutions that can help design teams quickly and efficiently manage cell name conflicts.
The Calibre DESIGNrev chip finishing platform contains a FileMerge functionality that provides multiple options for automated cell conflict management. Designers can use as many of these options as needed to create a customized flow that meets their organizational needs:
Rename all conflicting cells
Rename only conflicting cells whose contents differ
Report renamed cells during the merge process
Report cell name conflicts without merging the layout
The Calibre DESIGNrev FileMerge functionality offers a simple, efficient, automated solution for identifying and renaming cell name conflicts. Multiple reporting options let design teams identify the origins of the cell conflicts to confirm that the merged output is what they expected, and follow up with IP suppliers regarding any discrepancies.
If you're interested in the details, download a copy of our technical paper, Resolving cell name conflicts for efficient layout hierarchy. We show you examples, and explain how and why to select the options that are best suited to your workflow. If you're looking for a clear, consistent process to manage IP cell name conflicts while improving runtimes and reducing time to tapeout, the Calibre DESIGNrev FileMerge capability may be just the solution you need to get to your Win-Win-Win scenario!
This article first appeared on the Siemens Digital Industries Software blog at https://blogs.sw.siemens.com/calibre/2022/05/02/how-to-get-to-win-win-win-in-conflict-management/