Startup Spotlight: Forty1 Kitesurfing
Combining two passions was the origin story of Forty1 Kitesurfing, a startup founded by James Crook in early 2017. Using Solid Edge to help bring his ideas to fruition, James applied his mechanical engineering background to a passion: kitesurfing.
Kitesurfing is an extreme sport that allows people to harness the wind to glide across water using a controllable kite. "Kiteboards are a very mechanical product, with no real electronics or software present in the product," describes James. This fact allowed him the opportunity to do it himself as he started to explore the potential of creating his own kitesurfing experience.
As he dove deeper into his business and the market for kitesurfing, James realized there was a need from customers to have computer-aided design (CAD) software to see their design before production. This is where the Solid Edge for Startups program came into the picture. With Solid Edge, James can now show his designs to customers before production and work with them to co-create and customize their ideal board. Also, it makes it easier to configure his products and create different fin shapes.
Solid Edge also provides Forty1 Kitesurfing, like many other startups, the ability to scale down the cost of launching a business. "Start-up companies take a while to run, especially when you're developing a new product and taking it to market. Solid Edge helped me finish my journey," says James. "Now, I have the ability to market my product on a grander scale and really connect with my customers to receive their feedback as well as what they want in a product."
As a solo maker, this feedback was very beneficial for James and Forty1 Kitesurfing. Interacting and engaging with customers gives the opportunity to receive feedback on what a customer really wants from a product. Assumptions no longer need to be made about the needs of customers. Instead, it's received directly from them to help make a product that is right for them.
The Battle Between Hydrofoils and Shallow Waters
A common problem found in kitesurfing is the inability to surf in shallower water using hydrofoils, which are attachments to the bottom of the board that lifts the rider and board out of the water. Yet, shallow water locations are often the most popular for kite surfers. Currently, hydrofoils are bulky, expensive, lift you very high out of the water and take time for users to learn how to use. Forty1 Kitesurfing is working to fix this problem.
"The hydrofoil I have created attaches easily to the board and eliminates the problem of having to buy a whole new kit. This also makes it easier for customers to transport and take on trips," explains James. This hydrofoil improves upon products that are currently available and lets users surf in lighter winds and shallower waters. However, the power and speed aren't lost with this new version, and the board is still able to ride in both directions.
Enhancing the current hydrofoils while being more affordable and easier to learn, especially for a beginner, allows Forty1 Kitesurfing to stand apart from competitors. When talking with a local kitesurfing shop a few years ago, James was clued in to the growing popularity of hydrofoils. "There was a growing need for a more affordable hydrofoil that can be used in shallower waters, and I'm not aware of anyone doing anything similar," comments James. He plans to move forward by honing his design for a more accessible variant of hydrofoils for kite surfers everywhere.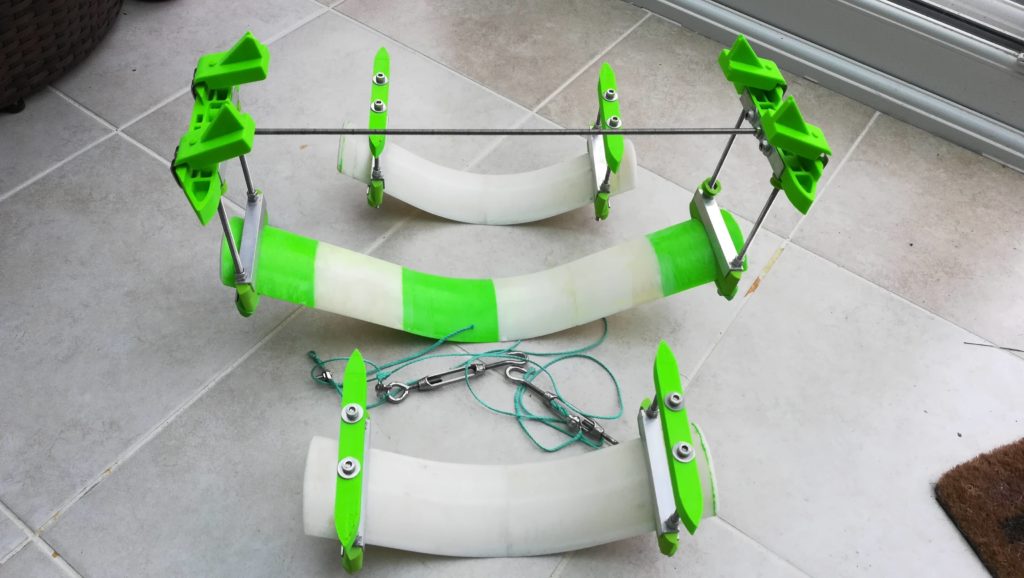 Designing a Kiteboard to Win the Battle using Solid Edge
Forty1 Kitesurfing is taking advantage of the many features found in Solid Edge. Design, assembly and part modeling each play an important part in the development of Forty1 Kitesurfing's products. Solid Edge provides powerful CAD drawing capabilities so that each hydrofoil can be designed with precision and customized to each customer's needs and requests.
When designing hydrofoils, there are many different parts involved with various configurations. The unique family of parts configurations included with Solid Edge helps users effectively manage large assemblies. The family of parts tool offers users the ability to group together multiple parts within an assembly and is used by Forty1 Kitesurfing in the creation of their hydrofoils. "The [family of parts] tool is great when designing the hydrofoil," explains James. "I can move the position of a hole, make the fin hollow or create a fin with a riveting part instead, all while keeping the main design."
The biggest challenge for Forty1 Kitesurfing is batch manufacturing, during which each component is created through a step-by-step process. The hydrofoil is currently 3D printed, and even though the smaller components are simple to 3D print, the main hydrofoil is a lot more complicated. Forty1 Kitesurfing is looking for a way to streamline the process for a quicker result using Solid Edge.
The simulation capability and finite element analysis (FEA) in Solid Edge provides tools to help simulate how the product will react to stress and pressure caused while using the product in the real world, such as how the hydrofoil will react to shallower waters and lighter winds. The model is put through a stress analysis and FEA to garner an understanding of where the forces might be and what they are. "We also opted to use Simcenter FloEFD for Solid Edge," notes James. "While it is still a work in progress, it is a definite bonus, and I am excited to see how much it can help in the long term."
Giving Kiteboards a Tank
Forty1 Kitesurfing has a unique way of testing their products by teaming up with Solent University in Southhampton, England. The university owns a 60-meter towing tank that can be used to test hydrodynamic lift and drag components using a wave motor. The kiteboard and hydrofoil are tested in the tank to measure force. With the help of a Southhampton University student pursuing their master's degree, Forty1 Kitesurfing effectively measures the hydrofoil's lift and drag using this tank. The company's hydrofoil is unique in that it is quite close to the board and doesn't lift as high out of the water as common hydrofoils. The tank provides data and an assessment on the actual performance of the hydrofoil when it is close to the board.
Solid Edge for Startups: Bringing Ideas to Fruition
Forty1 Kitesurfing was exploring CAD packages to help with design and production since its launch. New startups have many struggles, one of them being able to afford a CAD package, which is an essential component of their design process. "I chose Solid Edge because I was looking for something that would support me with where I'm at with my business," James says. "Other packages were trying to sign me up for a 3-year contract, but I'm a startup with limited funding, so I'm unable to lock myself into a long-term deal."
With Solid Edge, users can sign up for a monthly subscription. The Solid Edge for Startups program was perfectly suited to the goals of Forty1 Kitesurfing because it concentrates on providing service and flexibility for its members. This was a big focus point for James. "Having the option to pay for Solid Edge in monthly subscriptions was a really neat way for me to pay for a CAD software. Now I can approach it with the thought process that I can manage to do this, which eliminates a lot of stress," says James.
What's Next for Forty1 Kitesurfing?
Forty1 Kitesurfing has big plans to continue to develop and improve on their products, specifically the hydrofoil. One goal is to improve the manufacturing method overall when creating the hydrofoil, starting this year. Another goal is to continue the process of bringing the product to market. This will depend on the core group of users found who are fans of the sport and into the first variations of the product. From there, Forty1 Kitesurfing can continue to demonstrate and gain interest from others in the sport and continue to drive innovation in a highly specialized market.
What's Next for You?
We asked James what advice he'd give to others like himself who are entrepreneurs looking to start a business or bring a new product to market. Here's what he had to say: "Networking is so important. Talk to as many people as you can and as much as possible. The success of your product will be about the people you surround yourself with. If you have the right people and supports in place, it makes a huge difference. Reach out to them to discover the right tools you need to develop your product."
James also emphasized staying engaged with customers. This avoids designing something that you think your customers want rather than what they need. "It's all about selling your vision, what you're trying to do and why," he says. "People buy into that, and when they do, they buy into you and follow your journey. Customers will change your vision."
James highlighted the fact that you can't be afraid to speak to customers and constantly get feedback on your designs: "I can tell you, stay engaged with your customers and don't be afraid to speak to them. This way, you can develop and maintain a good relationship while also catering to the needs of the market and customers."
To learn more about the Solid Edge for Startups program, visit our site.

Forty1 Kitesurfing is a company headquartered in Portsmouth, United Kingdom. They have developed the Hydrofin™, a set of low profile hydrofoils, that enables kitesurfers to ride in lighter winds and shallower waters – more availability, more accessibility, more fun!
This article first appeared on the Siemens Digital Industries Software blog at https://blogs.sw.siemens.com/solidedge/startup-spotlight-forty1-kitesurfing/