Products
How to participate in Solid Edge 'Ask The Expert' Days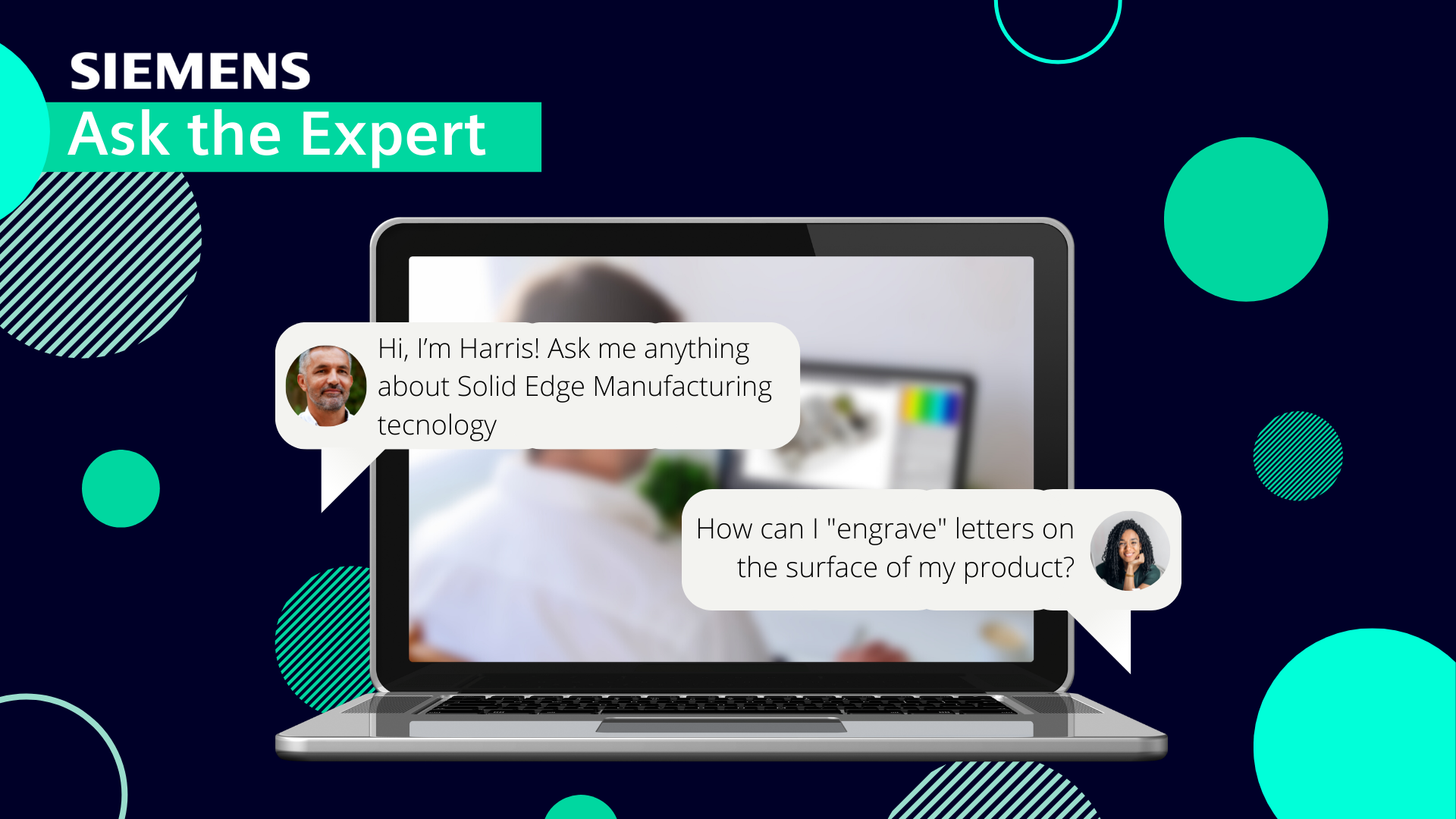 Do you have a burning question you want answered? Log into the Siemens Community forums the second Wednesday of every month to get a real-time response from Solid Edge experts.
Solid Edge Ask the Expert (ATE) Days open the door for our customers to ask any question about Solid Edge, knowing that there are experts ready to answer every question in the discussion forums. Solid Edge ATE Days take place on the second Wednesday of every month from 8 a.m. – 12 p.m. Eastern Time.
What does "ATE" stand for?
ATE is an abbreviation for "Ask the Expert". ATE Days provide a unique opportunity for Siemens Digital Industries Software customers and community members to ask any question related to Solid Edge software, knowing that there are a set of experts ready to respond to your every question. We're piloting this new format with our Solid Edge community and we invite you to join us!
What to expect
Ask the Expert Days provide an opportunity for Solid Edge users and experts to engage in open discussions and get answers to important questions. We encourage you to use ATE Days to forge new connections and interact online in real-time with other Solid Edge users and Siemens experts.
During scheduled ATE Days, you're guaranteed to get an answer from an expert when you log in and ask a question between 8 a.m. – 12 p.m. ET.
View the full schedule of upcoming ATE Days →
How to participate
To ask a Solid Edge question on an ATE Day, start by logging into the community, and navigating to the Discussions area in the Solid Edge Community.
From here, select the Start a Discussion button to ask a new question or start a conversation.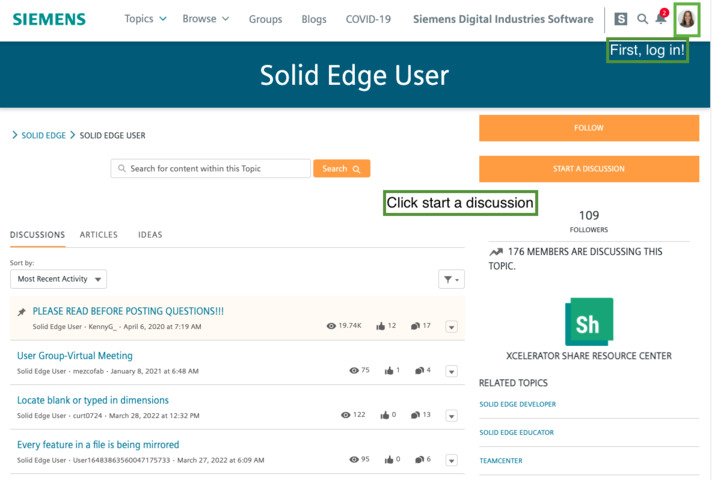 Next, write a short description of your question in the Question field. Type out your full question and add any important details in the Description field.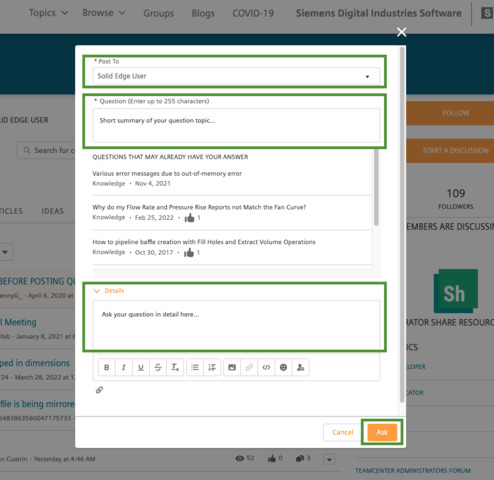 Once complete, click Ask to publish your question in the forum.
After you've asked your question(s), you can read through questions being asked by others in the community. If you're interested in knowing the answer to a specific question asked by another user, simply click Like on their question to encourage a speedy response.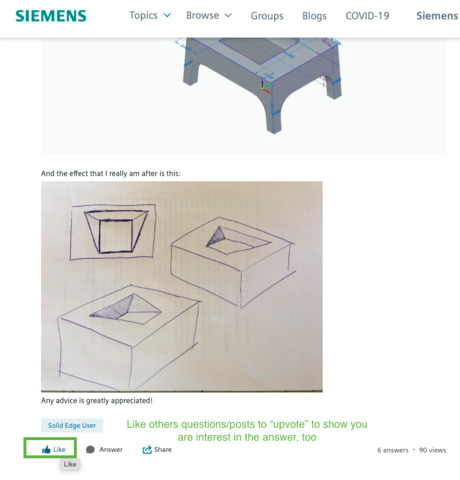 Now, just wait for a Siemens expert to answer your question(s). You'll be notified in the community and via email when someone responds to your question. Once an expert answers your question completely, please be sure to mark their reply with Select as Best to help others in the community quickly find it.

Ready to get started? Visit the Solid Edge Community →
Meet the experts
We have recruited several Solid Edge experts who you can expect to be present and available to respond to questions in the forums during ATE Days. You can check out their profiles linked below to learn more about their expertise. If your questions stump one of our experts, they will reach out to additional experts to ensure your question gets an answer.
---
Your feedback is important to us
We hosted the first Solid Edge Ask the Expert Day on March 17, 2022 and incorporated feedback from participants to design a more useful and streamlined experience. We encourage you to participate and share feedback about your experience so we can continue to improve.
This article first appeared on the Siemens Digital Industries Software blog at https://blogs.sw.siemens.com/solidedge/how-to-participate-in-solid-edge-ask-the-expert-days/