Products
New in Solid Edge 2024: Enhanced connection with Siemens Xcelerator Portfolio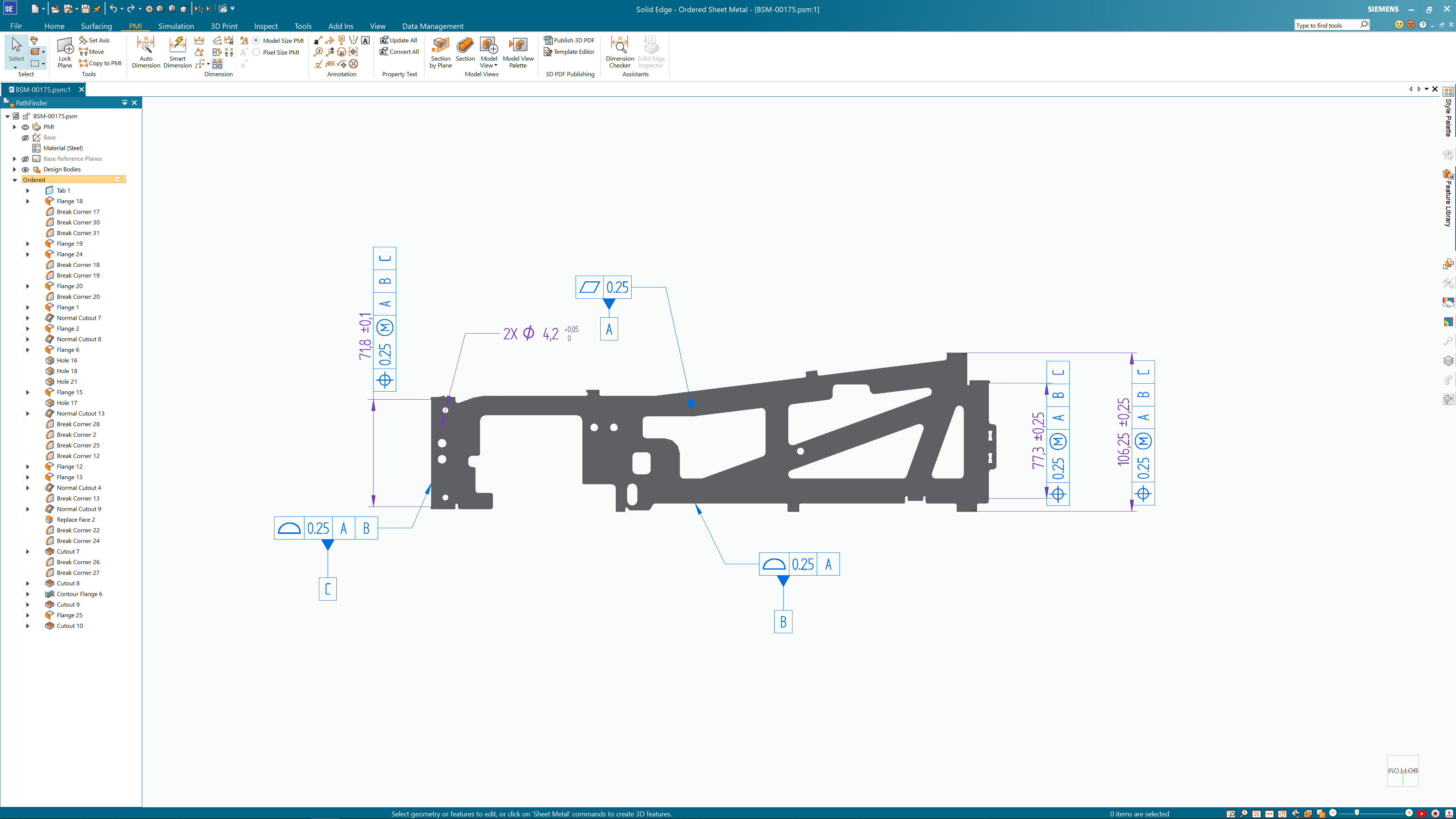 Table of Contents
Solid Edge 2024 has improved functionality and new features to help you access the power of the comprehensive Siemens Xcelerator portfolio. Siemens Xcelerator portfolio contains software that gives you the tools to design products, realize their capabilities through manufacturing, and optimize them to ensure the best performance possible. With Solid Edge 2024, improve your design data and connectivity with enhanced interoperability between Solid Edge and the Siemens Xcelerator portfolio, including NX, Teamcenter and Teamcenter Share.
Improved NX Interoperability
Improvements to High-Fidelity Product Manufacturing Information (PMI) ensure Solid Edge files look the same when opened in NX. With the file open in both NX and Solid Edge, changes made to PMI in Solid Edge are automatically updated in NX as well. Assemblies created in Solid Edge that contain internal components can be opened quickly in NX and support is also provided for stacked annotations, center marks, centerline of bolt hole circles and more. provided for stacked annotations, center marks, centerline of bolt hole circles and more.
Teamcenter Integration for Solid Edge
This year's release introduces a host of improvements in Teamcenter integration for Solid Edge. Integration with Teamcenter, the industry leading PLM solution, improves the quality of your product development process by enhancing your Solid Edge CAD data management to create a single design data management environment for mechanical, electronic, software and simulation tools and data.
Teamcenter Product Configurator is now fully embedded in Solid Edge, enabling you to easily create variant configurations of assemblies within the Solid Edge environment. Engineering efforts can be reduced by prioritizing product variability management in the product definition and designing processes. By bringing product variability to the front of the process, you can maximize re-use and commonality.
Companies can choose to share a common framework, allowing them to deliver full visibility of variances within a product suite. The visibility of variants provides multiple disciplines with the ability to manage areas of configuration that are unique to their domain. You can now manage all aspects of configuration by utilizing integrated change management solutions. By using common variability threads for highly complex products, you can take advantage of the comprehensive digital twin. Powerful impact analysis technology is also available across the product suite.
Across the Solid Edge portfolio, integration with Teamcenter continues to improve, including for Solid Edge technical publications and Solid Edge Inspector. Data import has been improved for users with Solid Edge technical publications and Teamcenter. 3D data can now be seamlessly imported from JT files managed by Teamcenter. With Solid Edge Inspector, you can now achieve complete traceability of your design data's characteristic information. Integration with Teamcenter enables you to perform characteristic identification processes on 'released,' 'read-only' Solid Edge parts without requiring write access.
Additionally. Solid Edge Inspector also has the ability to interface with Siemens Opcenter and Teamcenter Quality. Fully integrated in Opcenter Quality/Execution and Teamcenter Quality. The enhancement allows users to consume characteristics data coming from Solid Edge directly in the quality management systems.
Teamcenter Share Support for Solid Edge Technical Publications
Support for Teamcenter Share continues across the Solid Edge portfolio, allowing for greater collaboration not only with customers, suppliers, and partners, but also internally with colleagues and other business segments of a user's company. Solid Edge 2024 introduces improved integration for both Solid Edge Technical Publications and Solid Edge Inspector.
In addition to standard Microsoft Office file formats supported in the past, Teamcenter Share has expanded the viewing capabilities of HTML files, one of the most useful and popular publishing options for Solid Edge Technical Publications.
The benefits of Teamcenter Share and technical publications aren't limited to file types supported but also to view, share and manage them. Share's secure cloud storage gives users confidence that their documentation is protected when stored and/or shared. Share follows Siemens's security baselines and leverages leading technology for data protection and storage.
To learn more about what's new in Solid Edge 2024, click here
Join the conversation 
There are a lot of ways to hear what others are saying about the upcoming release and to connect with other Solid Edge enthusiasts online. 
Here are a few ways to join the conversation right now: 
This article first appeared on the Siemens Digital Industries Software blog at https://blogs.sw.siemens.com/solidedge/solid-edge-2024-enhanced-connection/