Simcenter Testlab 18: All you need to know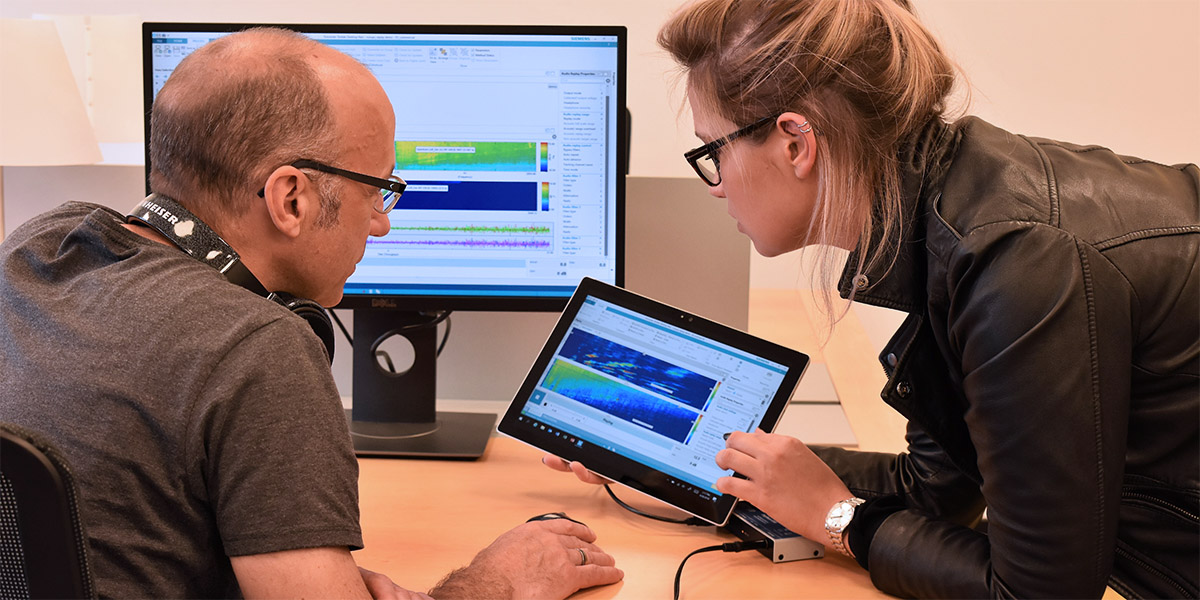 Simcenter Testlab 18 brings along a large number of enhanced features and novel functionalities. This major release introduces Simcenter Testlab Neo as well as a number of improvements on the original platform.
Interested in Simcenter Testlab Neo?
Novelties in Simcenter Testlab 18
---
Enjoy Simcenter Testlab Neo
Get productive from day one with Simcenter Testlab Neo.
Get your "Tasks" done!
Simcenter Testlab Neo builds on the workflow concept of original Simcenter Testlab, yet further simplifies its usage, introducing the concept of "tasks".
Learn more about the task-centric user interface.
Interact! Discover the joys of interactive analysis in Simcenter Testlab Neo Desktop
Interact with your data, now! The "Interact" task lets you quickly edit and process channels – just select the channels and the processing to apply to those. Save or further process results. Undo or redo operations. Visualize processed data next to the original one. Change processing parameters. Fiddle with your data sets and save the sets you need where you need them.
Find more information about interactive graphs and interactive analysis by clicking on the links.
Benefit from novelties in general acquisition and processing capabilities
Simcenter Testlab Neo adds many features and functionalities to enhance your efficiency at work.
Simcenter Testlab Acquisition Setup adds following functionalities:
The tacho scope lets you easily setup analog tacho sensors, such as magnetic pick-up and optical probes.
The Automated Channel List import tool also facilitates the offline creation of a high-channel-count test setup. It automatically generates a project starting from a Simcenter Testlab 18 template and an MS Excel file with your measurement information.
Ranges and supplies for ratio-metric sensors are coupled in order to exactly match one of the available hardware ranges of the input module.
Simcenter Testlab Time Data Acquisition comes with improved features:
Transfer video images directly to your PC with the SCM-CIM2 module – fully synchronized with the other data streams such as accelerations, strain gauges, displacements, GPS data, CAN bus messages and wheel force signals.Transfer video images directly to your PC
Embedded sensor checks: The improved Balance and Shunt checks allow you to easily identify possible instrumentation issues. The Headroom check notifies you of a reduction of the dynamic range due to the hardware offset on the channel.
Simcenter Testlab 18 also offers following General Processing functionalities:
Control your process with the Process Designer. It adds Block and Pass Methods to support a better control the data flow within a process.
Direct support of multiple time data formats: MTS RPC3, nCode DAC, HBM SoMat SIF, HDF, WAV, NI DIAdem, and more.
Additional data formats supported: histogram results like Rainflow, PSD or Time At Level.
---
Rely on enhanced functionalities for sound quality engineering
Read the full blog post and discover the latest enhancements of intuitive sound quality engineering.
Intuitive sound quality analysis with Simcenter Testlab Neo
---
Streamline your durability testing processes
Durability testing is a complete end-to-end process in Simcenter Testlab Neo. No need to convert data or switch software.
Load Data Analysis methods in the Process Designer include new damage-related methods as well as the superposition method. Fatigue life analysis is also available, with life prediction based on the stress life or the strain life methods.
Find more information on Load and fatigue analysis.
For Simcenter Tecware users, the task "Tecware" allows using the Simcenter Testlab interface to select the data while using Simcenter Tecware to process the same data.
---
Benefit from enhanced functionalities in Simcenter Testlab 18
Simcenter Testlab is also enhanced. The platform is enhanced, fully compatible with Neo, and brings a wealth of novelties.
Firstly, let us mention improvements in the Simcenter Testlab 18 Desktop:
Integration of all data drivers – no need for extra licenses or external data import.
Support of Ansys .rst files.
Enhancement of the Block Calculator with new functions: INDEP_VAR_COMPOSE and INDEP_VAR_DECOMPOSE. INDEP_VAR_COMPOSE helps compose a new block from the Y-axis values of two separate blocks. INDEP_VAR_DECOMPOSE generates two blocks out of the X-axis and the Y-axis values of the reference block.
Numerous display enhancements: new curve scrolling mode, enhanced driving point mode and multiple XY curves.
The new release also improves on a number of applications in the Classic platform.
Speed up setup and instrumentation time
To reduce test preparation time and minimize time spent on correcting attributes of measured data, rely on the new Instrumentation App. Find out more in this article.
---
Enhance your acoustic testing
Next, in the field of Transfer Path Analysis, the Matrix Heatmap display addresses the increased demand for high quality and instant verification of the acquired data. More information about the heatmap coming up soon.
Discover more novelties in the field of acoustic testing, starting with faster and more accurate sound source localization.
The release also introduces Bayesian Focusing, an improved sound power quantification method. It allows getting reliable sound power estimates, even when measuring at further distances from the source. It works for both correlated and uncorrelated sources, over a wide frequency range.
Simcenter Testlab Sound Camera
Simcenter Testlab Sound Camera integrates a cross-spectral-matrix (CSM) processing method: it improves the dynamic range by removing self-generated noise, especially in presence of aero-acoustic sources. The Deconvolution add-in now includes the Clean-SC method, which helps to trace uncorrelated, aero-acoustic sources, in mid and high frequencies.
Pass-by noise (PBN) testing
Pass-by noise (PBN) testing remains an important topic. Multiple functionalities in Simcenter Testlab 18 enhance the user experience: the automatic stop trigger, the immediate report displays with clearer coloring and deviation indication column. Analyzing the PBN contribution of different sound source components also becomes easier with the loading of acoustic source quantification (ASQ) results in the validation sheet.
The Pass-by Noise Driver's Aid App has also been improved:
The Advanced tab now shows the real-time RPM value, allowing users to monitor rpm targets.
The required gear is confirmed in the Advanced tab.
Users can request to resend the report results in case their vehicle has gone out of range.
Also, a compass calibration function is added.
---
Novelties in rotating machinery testing
In the field of Signature acquisition and processing, following functionalities have been added:
Improved Tacho/RPM reconstruction at low rotational speed, a feature particularly helpful for NVH engineering of mild hybrid vehicles.Improved Tacho/RPM reconstruction at low rotational speed
Additionally, for addicts of angle domain processing, a new lookup table functionality allows defining angular increment values, pulses per pulse for non-equidistant encoders.
---
What's new in Structural Analysis – Remember MLMM?
The advanced maximum likelihood estimation of the modal model parameter estimator (MLMM) further enhances the Simcenter Testlab 18 structural analysis portfolio.
Read more about MLMM here (general description) and here (technical explanation).
---
More novelties in the field of dynamic environmental testing

Firstly, Acoustic control completes the portfolio of solutions for space qualification testing. Read more about closed-loop acoustic control.
Then, a new feature allows you to save only throughput data of a selected set of channels, optimizing your storage. This is also applicable to derived channels.
The release also includes the full support of force measurement device (FMD) with force and moment limiting applied on derived channels.
Additionally, the MIMO TWR workbook is improved and more user-friendly.
Lastly, a new calculated parameter "Shock pulse duration" is added for Shock Response Analysis (SRA).
---
Explore new hardware and data acquisition functionalities

On the data acquisition side, the new release brings the following improvements:
Full support of CAN-FD inputs. Join the revolution of the transportation industry and get more data from hyper-connected vehicles through this high-speed bus.
24-channel V/ICP input modules V24-II for Simcenter SCADAS Mobile and Lab: add user-selectable ranges when measuring with conventional ICP accelerometers and microphones.
A Wheel Force Transducer module WFI2-KR for Simcenter SCADAS Mobile saves on cabling, instrumentation and configuration time thanks to the Ethernet-based digital one-wire transmission.
The 4-channel V/ICP, bridge, and dynamic strain input with monitoring output VBDS4 module is designed for aero-engine testing and industrial turbine testing applications.
Simcenter SCADAS XS also supports missing pulse correction.
---
That was a long but non-exhaustive list of novelties. So, if you want to find out more, contact us or check out the information on the Global Technical Access Center.
This article first appeared on the Siemens Digital Industries Software blog at https://blogs.sw.siemens.com/simcenter/simcenter-testlab-18-all-you-need-to-know/