Ready for Silverstone! Ducati Racing Team on track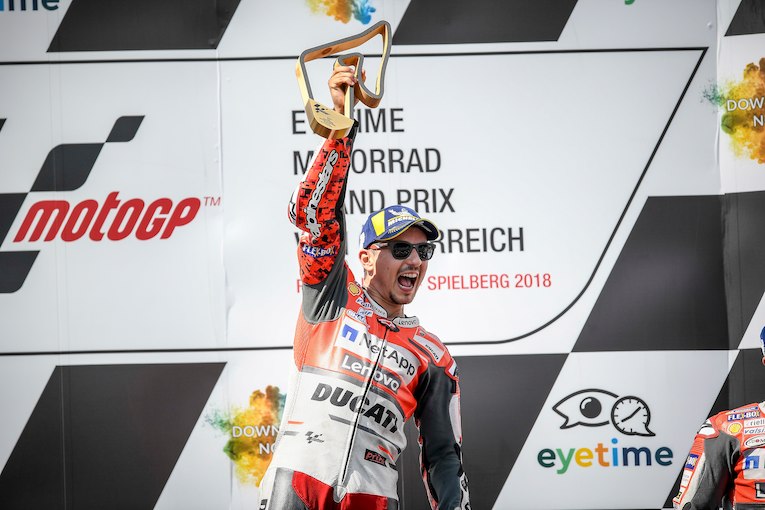 In 2018, Jorge Lorenzo scored a splendid victory in the Austrian Grand Prix. He raced on the back of a Ducati Corse MotoGP bike for the Ducati Racing Team.
Lorenzo describes this achievement in emphatic words: "It was an incredible race, maybe one of the best of my career, quite simply spectacular! Winning with Ducati on this circuit, where I had never won before, after a close quarters battle with Marquez, has a really special taste. Before the race I had thought about which strategy to use, and I decided to do like Brno, administering the tire wear well and then attacking in the final part of the race, especially because I was one of the few riders who had chosen 'soft' tires and my riding style allowed me to conserve them until the end."

(Click here to read the complete race report )
Image: www.ducati.com

So, what are Ducati racing team's keys to success?
Excellent drivers, outstanding race strategies, for sure. But also, vehicles that deliver incredible performance down to their smallest parts. Within Ducati Corse, a dedicated team designs purpose-built prototypes and purebred racing bikes for the MotoGP. This team is committed to bringing new updates to the racing track. As for best practices, they test them before implementing them on official racing bikes.
Therefore, the team uses Simcenter test and simulation solutions to optimize the design of its racing bikes. Among others, engineers study the frequency behavior of all components. Their aim is to guarantee their in-race reliability, from the chassis to the fork over all load-bearing elements.
Marco Liberati, Vehicle and Data Analysis Manager at Ducati Corse, disclosed some elements of success to our Siemens Italian team. "Simcenter testing solutions contribute to generate a full picture of the motorbike dynamic behavior and to deliver accurate predictive analysis. Besides improving reliability and the prediction of component life and durability, the solution provided by Siemens promises interesting developments for the performance of our motorbikes. Definitely, we have achieved the results we expected from this solution, as witnessed by the excellent performance of our riders in the 2017 MotoGP season."
So, are you eager to know more? Read the full case study here!
This article first appeared on the Siemens Digital Industries Software blog at https://blogs.sw.siemens.com/simcenter/ready-for-silverstone-ducati-racing-team-on-track/