Products
Good digital twins don't lie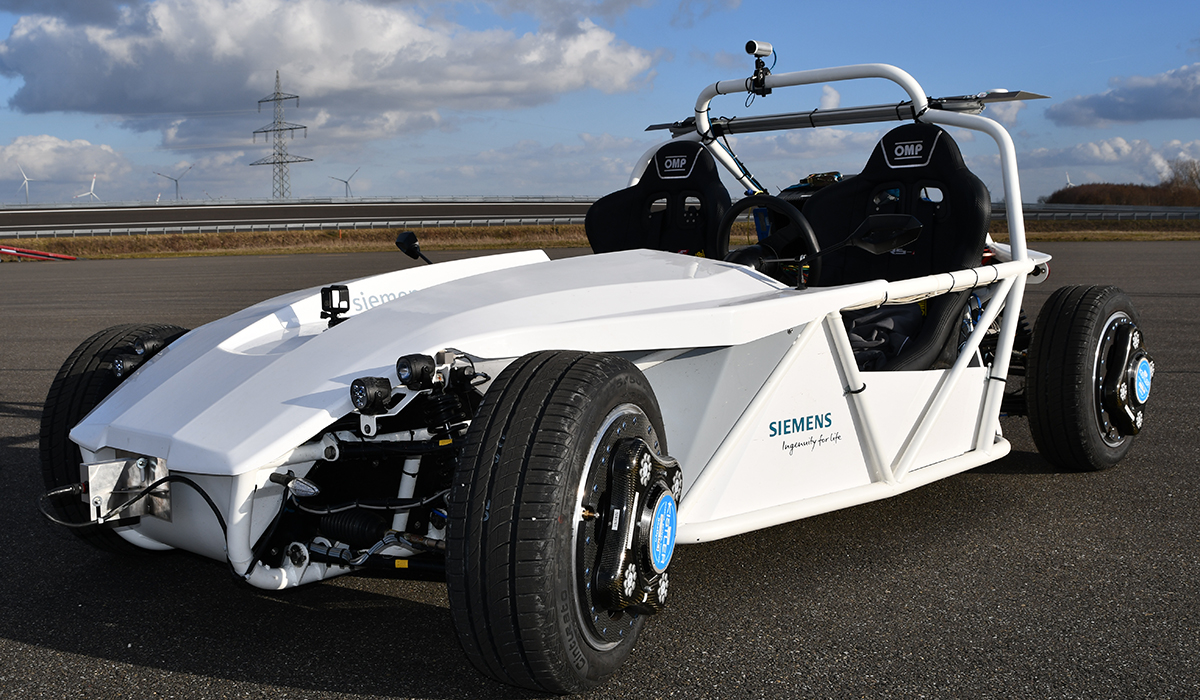 SimRod is obviously not a digital twin. It's our Simcenter lab-on- wheels or in engineering speak: a demonstrator. Demonstrators are important because we can investigate those tricky engineering enigmas, but more importantly for the Simcenter story, we can check out the accuracy of the performance predictions created by our Simcenter and NX digital twins. This ability to double check the digitalized world in reality is a key success factor to creating a more truthful digital twin – rather than a less accurate, incomplete or "dirty digital twin".
So what exactly is SimRod?
In essence, SimRod illustrates the process of improving the accuracy of Simcenter performance predictions. You might think of it like crosschecking a trusted hiking map (rather than the latest navi app) before a wrong turn gets you really lost in the digital twin wilderness.
More specifically, SimRod is based on eRod , an existing vehicle made by the Swiss company, KYBURZ. It is a 2-seater with a 120 km/h top speed and a 180 km range using a 45 kW/140 Nm electric motor. We packed the car with test equipment. Using this vehicle, we will demonstrate how to develop a test-calibrated digital twin. In other words, SimRod is really sustainable, way fun to drive, and equally fun to twin!
The basic idea behind the SimRod project is to go through the V cycle in reverse. Each step of the way, we will test the SimRod's performance attributes, taking the typical sign-off criteria as a basic data set. In addition, we will enrich the instrumentation to allow model calibration. For each of the attributes, we will build a model and show in detail how testing can help drive model calibration towards absolute accuracy or in other words, a more truthful digital twin.
Where needed, we build test-bench setups to validate component performance – again closing the loop by using testing to calibrate the simulated digital twin models.
Digital twin: 100% accurate or a little white lie?
That isn't saying that using a dirty or less accurate digital twin is a bad thing; sometimes, as an engineer, that is all you need. It depends on what stage in the process you are in.
As many of you know, the "design in V" approach offers a proven method, using simulation models as a solid base for making design decisions. At this point, the role of the simulation model is to deliver performance predictions to help guide program managers to the right design alterative. So in the design phase, simulation results that rank predicted performance are rather crucial to the decision process. But, at this point in the game, the absolute accuracy of the prediction is less important, as long as the ranking is correct.
But, when you are signing off the homologated vehicle or the production-ready transonic jet accuracy is vital and that final physical test is still mission critical. In most cases, it is a certification requirement, but often some part of the simulated digital twin lacked fidelity.
Unfortunately, all too often that final test is under budget and time pressure and happens quickly for product performance validation only. The newer idea of a final "loop-close test for the digital twin " is skipped. This is a missed opportunity to upgrade a dirty digital twin to a truthful one. And a missed opportunity that we need to start addressing since many of the bits and pieces of a calibrated digital twin will be re-used in future products – not to mention soon-to-arrive active use scenarios for IoT and connected digital twins.
So, to make a long story shorter, this is why we created the SimRod. It gives us – the growing team of Simcenter developers and researchers – an excellent tool to prove our own ideas and solutions. We use SimRod to demonstrate the "loop-close test for the digital twin" process implemented in the Simcenter solutions. And we hope this will help our customers advance in this area.
So whether or not you are a digital native or skilled testing expert, the true power of the Simcenter platform lies in the combination of both testing and simulation. An excellent advanced engineering toolset, the Simcenter portfolio is designed for smooth data exchange between test and simulation development teams to help everyone efficiently build test-calibrated digital twins – digital twins that don't lie.
Over the next couple of months, we'll be featuring some of the SimRod stories about our work in: durability, NVH, acoustics, structural testing, ride and handling, battery testing, brake testing and much more.
You'll already get a good taste of what SimRod means for the future of the truthful digital twin.
Check out all the SimRod stories that are already available.
This article first appeared on the Siemens Digital Industries Software blog at https://blogs.sw.siemens.com/simcenter/good-digital-twins-dont-lie/