Products
Excellence in electric vehicle NVH at Karma Automotive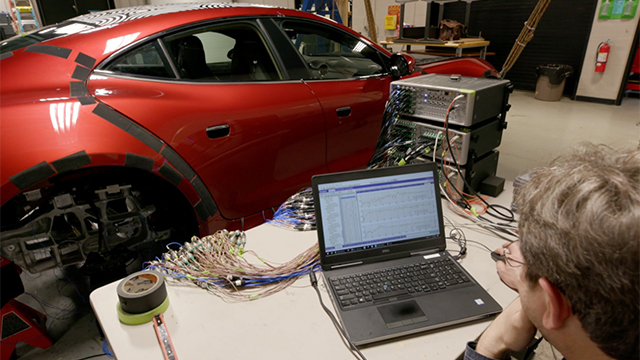 What should an electric sports car engine sound like?
There is no clear answer to this question, as there is little history of electric vehicles to draw from. Engine noise is also brand-specific, so even existing electric vehicles sound different depending on which company produced them.
There are also mechanical challenges. Hybrid-electric vehicles lack the noise-masking effect of a combustion engine. This makes other sounds seem much louder, such as road or HVAC noise. In addition, companies working with electric vehicles face a double-edged sword. Trying to optimize NVH can become counter-productive if these efforts have a negative impact other attributes such as weight, strength, durability and ride comfort.
Karma Automotive is a California-based startup that produces the Revero and Revero GT2.0, a luxury electric hybrid sedan. As a startup, Karma faces unique challenges:
Time is more expensive for the company than it is for the established players
There are hardly, if any, second chances
"It is now of more crucial importance than ever that models and analytics properly duplicate what happens in the physical world, so that when we do go back to the actual vehicle, the virtually obtained solutions fit with a high degree of confidence – and they are actually going to work."

Bob Kruse, chief technical officer at Karma Automotive
What's the solution?
Karma Automotive understood that developing a product wasn't enough. They needed a partner to help them build the process to achieve excellence in electric vehicle NVH. They partnered with Siemens and created a plan that utilized both testing services and software products.
"By using the Siemens consulting services and software tools, we were able to get it right with a minimum amount of iterations. "From a technical point of view the targets weren't only met, but beaten."

Bob Kruse, chief technical officer at Karma Automotive
To learn how Karma Automotive achieved superior design that not only meets economics, but does so in an environmentally friendly and acoustically enjoyable way, read the full story here.
This article first appeared on the Siemens Digital Industries Software blog at https://blogs.sw.siemens.com/simcenter/excellence-in-electric-vehicle-nvh/