Robotic automotive manufacturing simulation cuts commissioning time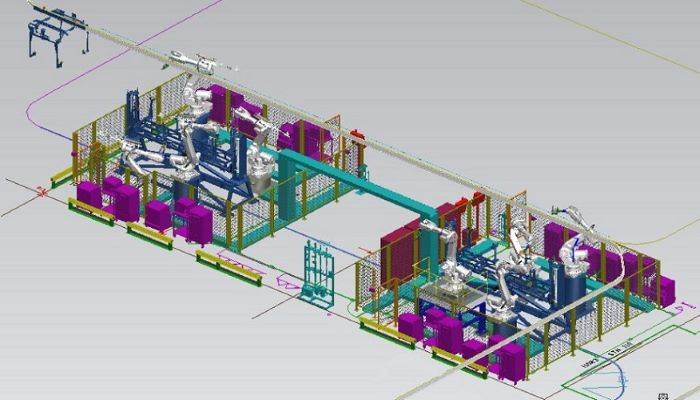 Tecnomatix Process Simulate for virtual commissioning
Traditionally, commissioning a new manufacturing line can be timely and expensive. Making changes to the design of the line can be difficult, but synchronous technology and virtual commissioning can ease the process.
A leading luxury automobile manufacturer approached Simulo, experts in robotic simulations for the automotive, aerospace and rail industry for over twenty years, for a virtual commissioning project. Simulo turned to Smart Expert partner Simsol for support using Siemens Tecnomatix Process Simulate to migrate data from older, more limited software and take full advantage of the capabilities with digitalization and virtual commissioning like reducing costs and time to commission the new line.
The two companies partnered to combine their approach for mechanical, electrical and control engineering to increase efficiency and reduce design time for a new robotic production line. Simulo selected Simsol because of their 20 years of experience in applying digital simulation to manufacturing and robotics automation — and their extensive background with virtual commissioning. As a Siemens Smart Expert in Tecnomatix solutions, Simsol has vast expertise in mechanical and electrical design and concurrent automation programming entirely within a computer simulation.
Programmable logic controller programming
Today's highly automated and flexible manufacturing systems are all controlled by programmable logic controller (PLC) programs that include sophisticated tooling, robots, transfer lines and other safety equipment. PLC programming allows manufactures to alter production lines without having to completely retool the entire facility. However, whenever programming changes occur, engineers must stop the production for an extended period while they debug the PLC programs against live equipment. Virtual commissioning allows the design of a production line without manual interference and avoids the costs, delays and mistakes that come from a traditional approach of physically installing a new line and trying to debug and optimize it on the shop floor. It also enables PLC and robot automation code development and system functionality, troubleshooting and diagnosing unexpected machine behaviors prior to building and commissioning the production line.
Applying Tecnomatix to an automobile production line
With Tecnomatix virtual commissioning solutions, users can debug PLC codes on a virtual environment before downloading them to real equipment. By simulating and validating automation equipment virtually, users can confirm that they will work as expected and significantly reduce system startup time.
The Simulo engineering team provided draft elements for the line simulation which included two stations and eight robots. With Process Simulate, the team was able to concurrently do the mechanical, electrical and kinematic engineering with digital simulation techniques. This virtual approach using Process Simulate enabled 98% of the production effort to be done digitally, reducing costs and time to commission a new production line. The automotive manufacturer, the end customer, provided feedback that the simulation developed react exactly as the machine on the factory floor does, providing precision and efficiency.
Increasingly manufacturing requires greater flexibility, lower cost, faster speed and higher quality across all industries. Virtual commissioning is the application of the digitalization twin, which allows for the drafting, engineering and optimizing of a production system before its construction or during its operation. It facilitates the implementation of concurrently doing the mechanical, electrical, and PLC programming and engineering. By being able to digitally simulate the operation of the robotics and the production line in operation with dynamic, event-based simulation, the design team can validate the existing design and optimize the performance of the production system. This minimizes the disruption once it is constructed on the shop floor. Hardware and software in the loop (HiL, SiL) provide connection to real and virtual PLC code.
Simulation Solutions (Simsol) is a Smart Expert partner specializing in Tecnomatix with over 20 years' expertise in manufacturing, simulation, analyzing and improving manufacturing and logistics operations, and the ergonomics of assembly and facility layout.
Contributors: Jonathan Birrell, Marketing Manager at Simsol is passionate about working with forward thinking manufacturers to share simulation success stories and showcase the positive economic and environmental impact that Industry 4.0 solutions deliver for manufacturers across many industries.
James Gregory is the Director, Global Channels Business Development at Siemens Digital Industries Software with over 25 years of sales leadership with leading technology providers around the globe. At Siemens, he is responsible for global partner coverage and capacity. Mollie Gladden and Maggie Korte are market research Co-Ops at Siemens Digital Industries Software studying Marketing at the University of Cincinnati.
This article first appeared on the Siemens Digital Industries Software blog at https://blogs.sw.siemens.com/partners/tecnomatix-virtual-commissioning-for-automotive-manufacturing/