Siemens Solution Partner recognized for its unique design automation approach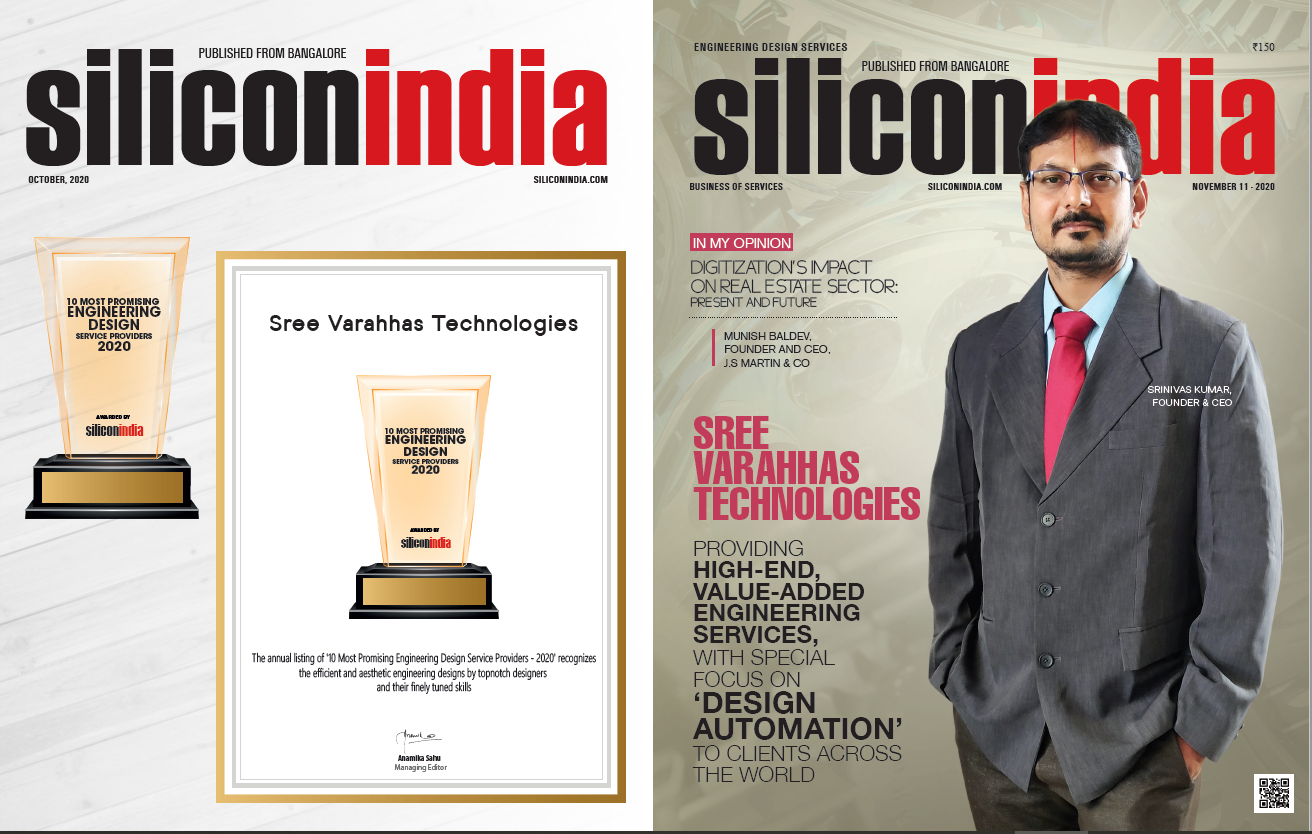 Sree Varahhas Technologies Pvt Ltd., a Siemens solution partner from Hyderabad, India, is rated as one among the Ten Most Promising Engineering Design Service Providers 2020, by Silicon India magazine for their value-added services and unique affordable design automation services and solutions, including finite element analysis and manufacturing support processes. Why is that important or so unique?
Balancing creative design with routine design
For organizations involved in the design and manufacture of complex products, the product design process generally involves about 20 percent of creative design activities along with 80 percent routine design activities. The maximum benefit can be realized by these organizations by automating 80 percent of the routine design activities at a relatively lower cost. This will lead to a faster time to market with minimal problems during the manufacturing stage.
Another important aspect is that every organization involved in MCAD product design has its own set of best CAD practices. It requires a considerable effort to develop separate tools to meet their unique requirements. Sree Varahhas has come up with a novel approach to meet this challenge.
Engineers at the company created a unique program architecture for the development of automation tools. It allows for easy configuration of the automation tools to incorporate the best CAD/CAM/CAE practices of each organization. This creates a flavoured tool that meets the exact requirements of the client and are highly useful for aerospace, automotive, heavy equipment, energy, consumer goods and medical devices companies.
The G4SL Toolkit
A strategic mix of generic design automation tools and product-specific design automation tools together with the power of NX Design and NX Manufacturing makes these tools a one-stop solution. The collection of these tools developed over the last eight years is known as the G4SL Toolkit and several modules that help designers, managers, and organizations.
Generic modules: Admin Module, QC Tools, Productivity Tools, ECM Tools, Reverse Engineering Tools, Hole Module, DFM Tools, Batch Mode Tools, Integrated Checklists, Downstream Applications
Product-specific modules: Satellite Designs, Boiler Designs, Transformer Designs
In order to focus on making our Engineering team more effective and easier to manage, Sree Varahhas developed a customized NX integrated Tool Kit; delivering tangible competitive advantage to the business.

TR Krishnamohan, Head of Production, Synergies Castings Ltd.
These tools reduce the CAD design QC times by 90 percent, reduce the time for automated design tasks by 90 percent and reduce the design costs by 30 percent. They can be quickly configured, using its admin module to suit each client's CAD practice with minimal programming effort. Another essential feature is the HTML and dynamic reports, which provide extensive information in a structured and user-friendly manner. The tools have tangible benefits including design cycle time reduction, enhanced designer productivity and improved design quality. They also provide intangible benefits such as CAD process standardization, proper organization of CAD data, and fast and efficient implementation of automation tools. Sree Varahhas aims to convert these tools and combine them to create an integrated, configurable CAD/CAM/CAE solution using NX software.
This G4SL Toolkit offers excellent benefits of enhanced productivity, improved quality of the information as required by the manufacturing industries. We appreciate the effort of the entire Sree Varahhas technologies team under the guidance of Srinivas Kumar.

Anand Phadnis, India Partner Presale Solution Consultant, Siemens Industry Software (India) Private Limited
T. Srinivas Kumar is a certified professional with 22 years of experience in Siemens Digital Industries Software CAD/CAM/CAE/PLM products. He maintains technical account management responsibility focusing on customer relationship management by implementing CAD/CAM solutions and services in the aerospace and automotive industries.
About Sree Varahhas Technologies Pvt Ltd. is a premier engineering design company in Hyderabad, India. The company focuses on automation's critical areas, developing generic solutions and product-specific tools on NX to help customers realize benefits and address the specific challenges prevalent in the aerospace, automotive and heavy equipment industries.
This article first appeared on the Siemens Digital Industries Software blog at https://blogs.sw.siemens.com/partners/siemens-partner-recognized-for-unique-design-automation-approach/