Thought Leadership
Building a modern smart factory – digital solutions and cloud computing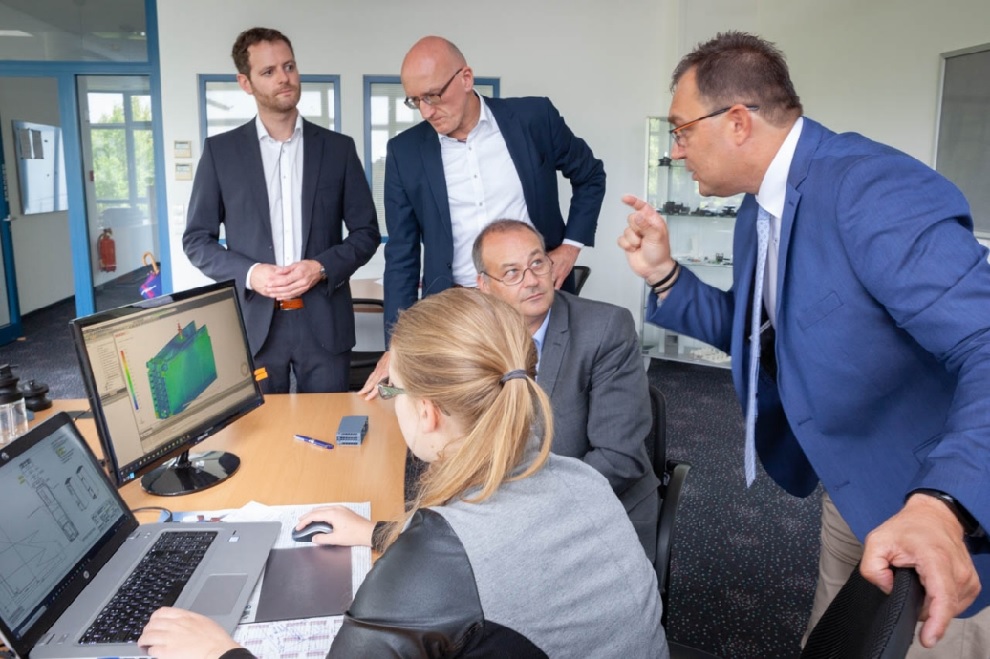 There are surging customer demands to reduce downtime and increase throughput in the manufacturing industry. Companies need assistance to deliver a solid foundation using a smart grid and electrical distribution, to build automation, security and fire safety. A company can create a future smart factory with these characteristics supporting them. Siemens Digital Industries Software merges the physical and virtual worlds using data to meet the needs for providing awareness and connecting processes, products and people.
A smart factory allows ideal collaboration with people, technology and IT. To get production out the door quickly, a company must analyze energy usage and ensure employees are safe and efficient. The manufacturing industry is implementing technologies to address these customer demands, raising productivity and cost-effectively.
Learn more about smart factories.
Constructing a smart factory
Desigo CC provides the technology backbone for smart building infrastructure. They provide robust, up-to-date platforms that enhance comfort, efficiency, resilience and safety. In addition, it is a scalable, open enterprise software platform for data integration providing visibility to the company and the user. It can connect building systems via open protocols, APIs, web services and custom integrations to achieve favorable business outcomes. This innovation provides the architecture to meet the following KPIs: operational efficiency, energy efficiency and employee safety through a connection of data-driven technology to achieve elected use cases.
Furthermore, a cloud-based building analytics tool called Fault Detection Diagnostics (FDD) uses machine learning to offer predictive maintenance, which maximizes factory uptime. Finally, an integrated digital twin solution delivers digital twins of a company's buildings and assets using multi-dimensional visualization for intelligent analysis while refining facility best practices.
Learn more about Desigo CC.
Industrial Edge technology makes a smart factory achievable
To have a smart factory requires smart tools. Siemens Industrial Edge is an open, ready-to-use edge computing platform that uses devices, apps, connectivity and an application and device management infrastructure. Using edge computing, data is processed where it's generated: production machines, machine tools, processes and plants. Consequently, data is more practical, allowing it to optimize workflows, save resources and optimize quality. Also, Industrial Edge provides cloud computing capabilities – more power, storage and remote access, and total data control.
Unfortunately, not all machines are smart or able to communicate data. For instance, new machines can have built-in sensors. Additionally, Valor-built boxes can plug into machines for PCB. However, it's not a straightforward process, hence the need for smart machines. Someday everything will use operational technology with everything smart, but we're not there yet.
So, Industrial Edge supports a company's IT infrastructure with convenient data storage and transmission, as not all data is processed through an IT network and performed locally. Therefore, it is essential to maintain complete control over your data. Thus, with Industrial Edge, you decide which data is processed locally and which is optionally transferred to a cloud for further processing.
Learn more about Siemens Industrial Edge.
Future smart factories
In the future, all factories will be smart. But, until that happens, factories strive for a smart factory because a smart manufacturing environment means every machine on the floor is smart and serves up information to the other machines, regardless of brand, type or age. Ultimately, IT will not be essential because all machines will be smart. For example, in a representative smart environment, machines deliver data to other machines, receive information, and analyze it holistically, with data from various vendors and data schemes.
Learn more about future smart factories.
---
Siemens Xcelerator, the comprehensive and integrated portfolio of software and services from Siemens Digital Industries Software, helps companies of all sizes create and leverage a comprehensive digital twin that provides organizations with new insights, opportunities and levels of automation to drive innovation.
For more information on Siemens Digital Industries Software products and services, visit siemens.com/software or follow us on LinkedIn, Twitter, Facebook and Instagram. Siemens Digital Industries Software – where today meets tomorrow.
Related links:
Smart Manufacturing podcast 01 – Uncovering Smart Manufacturing
Smart Manufacturing podcast 02 – The Convergence of IT and OT in Digitalized Manufacturing
Smart Manufacturing podcast 03 – Uncovering Closed-Loop Manufacturing
This article first appeared on the Siemens Digital Industries Software blog at https://blogs.sw.siemens.com/thought-leadership/2022/09/27/building-a-modern-smart-factory-through-digital-solutions-and-cloud-computing/