Products
Welcome to the 2023 Tecnomatix Plant Simulation User Conference!
Siemens is pleased to invite Tecnomatix Plant Simulation users to the 2023 Tecnomatix Plant Simulation User Conference, which will be held on July 13th, 2023, at the Infinity Hotel in Munich, Germany. This conference will provide an excellent opportunity to learn about the latest features of Plant Simulation software and the roadmap for future versions.
As a Plant Simulation user, you will have the chance to influence the future development of the product by sharing your experiences and suggestions. We are very interested in your feedback on how to make the software better, easier to use, and more suitable for the future. The 2022 conference was a resounding success, with industry experts in attendance engaged in presentations and hands-on demonstrations by Siemens experts and Plant Simulation users alike. We anticipate that this event will be even better!
Attendance is free, but space is limited, so please register today to reserve your spot. The 2023 Tecnomatix Plant Simulation User Conference will take place the day after Realize LIVE Europe, but it is not part of the Realize LIVE event, so a separate registration is required.
We are excited to have presentations from esteemed customers such as HONDA MOTOR, Robert Bosch, Audi, LG Production Research Institute, Magna Steyr Fahrzeugtechnik, MHP – A Porsche Company, advanced simulation services, HATEC Automatisationsges.mbH, SimPlan AG, Prof. Dr. Tao Yifei, and Gestamp Spain. These presentations will provide valuable insights into how Plant Simulation is being used in real-world scenarios.
The conference will be an in-person-only event, and there will be no virtual content or broadcast of the lectures. Event registration will open at 08:00 AM, and the first lecture will start at 09:00 AM. The presentations will proceed in two tracks until 6:00 PM and end with a Q&A session. In the evening before the user conference, we will have a dinner together. If you would like to join us, please register here for the dinner as well.
This conference will be an incredible opportunity to learn and share your experiences with other experts in the field of discrete event simulation. You will be able to attend informative sessions led by industry leaders, gain valuable insights into the latest trends and technologies in the field, and connect with peers and colleagues from around the world.
We encourage all Plant Simulation users who are interested in improving their discrete event simulation skills to join us at the 2023 Tecnomatix Plant Simulation User Conference. This event is a fantastic opportunity to network, gain knowledge and expand your professional horizons.
We look forward to seeing you there!
Best regards, Your Plant Simulation team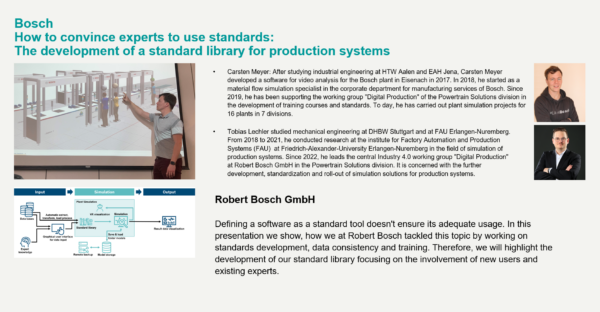 Register today at https://events.sw.siemens.com/en-US/realizelive/europe/plant-simulation-user-conference/ to reserve your spot at this exciting event! Don't miss out on this opportunity to expand your knowledge and grow your network.
And while you're in Munich, take the time to explore this beautiful city, with its rich cultural heritage and stunning architecture. Book your hotel room here: https://events.sw.siemens.com/en-US/realizelive/europe/hotel/
Below are a few pictures from last year's conference to give you a glimpse of what you can expect at this year's event: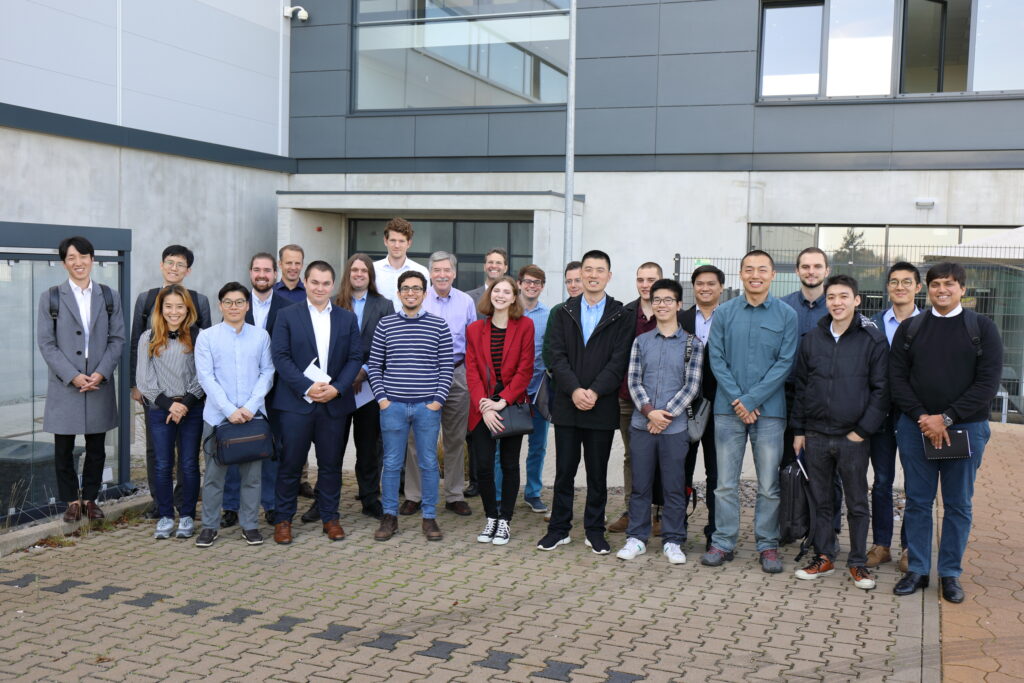 This article first appeared on the Siemens Digital Industries Software blog at https://blogs.sw.siemens.com/tecnomatix/welcome-to-the-2023-tecnomatix-plant-simulation-user-conference/