TEAMCENTER BETA TESTING VIRTUAL EVENT | APRIL 2021
We're inviting Teamcenter customers to participate in the 2021 Virtual Teamcenter Beta Testing Program! Whether you're working from home or the office in April, you can participate in this virtual event!
—– Registration is now closed for the 2021 event. —–
Are you interested in early access to Teamcenter? Would you like to have the opportunity to see the recent and upcoming enhancements before the release and help us prioritize future Teamcenter features? Are you interested in interactions with other customers, Teamcenter development leaders, and product managers?
The Teamcenter Product Development organization is hosting this virtual beta testing event, which is structured to span two weeks, using Microsoft Teams and Teamcenter software hosted on a Siemens private cloud. You can use your own devices to access the cloud. The event will be conducted remotely to provide the opportunity for worldwide customer participation.
DEMO WEEK, April 6-9, 2021, Kick-off meeting and capability demonstrations. All participants should plan to attend these sessions (3 hours each day) for product testing.
BETA TESTING WEEK, April 19-23, 2021, End-user testing (6-8 hours each day). Support is available in the following time zones: IST, CEST, EST during business hours.
The deadline to enroll is March 29, 2021. Schedules and dial-in links will be provided to you after you register. Due to logistical constraints, we can accommodate only a limited number of participants, and we appreciate participants making the time commitment (3 hours a day for week one, and 6-8 hours a day for week two).
DEMO WEEK, April 6-9
The week of April 6-9, we will help you prepare for the Teamcenter Beta Testing Event by reviewing logistics and environment requirements, then introduce you to new features with product demonstrations. In sessions that run three hours each day, we will cover the following topics:
Bill of Materials Management
Deployment Center
Document Management and Technical Publications
Electrical Design Management
Environmental Compliance and Product Sustainability
Manufacturing and Plant Data Management — Easy Plan
Materials Management
Mechanical Design Management
Model Based Systems Engineering
Product Configuration
Product Requirements Engineering
Program Planning Process Execution
Search and Analytics
Simulation and Test Management
Usability
Visualization — Active Workspace and Desktop
BETA TESTING WEEK, April 19-23
This week is when you can dig into the Teamcenter applications with dedicated end-user testing sessions. The goal of this event is to receive feedback from participants to refine the software before it is released. The Active Workspace user experience is a key area for testing. You will be able to interact with Teamcenter Development and Product Management and provide feedback. You will test scenarios provided by Siemens, and there will also be time for self-guided exploration.
Teamcenter Beta Testing helps us to collect critical customer feedback through issue discovery and gaps in your business use cases. Take a look at what past attendees said at the 2020 Virtual Teamcenter Beta Testing event: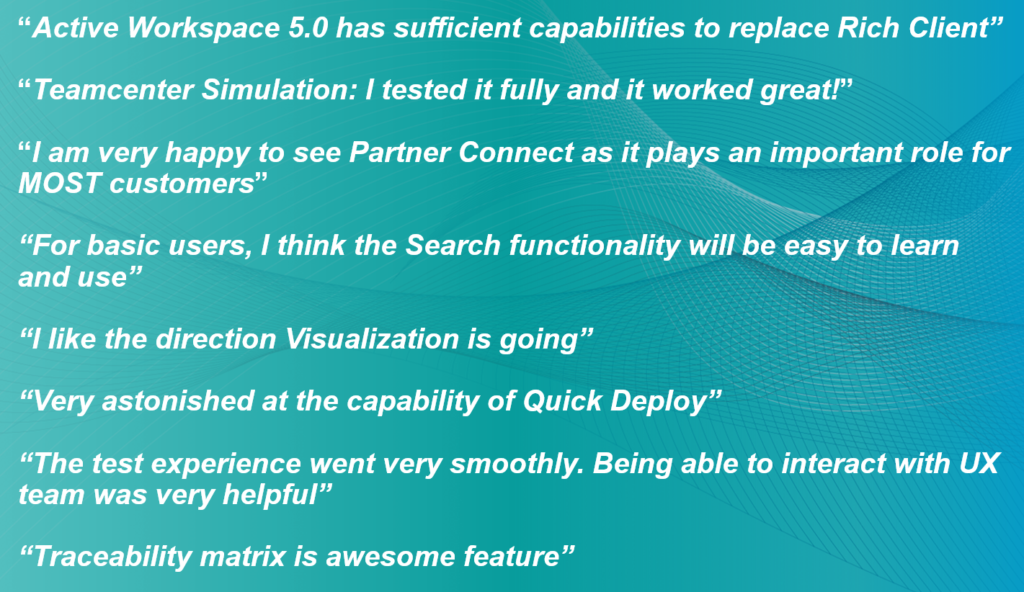 Want to know more about how this Beta Testing event will work for you? Read our recap of the 2020 Virtual Teamcenter Beta event, or look back at our 2019 in-person event: Global Teamcenter Beta Testing Event, Product Development Success.