Products
Simcenter STAR-CCM+ 2306 Released! What's new?
Go faster with GPU-enabled acceleration for an extended set of solvers. Find better designs faster with gradient-based parametric optimization. Tackle high-fidelity E-powertrain simulations with ease. Explore and share engineering results from your browser. Plus, many more features.
With the release of Simcenter STAR-CCM+ 2306, we provide engineers across industries with computational fluid dynamics (CFD) capabilities to go faster while modeling the complexity. Leverage exciting new features to explore engineering possibilities and turn complexity into a competitive advantage.
Learn how to use Support Center
New enhancements in Simcenter STAR-CCM+ are aimed at helping you:
Efficiently handle complex CAD assemblies
To design products that meet ever-increasing expectations on optimized product performance, it is critical to create an increasingly accurate digital twin. In many industries, CFD is operating at the edge of performance predictions and simplifications pose the risk of losing relevant accuracy to make meaningful engineering decisions. Hence, today's CFD engineers must be able to model the complexity of real-world geometries without oversimplifying assumptions, while being able to handle such assemblies of 1,000s of parts with ease.
Simcenter STAR-CCM+ 2306 significantly reduces 3D-CAD memory when a simulation is launched in parallel. By only instantiating the CAD geometry on a single processor even during parallel simulations, you can now use large CAD models without excessive hardware consumption. This will boost your productivity and cost efficiency while modeling the complexity without a compromise.
Quickly convert tessellated geometries into CAD
Without a doubt, CAD is the unchallenged way to accurately represent product geometry. But sometimes geometric representations are only available in a tessellated format. Examples of situations like that are representations that were tessellated before importing or are the result of a 3D scan. The need for being able to create 3D-CAD from a tessellated geometry comes also as part of generative engineering when the result of a topology optimization simulation is a tessellated part, but you need CAD geometry to print it or further optimize it for example for structural or manufacturability purposes. So, more often than you would expect, CFD engineers will find themselves in a situation where tessellated data is the only available input to start from in your simulation workflow.
With Simcenter STAR-CCM+ 2306 we are addressing this bottleneck with the Mesh to CAD feature. The technology allows you to import and convert simple tessellated surfaces to analytical CAD bodies. The new capability creates sheet bodies in 3D-CAD that can be converted to solid bodies using 3D-CAD operations in Simcenter STAR-CCM+'s fully embedded CAD modeler. While the feature will not be capable of generating a complex assembly from a huge, tessellated grid, it will still add significant value turning moderately complex tessellated geometries into analytical CAD representations.
Tackle high-fidelity E-powertrain simulations with ease
The virtual development of electric powertrains requires accurate high-fidelity CFD simulations. To model the complexity of batteries and electric motors with minimum user effort, Simcenter STAR-CCM+ continues to equip you with streamlined workflow assistance and added physical modeling capabilities.
Automated battery data analysis setup
Experience a significant productivity increase in generating battery data analysis for large battery pack simulations thanks to the new Battery Module Reports option. The new functionality of the battery workflow add-on automatically generates a large number of grouped reports, monitors, and plots for battery cell common quantities within an entire pack. Benefit from the support of commonly used field functions in thermal runaway and equivalent circuit models. Greatly reduce the effort in handling many reports and monitors with this multi-valued reports functionality, thereby reducing the likelihood of input errors with automated configuration and ensuring no key quantity or cell to monitor is being missed.
E-machine performance workflow update – Create skewed rotor sector
Skewed rotor designs play an increasing role among electric machine concepts. With Simcenter STAR-CCM+ 2306 we have extended the computationally efficient sector model methodology to skewed rotor design concepts. Immediately benefit from a reduction of the computational domain size from a full model down to a sector which results in significantly faster computation. The skewed rotor sector export support from Simcenter SPEED in conjunction with the new skewed rotor sector capability is ideal to further streamline your electric machine workflow irrespective of the electric machine concept.
Electromagnetic modeling of lamination layers
Predicting the ohmic losses in e-machines and transformers is critical for accurate electro-thermal simulations and making cooling design decisions. The bulk lamination model in Simcenter STAR-CCM+ 2306 improves the fidelity of such ohmic heat losses calculations due to eddy currents in e-machines and transformers. The model does not require a mesh that resolves the layered geometry nor the insulation between the layers, a single mesh element that spans several layers is sufficient. This will significantly simplify and speed up your model preparation while ensuring accurate loss predictions.
Go faster with GPU-enabled acceleration for an extended set of solvers
Run more energy and cost-efficient CFD simulations. Achieve faster turnaround times and more flexibility in hardware usage. The benefits of Graphics Processing Units (GPUs) for CFD simulations are manifold.
With Simcenter STAR-CCM+ 2306 we continue our expansion of GPU-native acceleration to an even wider set of modeling capabilities, enabling you to simulate an increasing range of applications more efficiently. Thanks to GPU acceleration of the Coupled Flow and Energy Solver you can now run rapid external aerodynamics simulations, enabling you to e.g. create exhaustive virtual aerospace databases in hours instead of days. High-fidelity aerodynamics across industries is further enhanced by GPU Support for Wall-Modeled LES and the Gamma Transition Model. Combustion engineers will increase their throughput with the porting of flamelet models including all available flamelet propagation methods Combined with GPU acceleration for LES and the just added GPU porting of the PISO unsteady solver you will run high fidelity reacting flows at unseen speeds. Run faster mixing simulations with Passive Scalar Solvers and increase simulation fidelity on GPUs with support of Temperature Polynomial Material Properties.
On top of this significant expansion of application enablement, version 2306 will deliver another 10-15% speedup on average compared to the previous version thanks to further GPU-acceleration code optimization. All that while ensuring excellent consistency between CPU and GPU-based results thanks to a commonly shared code architecture for both hardware types.
Explore the possibilities
Find better designs faster with gradient-based parametric optimization
Design exploration studies open countless possibilities for engineers to generate innovative solutions. With the introduction of the new Parametric Gradient-Based Optimization in Simcenter STAR-CCM+ 2306, in Design Manager, we added the capability to run parametric design studies faster than ever before. Leveraging adjoint sensitivities of design parameters to guide an optimization study, this feature enables a rapid convergence towards optimized designs with a reduced number of optimization cycles. This makes it more suitable for designs with a large number of parameters, compared to traditional "unguided" parametric design exploration, maximizing productivity, and allowing you to explore more complex design spaces.
By utilizing CAD parameters, you can ensure the manufacturability of optimized designs and guarantee adherence to design space constraints. Integrated into Design Manager the streamlined workflow and automated process make the setup, execution, and postprocessing of your optimization studies a breeze.
With Simcenter STAR-CCM+ 2306's Parametric Gradient-Based Optimization, you have a powerful tool at your disposal, enabling you to efficiently explore complex design spaces, find better designs faster, and fitting with your design constraints.
Explore and share engineering results from your browser
Introduced in early 2022, the Simcenter STAR-CCM+ Web Viewer allows you to easily explore and share your engineering results directly from your browser. This powerful tool offers quick and interactive data analysis capabilities, free of charge, and from almost any device, with no installation effort, ultimately enhancing your CFD results communication.
With Simcenter STAR-CCM+ 2306 we are further expanding the capabilities of the Web Viewer: By utilizing the downsampled (Resampled) Volume feature, you can dynamically slice through volumetric data, providing valuable insights into flow behavior. Together with existing quantitative data analysis (plots) this allows you to understand the intricacies of your simulations and make informed decisions based on the results. Additionally, the Web Viewer enables you to quickly grasp geometry details by utilizing the clipping functionality. With just a few clicks, you can cut through your model and visualize internal components, facilitating a deeper understanding of your designs.
Quick and reliable validation of complex simulations
The validation of high-fidelity CFD simulation often requires quantitative comparison of measured and simulated key quantities at numerous critical locations. As measurement locations are typically well defined through the experimental setup it is a common scenario to mirror those locations within the CFD model for data extraction purposes. For complex measurement campaigns, like aeroacoustics recordings with microphone arrays or dozens of thermocouples in a complex vehicle thermal management study, the effort involved in ensuring a correct match of measured and simulated data extraction location quickly escalates.
Simcenter STAR-CCM+ 2306 allows you to address this challenge by simply creating point probes from external table data. Experimental measurement locations (such as microphone arrays or thermocouple distributions) can hence be incorporated into your CFD in a few clicks. The capability enables convenient troubleshooting of grouped points with the ability to highlight points both inside and outside of the meshed region.
Building upon that feature, the Multi-Valued Monitor enables an easier and automated plot creation for many parts at a time. Through the usage of a single Monitor for multiple part values the workflow for multi-data assessment in complex validation studies is greatly improved. Likewise, you will benefit from a concise representation in the simulation tree with only one monitor node for many parts.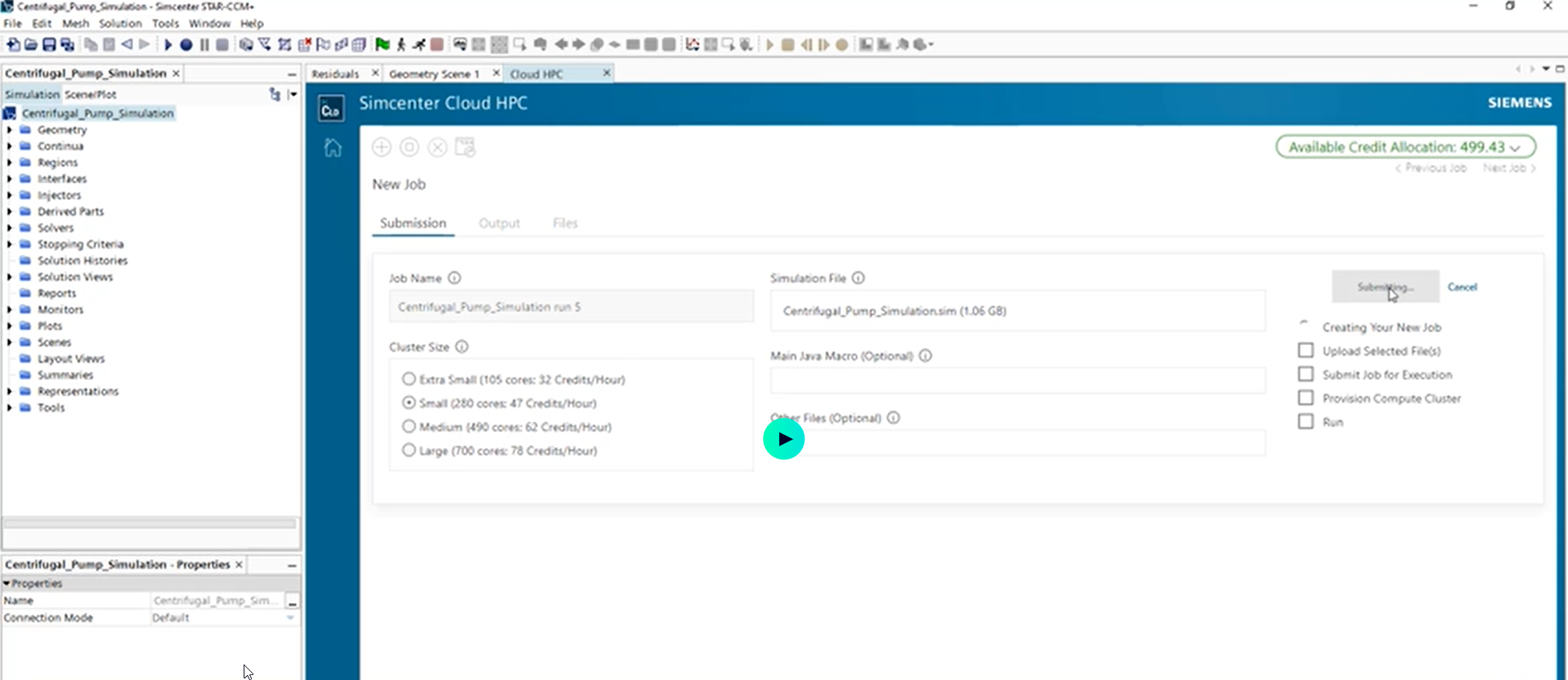 Access practically unlimited compute resources from within your simulation environment
Running CFD simulations on the cloud offers increased flexibility and scalability over on-premise hardware, with on-demand access and unlimited capacity. However, setting up and accessing the cloud using 3rd party providers often requires significant time and expertise in cloud and HPC technologies and interrupts existing workflows.
Directly from within Simcenter STAR-CCM+, Simcenter Cloud HPC gives you instant access to optimized Amazon Web Services (AWS) infrastructure, configured and managed by Siemens, with no additional setup needed.
In mid-July, we are expanding Simcenter Cloud HPC availability from the Americas to the APAC region for Preview. Stay integrated and run simulations on the cloud without leaving your CFD simulation environment. With Simcenter Cloud HPC your next results are only two clicks away.
For more information on how to access and test Simcenter Cloud HPC, please contact your Siemens sales representative or an authorized reseller.
---
These are just a few highlights in Simcenter STAR-CCM+ 2306. Those features will enable you to design better products faster than ever, turning today's engineering complexity into a competitive advantage.
To learn more, join Rodolfo Piccioli, Principal Engineer, and Daniele Obiso, Product Manager Physics, as they walk you through these and more exciting new capabilities, 32 minutes packed with detailed insights, from engineer to engineer:
---
What do our users think about Simcenter STAR-CCM+?
Simcenter STAR-CCM+ customers explain how they solve some of the most difficult problems that industries have to offer, using multiphysics CFD.
Learn about Simcenter STAR-CCM+ strengths on G2.
This article first appeared on the Siemens Digital Industries Software blog at https://blogs.sw.siemens.com/simcenter/simcenter-star-ccm-2306-released/