Products
Simcenter Prescan 2019.2 release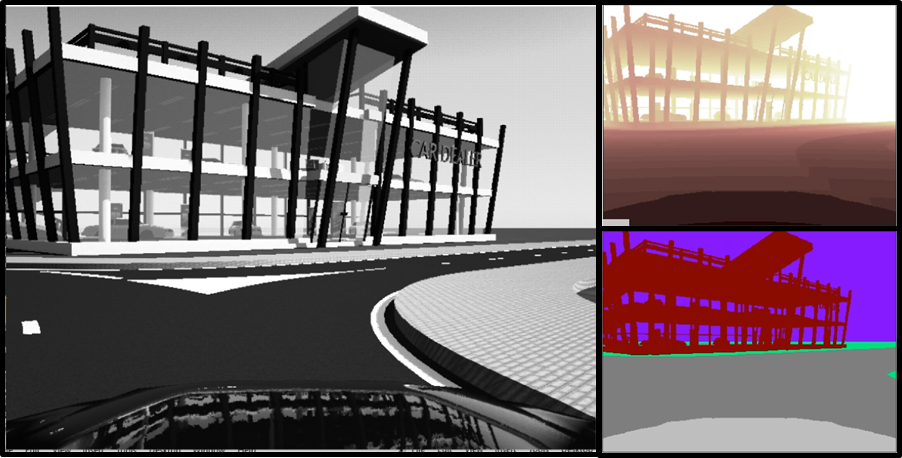 Simcenter Prescan 2019.2 announces the official 1.0 launch of the MATLAB Data Model API and the introduction of three Ground Truth outputs for the Unreal Physics Based Camera.
Ground Truth output for the Unreal Physics Based Camera
The Unreal Physics Based Camera now has ground truth output for depth, segmentation, and optical flow. These outputs make it easier to validate Unreal-based Physics Based Camera sensor applications by providing a pixel by pixel perfect correlation with the Unreal Physics Based Camera. Factors like lens distortion have been taken into account and allow for seamless validation.
Data Model API
Simcenter Prescan 2019.2 is announced together with the release of the MATLAB Data Model API 1.0. Simcenter Prescan users are now able to programmatically create experiments from scratch, modify them, allowing the programmatic creation of thousands of experiments and post-process the results.
When developing ADAS applications it is important for the users to be able to generate quick variations of scenarios and be able to automate parametrization and variation of these scenarios. This release of the DMAPI allows users to start working GUI-less with Prescan in a programmatic way:
The DMAPI allows for rapid parameter variation in a single scenario
– Generate thousands of variations from a single scenario
– Save time by reducing manual work
The DMAPI allows for an automatic way of executing a large number of scenarios and collecting the data
– Data can be gathered, studied and displayed without the user having to intervene
– Unsupervised operation: Leave the computer running overnight and get the report for more than a hundred run cases in the morning
Scripting the creation of scenarios
– Reduce time necessary to create scenarios
– Sharing of a scenario becomes a matter of a few kilobytes, the script file
The DMAPI capabilities will continue to be expanded and officially supported through every Prescan release.
MATLAB support
Going onwards, the official policy for MATLAB support will be a rolling 4-year window of the "b" versions of MATLAB. Consequently, in 2020.1 official support will be offered for MATLAB 2018b and all the currently supported versions up until 2014b. When official support for 2019b is announced, versions as old as 2015b will be supported for Simcenter Prescan.
For more information please visit our website.
This article first appeared on the Siemens Digital Industries Software blog at https://blogs.sw.siemens.com/simcenter/simcenter-prescan-2019-2-release/