Products
Simcenter at CMSE 2023 Conference

Do you develop electronic components used in military and space applications? If so, then you should check out the upcoming, 26th annual Components for Military and Space Electronics (CMSE) conference that will be taking place in Los Angeles, CA USA on April 25-27, 2023. This is a technical conference focused on the design, reliability, and application of electronic components for use in both terrestrial applications for avionics, aerospace, and military, as well as commercial, civilian, and military space systems.
Simcenter can help you engineer electronic component every step of the way through the use of integrated thermal and structural simulation and calibration of your thermal models through physical testing.
Attend the technical presentation
Engineers from Siemens DISW will be on-hand at CMSE 2023 and will be presenting a technical paper at the conference on Thursday, April 27:
An Integrated Workflow for Semiconductor Package Design
Albert Prosuk / Jimmy He / Andras Vass-Varnai
Abstract
Semiconductor companies are approaching their reckoning with Augustine's law as continued efforts to keep up with Moore's law, the increasing demand for computational power, and the widespread applications of edge computing are exponentially increasing design complexity. All the while semiconductor companies must not increase product time to market, give up on profit margins, or sacrifice on quality. This is leading to advanced packaging being more important than ever and we are seeing packaging complexity increase exponentially with 2.5D/3D designs. So, just like the aerospace companies before them the semiconductor industry must adopt a model-based system engineering approach that emphasizes an integrated product design workflow.
Visit the Siemens booth
Siemens DISW will also have a presence as an exhibitor at CMSE 2023, and we'll have two products from the Simcenter Micred product family used for electronic component thermal testing that you will be able to view first-hand while you're there:
Simcenter Micred T3STER
Simcenter Micred T3STER is an advanced non-destructive transient thermal tester for the thermal characterization of packaged semiconductor devices (diodes, BJTs, power MOSFETs, IGBTs, power LEDs) and multi-die devices. Simcenter Micred T3STER helps you confirm that packages as manufactured match their designed thermal performance which can be impaired by contact resistances within the material stack and voids in glue and solder layers.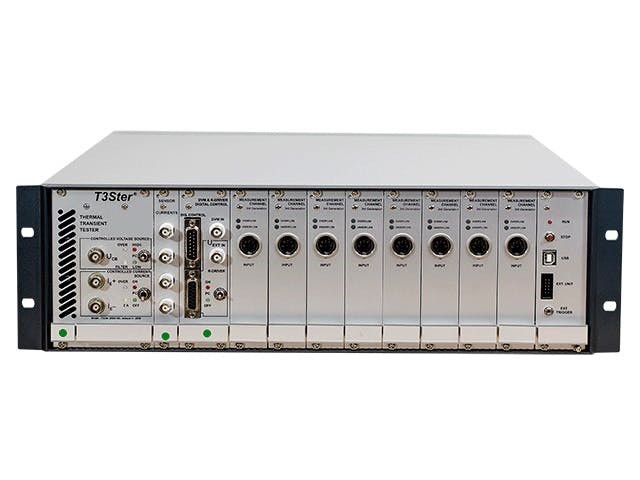 Simcenter Micred LED Tester
Simcenter Micred LED Tester accurately describe the thermal properties of LEDs using an integrated thermal, photometric and radiometric testing station. This will help you understand if your LEDs are meeting your design performance requirements.
Register for CMSE 2023
If you're an electronic component engineer in the aerospace industry, you won't want to miss this event. You can see the full agenda and register for the event by clicking the buttons below:
This article first appeared on the Siemens Digital Industries Software blog at https://blogs.sw.siemens.com/simcenter/simcenter-at-cmse-2023-conference/