Making rolling stock car bodies lighter and more robust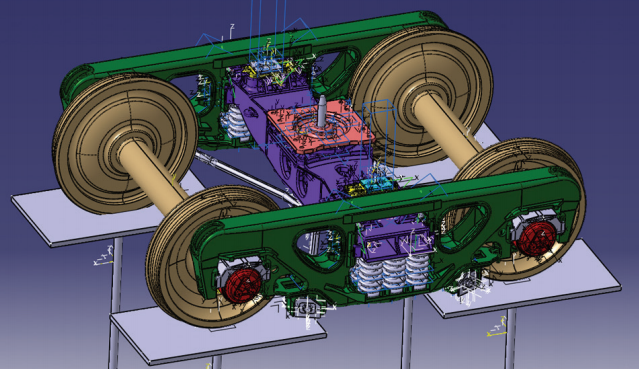 Chinese heavy industries are booming. As the country is gigantic, freight transportation by train plays a crucial role to supply factories with all the necessary raw materials. Annually, over 4 billion tons of bulk cargo make a harsh ride over the rail as rolling stock. And this amount is expected to grow enormously during  the coming decades.
CNR Qiqihar Railway Rolling Stock Co., Ltd. (QRRS) helps facilitate this expansion by producing all types of train cars. These suffer a lot during their life-cycle. Durability is one of the most crucial design aspects. Yet in view of cost, the market also demands faster transport in lighter vehicles. This is contradictory, as higher speeds increase the dynamic loads while reducing the amount of material could weaken the structure.
Fatigue life prediction is complex. It requires correct rail loads. Calculating those is challenging, especially because of the complex friction relation between the wheels and rails. And measurement data is usually either only partially available or not available at all during the concept phase.
Using Simcenter solutions from Siemens Digital Industries, QRRS engineers can overcome these complexities with a specific technique. Time waveform replication (TWR) in Simcenter 3D Motion simulation software converts data measured on an earlier design into equivalent loads for a new one. This process provides an efficient and reliable durability engineering approach. It gives full insight into the dynamic behavior of all car components and helps making the right decisions in early design stages.
Read the complete CNR Qiqihar Railway Rolling Stock Case Study
This article first appeared on the Siemens Digital Industries Software blog at https://blogs.sw.siemens.com/simcenter/making-rolling-stock-car-bodies-lighter-and-more-robust/