Digital Twins and Digitalization are trending this event season.
A Digital Twin of Amsterdam?
Just because events like Realize LIVE Europe are digital destinations this year doesn't mean you shouldn't have November 3-4, 2020 blocked in your agenda. Today, more than ever, it is important to keep up on the trends, like digital twins and digitalization. Here's why…
I don't know how many of you remember the Simcenter Conference in Amsterdam last December? Perhaps Converge, the Siemens Solutions Partner event, in Riga? Or the mother-of-all-tech events, Hannover Messe? Or GIMS, the Geneva International Motor Show? All that seems like ages ago considering …
We are all a little nostalgic (perhaps more homesick?) for those days of limitless travel, international networking, live presentations, flashy movies on cinema-sized screens, people-packed expo centers filled with innovation and surprising discoveries, and all those associated brilliant moments of inspiration that make an event memorable and travel an experience.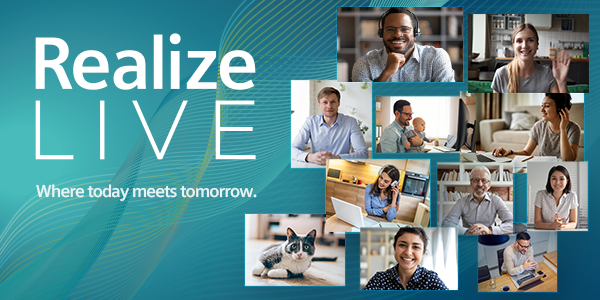 But, before I encourage you to check out the recently released Realize LIVE agenda, packed with digital twins and digitalization topics. Let me get you up to speed on the some trends you need to keep your eye on when you travel to your virtual destinations this event season.
Trendsetting Digitalization
Pretty much every year, I try to zip up to Amsterdam for TNW, a festive gathering for the tech-minded and a trendsetter when it comes to tech topics in Europe. Earlier this month, instead of hopping on the Thalys and jumping on the free ferry to the NDSM Wharf along with thousands of others, I was live from my home office in my yoga pants. After two days of full-on screen time, these were some of the main trends and moments of inspiration for the days to come (according to me, of course.)
1) Digital Twins could save the planet
James Dean presented from Sensat. Not the actor, but a London-based tech entrepreneur. Basically the start-up he co-founded hopes to make digital twins – get this – of the planet in order help us collectively on the road towards a more sustainable future. Kudos already just for this idea.
(Need to brush up on your digital twins and digitalization knowledge? Check out this white paper from Dirk Hartmann at Siemens Corporate Technology. It is well worth the read time.)
2) Today meets Tomorrow
"10 years of digitalization growth in 10 short weeks"
Ben Hammersley is this futurist, who happens to be a TNW regular. He is always full of food for thought and just damn funny. This year was no less inspiring. My favorite sound bites from his lively presentation, "You are not weird enough."
"Normal is gone now. There is no normal to go back to."
"Maximize for serendipity."
And citing a McKinsey report about the fact that we just experienced 10 years of digitalization and e-commerce growth in 10 weeks:
"The future has just happened…"

Ben Hammersley, Futurist

This is pretty ironic for a futurist, if you think about it.
3) The future of self-driving cars and the power of digitalization
Although mobility was all over the place, Aaron Jefferson, VP of Product at the self-driving tech company Luminar, caught my attention. Aaron is a 100% pure engineer with serious automotive cred. If you have read this far, you are probably wondering when something remotely "Simcenter-centric" is coming into the picture? Well, here we are. As many of you know, autonomous vehicles are something we work pretty hard on.
And if you are someone who follows this topic closely, this was one of those WOW-that-has-really-moved-along moments. Luminar is currently partnering with Volvo on an advanced LiDAR solution for its cars with an automated driving system for highways already slotted for the XC90 in 2022. And more self-driving cars for all? Aaron says look towards 2024-2026. Sounds like the reality check on self-driving cars has already "just happened" as well…
4) Take a WFH break: how to prevent a mental health epidemic as well
Although I had planned to just hop in, check it out and then serial session jump over to something about EVs, a session about preventing a mental health epidemic caught my attention. Turns out, I stayed for the whole thing and it was enlightening. Everyone is going through something novel, not normal, unpredictable, and sometimes bizarre. And many of us are going through it solo from our home offices. Mindfulness, meditation, stretching, better sleep, team check-ins, yoga, the art of detachment, a person-a-day gratitude focus, personal as the new professional… Considering the times, mental health and making the time to take good care of ourselves and others is a topic that everyone needs to put on their lists more than ever.
5) The world's largest super yacht is prepping to save the planet.
Now some of you know, I like to cover marine stories as well so I am always on the look out for cool boat projects. REV Ocean takes the cake. Not only is it the world's largest yacht at 182.9 meters (or 600 feet), it is a research and expedition vessel that is currently being fitted with the latest tech and equipment in Brattvag, Norway. Owned by a Norwegian billionaire, the yacht features all the mod-cons one would expect on a billionaire's luxury yacht with all the latest tech that innovative researchers and scientists need to make the ocean clean and healthy again. Now that is a creative way to have it both ways.
6) A digital event plus point: The new art of serial session jumping
Unlike a real event where you physically just can't catch every speaker – even if you wanted to — my little 13-inch screen was packed with an overwhelming choice of digital twins and digitalization topics. It is a weird new phenomenon for virtual events. Do you stay for the whole presentation or do you session jump until something catches your attention? Unlike physical events, jumping from digital session to digital session doesn't cause rude and awkward door slams, disturb the speaker, or cause the moderator to glare at you from the podium while you are sneaking in and out of sessions. Food for thought, like I said.
__________________________________________
So as you prepare your event season, keep an eye out for these topics and trends. And speaking of digital twins and digitialization events, make sure to register for Realize LIVE Europe online Nov. 3-4, 2020. (It is a free event!)
And as you can see from my colleague Jane's blog, it is packed to the brim with trending tech topics.
This article first appeared on the Siemens Digital Industries Software blog at https://blogs.sw.siemens.com/simcenter/digital-twins-and-digitalization-are-trending-this-event-season/