Products
Clean Aviation Joint Undertaking: 20 projects researching innovative solutions for climate-neutral aircraft
A big step toward climate neutrality
The ambitious goal to reach climate neutrality by 2050, defined in the Paris Agreement (COP21), is now implemented in European Union policy through the European Green Deal, including the first European Climate Law. At the same time, the industrial strategy for Europe sets out in clear terms the importance of industrial leadership in the evolution towards a green and digital Europe fit for the future.
As we saw in the blog Aircraft structural design and analysis, air transportation is one of the significant contributors to greenhouse gas (GHG) emissions. It presents some of the biggest decarbonization challenges.
To tackle these challenges, the European Commission institutionalized a partnership with the European aeronautics research and industrial communities: the Clean Aviation Joint Undertaking (CAJU). With a budget of €4.1 billion, its goal is to develop new disruptive aircraft technologies to support the European Green Deal and climate neutrality by 2050. These technologies will deliver net GHG reductions of no less than 30% compared to 2020 state-of-the-art.
What do the Clean Aviation projects mean for the industry?
The Clean Aviation partnership programs stand on three research and innovation (R&I) pillars:
Hybrid-electric regional aircraft
Ultra-efficient short and short-medium-range aircraft
Disruptive technologies to enable hydrogen-powered aircraft
Hybrid-electric regional aircraft
Air carriers, customers and communities look forward to technological advancements and new services to be implemented in regional air travel. These improvements are expected to meet the rising demands for better environmental performance, enhanced services, expanded route options, and improved scheduling while ensuring affordability.
Regional aviation plays a significant role in the overall air transportation industry. Regional flights and routes make up more than 12% of the world's available seat kilometers (ASK), providing critical transport services when ground transportation faces topological limitations or when not profitable. They account for around 40% of all flights and 36% of all flight hours. Many airports, about 36%, only offer regional turboprop-operated flights. The industry can use regional and commuter aircraft as a starting point for implementing low or zero-emission technologies and improving the frequency and convenience of flights for passengers while reducing their impact on the environment and climate. The advancements in propulsion technology that are being researched as part of the Clean Aviation initiative will create new sustainable business opportunities.
The goal of this regional aviation pillar is to bring innovative technologies in order to increase aircraft performance levels. One of the challenges is to align with societal demands, which are ever-evolving on the subject of transport due to the environmental context.
Ultra-efficient short-medium-range aircraft
The mid-2030s goal for ultra-efficient short-medium-range aircraft is to rely on thermal energy-based propulsion technologies, using both drop-in and non-drop-in fuels. This new propulsion concept will enable low-source noise and low-noise flight procedures. The additional value will also be brought to other fields, such as business jets and regional aircraft.
Clean Aviation mapped ultra-efficient short-medium-range aircraft pillar goals as follows: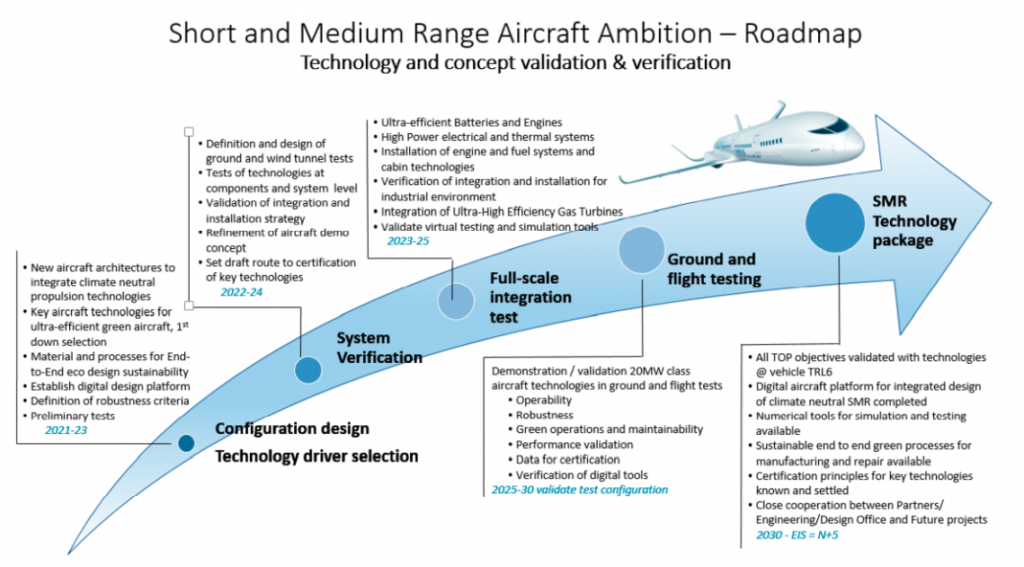 This roadmap aims to plan the way to energy efficiency improvement by 30% for a new generation of short-medium-range aircraft. This is reachable by 2035 thanks to the integration of ultra-efficient propulsion systems and innovative technologies for the airframe. The roadmap includes the novel concept of using hydrogen as a non-drop-in fuel, part of the Clean Aviation H2 technology development program.
According to Clean Aviation, this roadmap "results in a holistic aircraft suite-solution for a future green, eco-efficient, economically viable and competitive large number serial product that will create momentum and achieve targeted impact at European and global scale."
Disruptive technologies to enable hydrogen-powered aircraft
Air transportation performances depend at first order on the fuel gravimetric energy density (energy per unit of mass). GHG-emitting fuels phased out, hydrogen is the only fuel with competitive gravimetric energy density. As a non-drop-in fuel, hydrogen burning results in net-zero CO2 emissions, and future large-scale production of green hydrogen will be possible thanks to the use of renewable or zero-emission energy sources.
Using hydrogen as a fuel for air transportation has benefits and drawbacks. If generated from renewable or zero-emission sources, it can eliminate CO2 emissions during operations and throughout the entire energy production process. Additionally, using hydrogen fuel cells allows zero-emission propulsion, including the elimination of nitrogen oxides (NOx) and particles. When hydrogen is burned in a turbine engine, NOx emissions are reduced and the particle emission is expected to be very low. However, it produces more water vapor, a short-life GHG which overall climatological impact must be carefully evaluated, as it may result in different emissions compared to other fuel alternatives.
On the technological level, many topics must reach higher maturity to be ready for integration into future aircraft. A big challenge of hydrogen is that due to its low volumetric energy density with respect to its volume in gaseous form, liquid hydrogen (LH2) is more likely to be used for large commercial flights. However, LH2 needs to be maintained at the temperature of -235°C in the tank, which of course affects tanks, fuel systems, system design, reliability, and safety.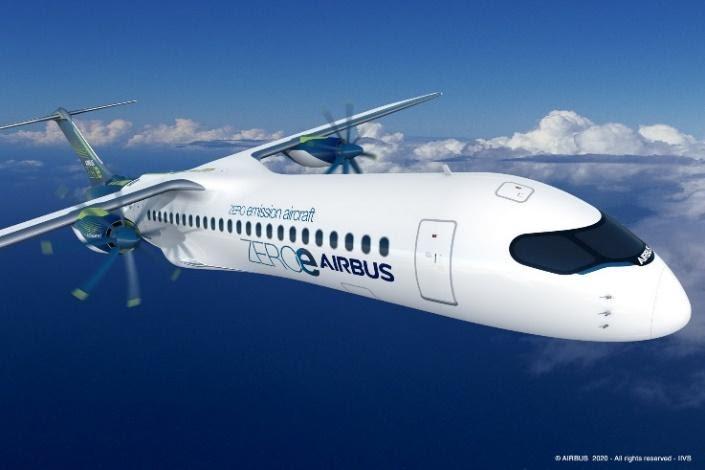 The "disruptive technologies to enable hydrogen-powered aircraft" pillar aims to mature and demonstrate all relevant hydrogen systems ready to be integrated into future aircraft. This comprises selecting and validating the most suitable concepts, materials and designs to provide the required performance, lifetime, costs, and safety. Beyond that, the integration of these systems into the aircraft platform requires a deep understanding of operational, maintenance, and certification aspects.
Simcenter supports the Clean Aviation Joint Undertaking
Siemens Digital Industries Software is pleased to be the software editor selected to support the Clean Aviation Joint Undertaking, which will contribute with collaborative applied research projects to the development of the simulation and testing technologies supporting sustainable aviation technologies.
Simcenter simulation and testing solutions will support the following projects:
HERA: aircraft concepts enabling 30 to 50% reduction in emissions
HERWINGT: innovative wing design
HYDEA: direct combustion of hydrogen in aero-engines
NEWBORN: multi-MW fuel cell propulsion system
Within this collaborative environment, Siemens seeks to develop, test and validate experimental cases, including all the simulation and testing technologies required to support the digitally accelerated transition to climate-neutral aviation. Siemens Digital Industries Software also aims to contribute even more to digital acceleration by making progress in solutions, computational integration and openness across the value chain.
In the spirit of this collective effort for a better future, with the support of public and private actors, Siemens Digital Industries Software will bring its initiatives and findings to public knowledge. Making aviation climate neutral is not only an environmental sustainability goal. It also aims to sustain the connection of populations worldwide, better knowing each other and better knowing our planet for a peaceful and sustainable future.
---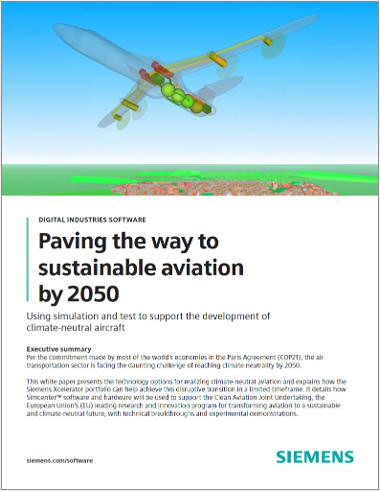 Watch how Simcenter can support your sustainability strategies to achieve climate-neutral aviation by 2050
You might also be interested in…
This article first appeared on the Siemens Digital Industries Software blog at https://blogs.sw.siemens.com/simcenter/clean-aviation-joint-undertaking-projects/