SaaS success hinges on LAER adoption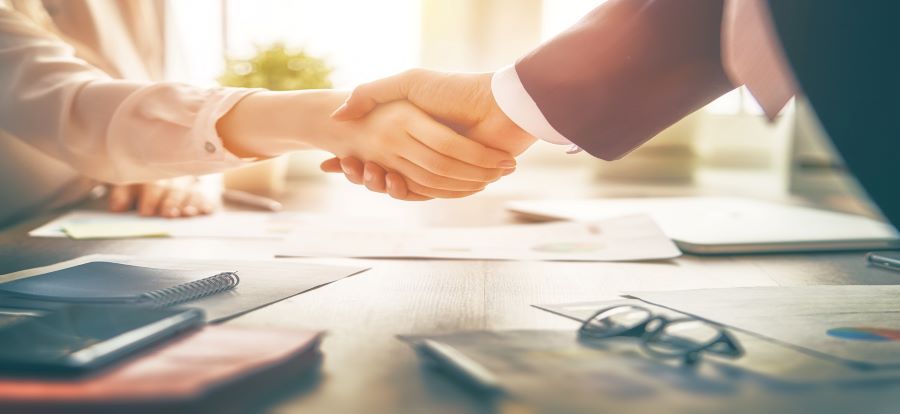 Before you begin reading, let's play a little game. Repeat after me: "If SaaS then LAER, if SaaS then LAER, if SaaS then LAER." Hopefully, that sticks in your mind because to succeed in selling software-as-a-service (SaaS), you need to start using the land, adopt, expand and renew (LAER) customer engagement model. And you need to do it correctly.
Today's customers are less focused on product features and more focused on how the technology will support their business goals. That's why SaaS is the new way of selling. It's about delivering business outcomes for customers with more flexibility. According to McKinsey, more than 75 percent of B2B customers prefer pay-as-you-go adoption models for software and hardware services, which means for software providers to remain competitive, SaaS is no longer optional. LAER is a modern selling approach that emphasizes value-added service rather than product functionality alone.
The LAER model has four key phases
Land: are we winning new customers?
Adopt: are we driving practical use and adoption of the software they've purchased?
Expand: are we expanding new use cases, business units, and software dimensions?
Renew: are we ensuring that we are successfully supporting and engaging with our customers throughout their relationship with us?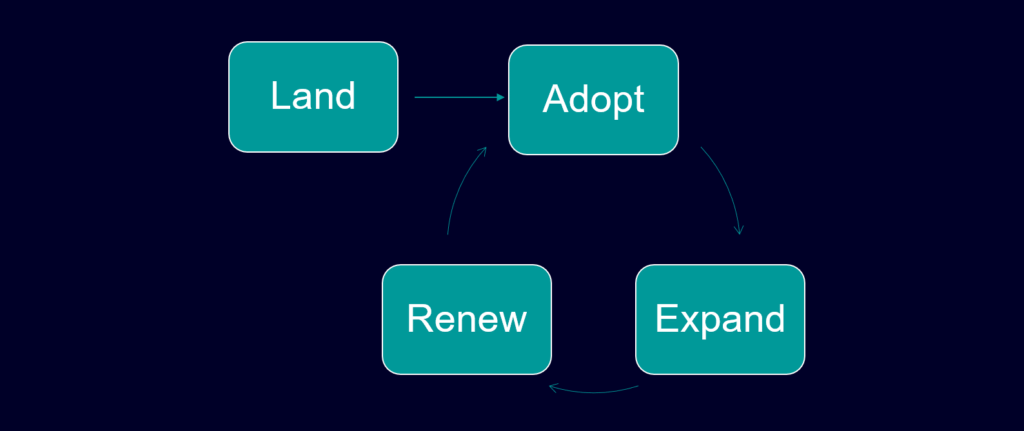 Why companies struggle to adapt to a LAER model
Too many companies are falling into old habits and chasing customers rather than retaining them. In the traditional sales structure, renewals represented 10 percent of the total contract value. However, 100 percent of the contract value is at stake with SaaS. So, while sales teams are busy chasing new customers, they're forgetting about the ones they have…who often start looking elsewhere.
Churn rate (percentage of customers that have fallen out of contract) is your biggest enemy in SaaS. A recent study found that many SaaS companies have a 15 percent churn rate. For example, if you have 200 customers, 30 of them are not renewing. It's well-known that customer acquisition costs are much higher than customer retention costs, but companies are failing to act on this. A recent report by TSIA found that companies that create opportunities optimized for existing customers grow their subscription revenues 2.5 percent faster than those that don't.
Many pitfalls result from organizations' focus on license revenue rather than service revenue. As we know now, technology customers don't only care about the products' capabilities; they want to see how the product will solve a problem for them. It is the value you create that sets you apart from the competition.
Many companies offer great products, but if you can offer something that other companies can't replicate, you gain a competitive advantage. So rather than looking at how to pitch your products better to more, think about offering high-value, expert business advice to please your current customers. That's the key to customer growth. Increasing cross-sell, upsell and retention can result in median net retention rates (NRR) of 120 percent, which means a 20 percent growth yearly without acquiring a new customer. The evidence is overwhelming; it's time to start putting the same effort into caring for current customers as you do for acquiring new ones.
Invest in customer success
Adoption is EVERYTHING. Once a customer uses your product, a technical resource should be designated to help that customer adopt the technology. This individual understands the product's features and works with the customers to identify opportunities where the software can help business outcomes.
We recommend looking for a customer success architect (CSA), a highly-skilled business consultant with technical capabilities and strong communication skills. You might be thinking, "Where do I find someone like that?" While outsourcing may work, it can be expensive and scarce. That's why we wanted to share a little secret to make your life easier.
Start looking within your organization. Chances are that 5 percent of your employees already possess the skills of a CSA. Look at your go-to systems engineers, professional services consultants, product management and engineering staff, and consider the skills they have beyond their current job role. Identify your top candidates and create a professional services program dedicated to fulfilling a CSA role. Start tracking metrics that show what the customer is doing, such as the number of successful use cases, business users per case and frequency of usage. Evaluate the results after two quarters and decide if this is the best way to continue or if you want to return to the drawing board.
Adopt a customer-in-view strategy
Customer success is not only about finding the right people. You need to change the mentality of your people and create an environment that prioritizes customer engagement. We like to think of this as the customer-in-view. Start thinking about what the customer is achieving rather than what your company is gaining.
Customer success is not simple, but it doesn't have to be overly complex. Your people need to master technical, project management and commercial persuasion skills. Without these key areas, what's to stop your customer from looking elsewhere? So, if you've decided it's time to add this critical function to your business, we suggest starting here.
About the authors
James Gregory is the Director of Global Partner Business Development at Siemens Digital Industries Software with over 25 years of sales leadership leading technology providers around the globe. At Siemens, he is responsible for global partner coverage and capacity.
Nathalie Schickendantz is a global partner analytics co-op at Siemens Digital Industries Software studying Marketing and Psychology at the University of Cincinnati.
This article first appeared on the Siemens Digital Industries Software blog at https://blogs.sw.siemens.com/partners/saas-success-laer-adoption/