Products
What's New in NX for Manufacturing (June 2021)
The new, advanced capabilities in the latest NX release enable higher automation at each step of the manufacturing process, improving productivity and reducing production costs.
In this blog, you can learn about the new functionality in NX for Manufacturing, our comprehensive software for part manufacturing that includes:
NX CAM
NX Additive Manufacturing
NX CMM Inspection Programming
NX Assembly Line Planner
Manufacturing data and process management in Teamcenter
NX CAM
The automated Deburring operation in NX CAM has been expanded to include multi-axis milling capabilities. NX automatically recognizes the edges of parts with any level of complexity, and then creates multi-axis operations to machine the specified chamfer size.
Depending on the part geometry, you can quickly create different multi-axis operations, such as 3+2-axis, 4-axis rotary and 5-axis machining. You can also use different cutting tool types, including ball, taper or lollipop tools. The advanced controls help you define the cutting pattern, tool axis and tool motions, resulting in smooth and optimized machining operations.
The new Rotary Roughing operation streamlines the complex process of programming cylindrical parts. With minimum input required (part and blank geometry), NX identifies the machining material to generate optimized 4-axis milling operations instantly.
The advanced toolpath settings, such as controls for tool contact shift and point density, enable creation of smooth, highly efficient multi-axis roughing operations. Using the rest roughing capability, you can create machining operations for the uncut material from the previous operation. The helical entry ensures gradual engagement with the material, improving the overall machining process.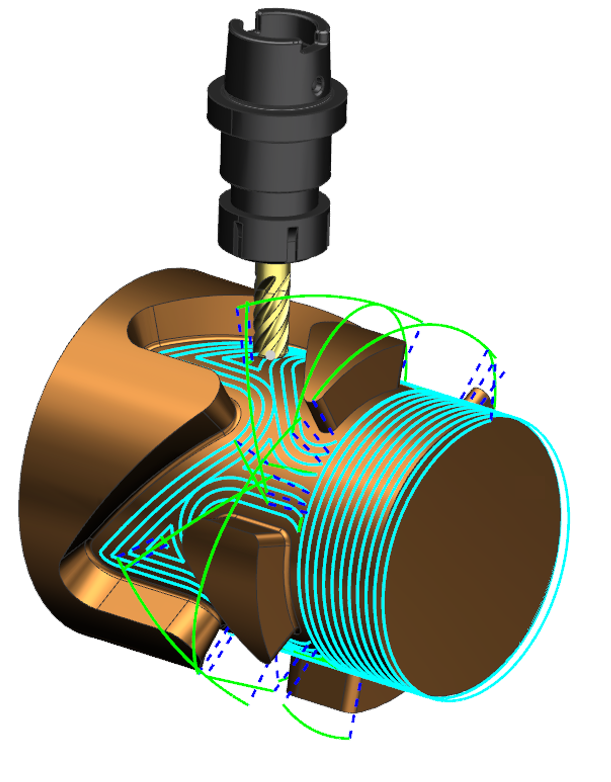 5-axis Guiding Curves finishing operations feature several enhancements for improved surface quality and extended tool life. Below is a short summary of the new enhancements:
Tool Axis Interpolation provides more precise control of the tool axis orientation along both the drive and pattern directions, resulting in smoother toolpaths and better surface finish.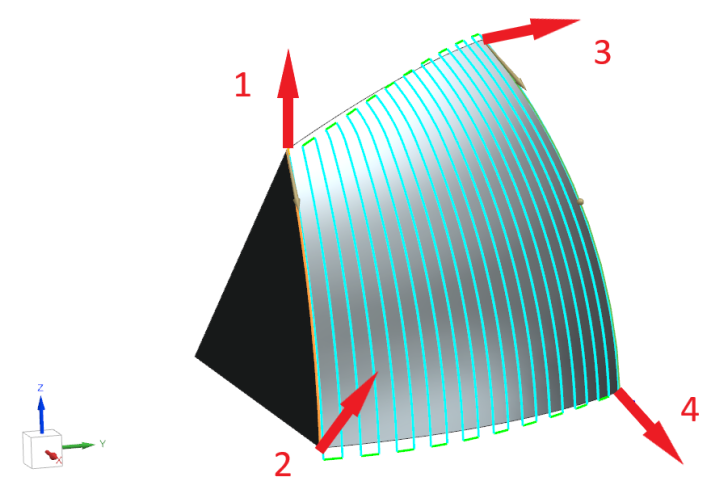 Multiple Cutting Depths provide advanced settings to specify the number of passes, minimize tool lifts and activate automated tool tilt for safe toolpaths.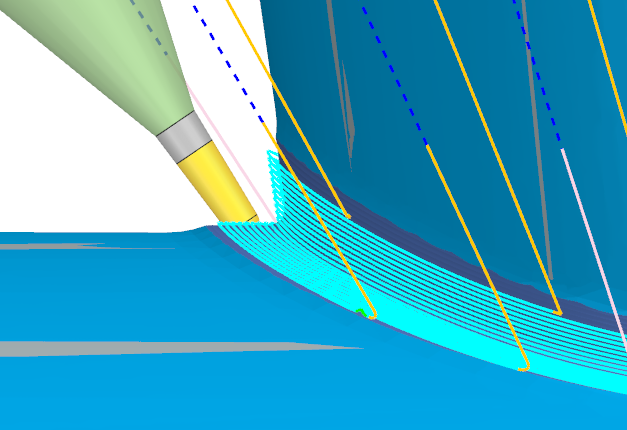 Wall Stock helps you create toolpath while avoiding adjacent walls. It provides more control to avoid previously machined walls and prevent the tool from contacting the finished surfaces or avoid uncut walls to prevent the tool from embedding into the stock.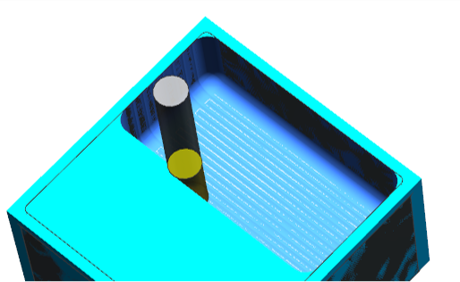 To learn more about the advanced multi-axis machining capabilities in NX CAM, watch this webinar presented by industry experts from Siemens and Sandvik Coromant.
PrimeTurning ™ is an innovative machining method. Siemens partnered with Sandvik Coromant to implement PrimeTurning in NX. This cutting methodology that uses high-performance CoroTurn Prime inserts enables higher performance machining.
When using the PrimeTurning technique, the tool enters the workpiece at the chuck and removes material as it moves towards the end of the component, away from the chuck. This enables use of a small entering angle and more aggressive cutting parameters. Furthermore, you can use the CoroTurn Prime inserts for conventional turning – from part-end towards the chuck.
With NX, you can also setup a PrimeTurning for a dual roughing operation (Multi Channel Roughing) and you can use it in conjunction with continous B Axis.
For certain applications, PrimeTurning can help you increase productivity in excess of 50%, compared to using conventional techniques and inserts. Additionally, it can the extend the tool life by 2 times.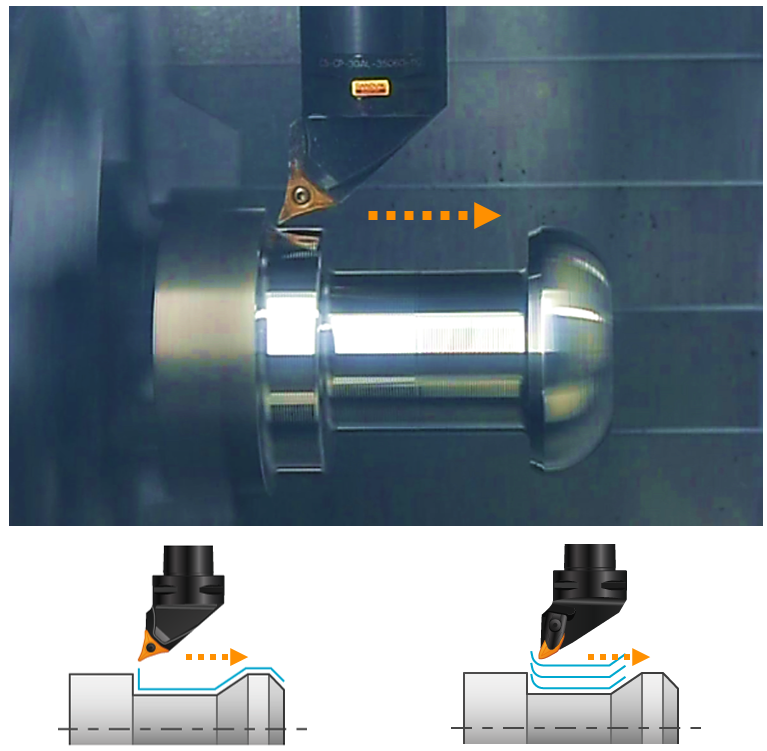 Smart Machine Kit wizard helps you create complete machine tool kits, including the definition of machine kinematics models, postprocessors and CSE drivers. It also enables you to save and reuse your machine kits. Additionally, you can automatically configure machine kits using the controller's archive file.
Automated Holder Creation. Tool vendors typically provide 3D models of their tool holders. However, these 3D models can't be used directly for NC programming in conventional CAM systems. It requires that the programmer manually input the tool holder parameters, such as the diameters and lengths of tool holder's sections. This manual process can be time consuming and is prone to errors.
The new Holder Creation capability automatically recognizes the features and associated dimensions of the 3D holder solid models provided by cutting tool vendors. It automatically populates the holder parameters in NX, accelerating NC programming and enabling accurate machining simulation to achieve error-free production. You can also export the holder (along with its parameters) to the tool library for future re-use. The automated holder creation helps you speed up the NC programming of collision free toolpaths.
The Tolerance Class field has been added to the dialog of reamers and boring bars, enabling better alignment with tool vendor data. You can leverage this information for Feature-Based Machining.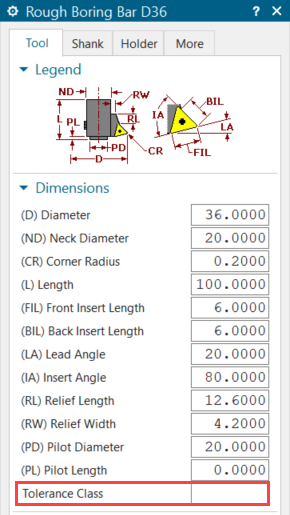 The new Multi Setup IPW flow capability improves the creation of setups with multiple workpieces typically found in mill turn or tombstone applications. The new functionality enables you to easily program complex setups by correctly displaying the In-Process Workpiece (IPW) in its current machined state. Also, you can set the simulation process to create an IPW for each workpiece. To learn how you can accelerate production with multiple setup machining, watch this short webinar.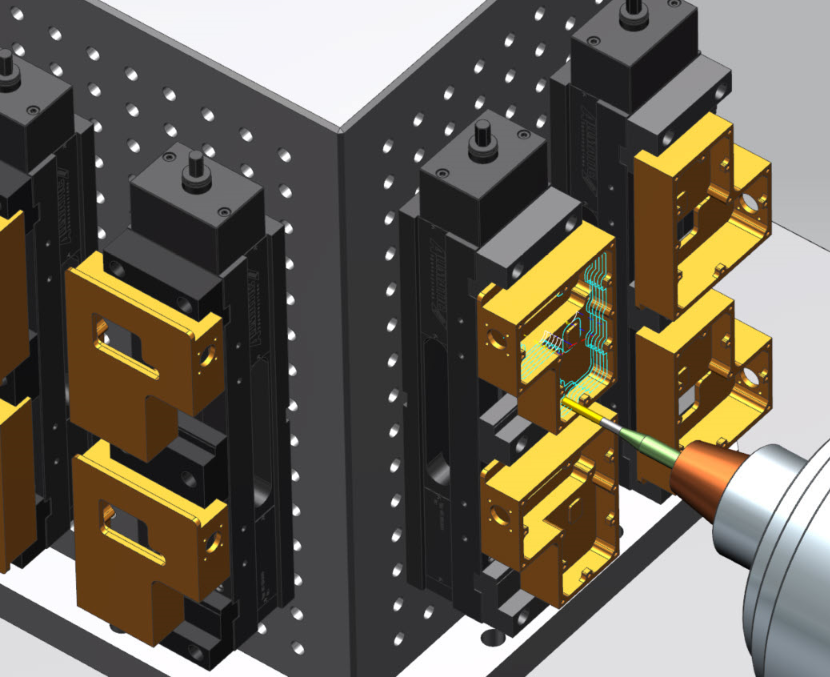 NX Additive Manufacturing
Print drivers for EOS and Renishaw. The NX Additive Manufacturing application now integrates a new build preparation functionality dedicated to EOS and Renishaw printers.
NX enables users who already have both NX Additive Manufacturing and EOSPrint or Renishaw QuantAM API to prepare print jobs within the NX Additive Manufacturing environment.
This delivers an integrated and associative additive manufacturing process – from design to 3D printing on EOS and Renishaw machines, including:
Generating output files in .openjz or the .task formats (available only for physical EOS 3D printers)
Configurable build tray dimensions
Selection from multiple slice thicknesses
Selection from multiple build strategies (per build tray; override per part)
NX AM build-in capability for complete layer/stack representation (under toggle)
The Clearance body setting provides an additional way to control the traverse moves.Often, when working with large parts with a lot of shape variation, the traverse moves in some areas can be unnecessarily far from the part. This is especially prevalent when working with robotic applications and manufacturing large parts. Now, you can use a solid body or a surface as a clearance plane to define traverse moves that are closer to the part, enabling:
More efficient traverse
Less kinematic movement
Smoother traverse moves
The Clearance Body is a new technique that uses a surface or a solid body as a clearance plane, ensuring that the traverse moves of multi-axis additive operations stay closer to the part.
The Multi-threading capability in NX enables fast calculations of even the most complex multi-axis additive processes. You can now leverage the multi-thread calculation capability to create Freeform Additive Coating and Freeform Additive Buildup operations. For some use cases, the calculations can be up to 7 times faster.
Watch this webinar to learn how to make your machine shop more competitive using industrial 3D printing.
NX CMM Inspection Programming
The CMM programming capabilities in NX CAM enable NC programmers to perform CMM inspection programming, a new trend in the industry. This helps consistent workflow for CAM and CMM programming, enabling a higher level of process integration.
Note that the NX CMM Inspection Programming product will be available with its full functionality, and the CMM capabilities in NX CAM are offered as a parallel solution.
Object transform helps you quickly create CMM inspections paths for symmetric parts and repeating features. You can mirror and copy inspection paths to further streamline and standardize the process of inspection programming.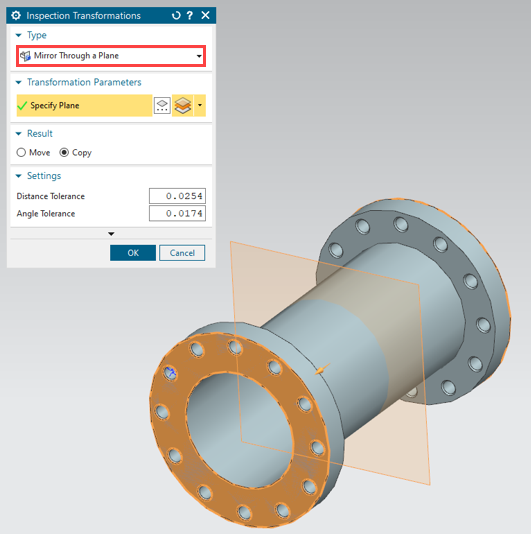 NX Assembly Line Planner
Assembly Line Planner is a process planning application based on Siemens NX™ software. It enables you to plan a complex production line with a focus on the different technologies and manufacturing features used to create an assembly, such as spot welds, weld studs, rivets, continuous joints for fastening and sealing, and more.
Add External Resource lets you plan a process with resources external to the station when elements that belong to a station in the bill of equipment (BOE) are relevant for the process in another station. For example, a conveyor or robot moving parts from one station to another should be shared among those stations. You can easily search for nearby resources, update the content of the station bounding box on the fly or manually, add the found resources to the process planning scope of the desired station and then assign them to operations.
Set as In-Context End Item lets you define end items in the context of the loaded line when assemblies need to be removed from the feature search based on their definition as end items, although they were not defined as end items in the product structure. This applies when, for example, the assembly is built in another line that is not currently loaded in the session and the features assigned, like welds, have already been processed. Assigning such assemblies as end items will remove these features from the search to simplify the processing required in the station.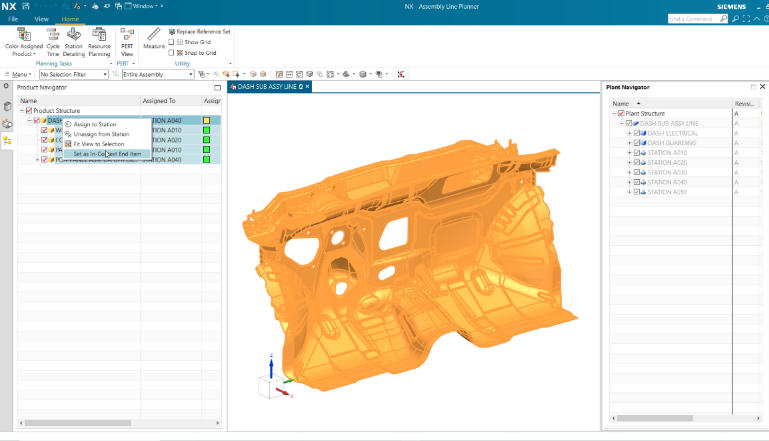 Manufacturing Data and Process Management
Several important improvements have been implemented in Teamcenter, streamlining the manufacturing data and process management:
Use Teamcenter to work with multiple NX versions
Easily access classified manufacturing resources using the Manufacturing Resource Library (MRL) dashboard in Active Workspace
Effectively manage a wider selection of classes based on the DIN 4000-190 industry standard with the expanded device classification in MRL
Transfer work packages to production using Shop Floor Connect and its new, configurable user interface based on HTML 5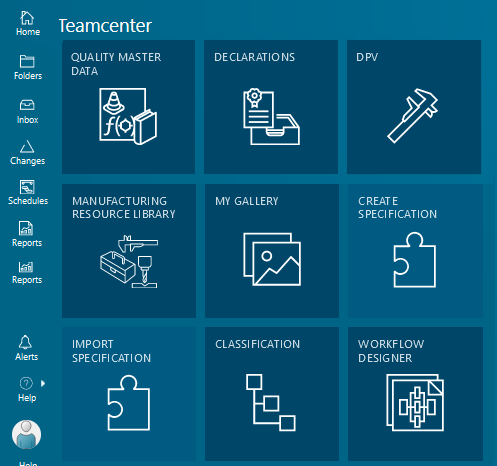 Learn more
To learn about the latest capabilities in NX for Design, please visit: NEW: June NX Release Details.
Explore NX's advanced capabilities for NC programming by signing up for the NX CAM cloud-based trial. No installation is required. You can run NX in your browser, in minutes. Try it today!
For step-by-step tutorial videos on the new NX for Manufacturing features, check out the Knowledge Article on our online community.
This article first appeared on the Siemens Digital Industries Software blog at https://blogs.sw.siemens.com/nx-manufacturing/whats-new-in-nx-for-manufacturing-june-2021/