Products
What's new in NX | June 2023 | Core design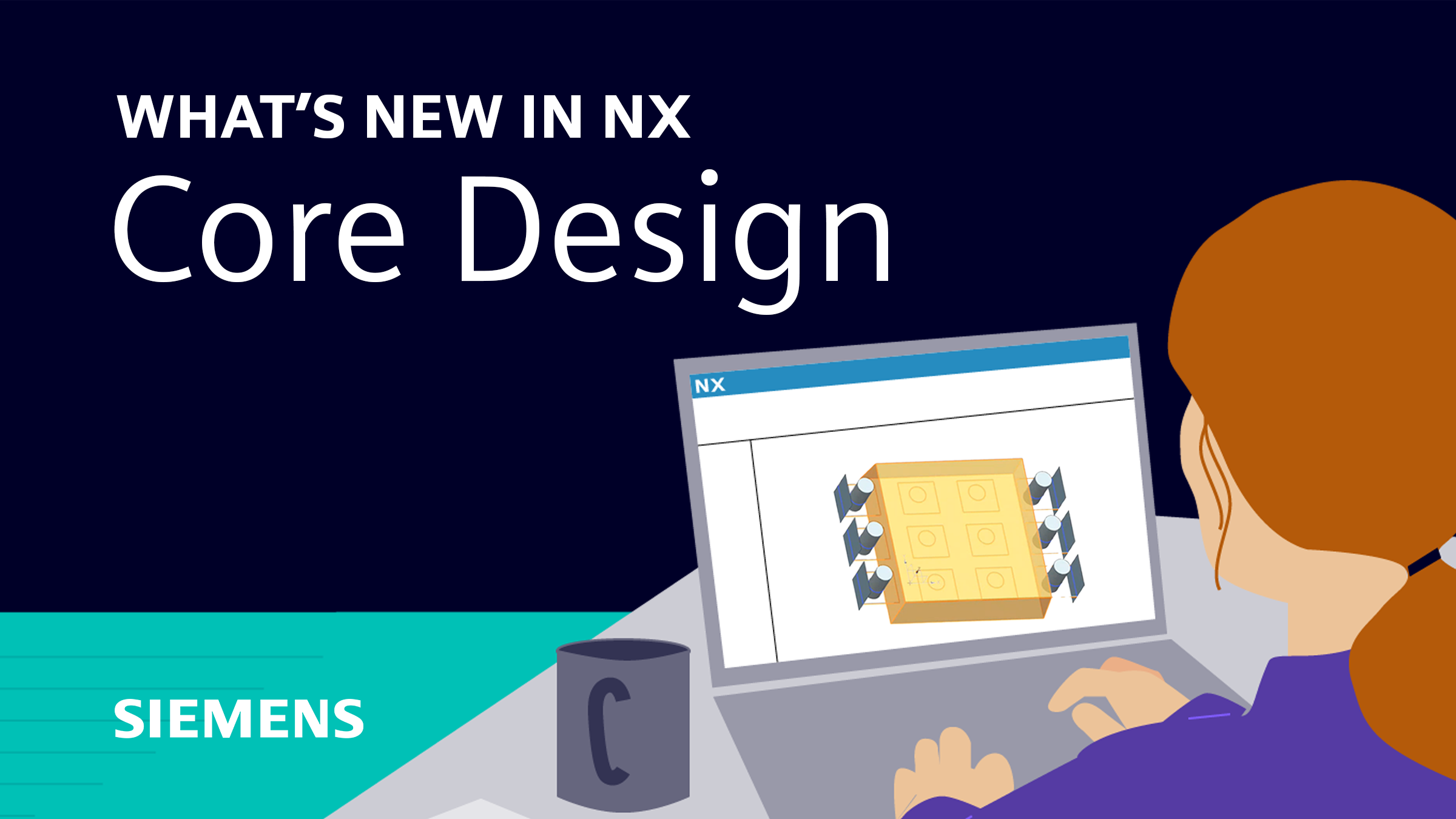 Welcome back to our latest what's new instalment for NX™ software. Our latest release incorporates key feedback gathered from you, ensuring you continue to have the best experience when using NX. A message you may have heard already, but multiple tools and products are integrated into our Siemens' Xcelerator portfolio. The result? The ability for you to create the most comprehensive digital twin.
Did you miss our YouTube event?
We hosted our annual YouTube event in June, so that you could see the latest features we've added to NX. The event focused on a case study, looking at how a coffee machine manufacturer could use NX to sustainably design, test and manufacture a new product for the consumer market.
In this blog, we'll be taking a look at core design, focusing on some of the key enhancements added in this release. Let's take a look!
---
New Sketch capabilities
Show Movable enhancements have been added
Let's kick it off with a Sketch enhancement for this release, and one that's all to do with the Show Movable feature. It's something that has been requested by our customers, so that they can identify conflicts within the new Sketch environment. The solver now reports relations and dimensions that are contributing to the issues. Offending objects within a Sketch are now displayed in red (see below), and include Persistent Relations, Constant Dimensions and Expressions.

REMEMBER
For this to work, Show Movable needs to be activated from the menu options to work, so make sure this is enabled!
---
Sketch rectangle from center
And onto the next one, which focuses on sketching a rectangle from center. The Associative center allows for more options for the user when defining a Rectangle from its center. Rectangles can be resized by dragging the center points, whilst it can also be moved by dragging the diagonal reference line. Additionally, you can reverse the direction of the diagonal line by changing the direction of the drag motion. Finally, a third click will define the 'upper' corner of the rectangle, and can be achieved using the instructions in the following image.
---
Tangent display enabled for Sketch fillets
Found Relation displaying fillet tangency is a new capability we've added to this release of NX. When working with Sketch fillets, the solver now displays tangent relationships, and the relation can be found when curves or dimensions are selected for modification. The goal with our new sketch capabilities and enhancements are to improve your overall productivity, making it easier to iterate your sketches and optimize your design processes.
---
Improved advanced shape design capabilities
We've also worked hard to add new features to our advanced shape design capabilities. Let's take a look.
Additional curve types support
First up, let's focus on additional curve types support, and how we've worked on this capability. Users can now select edges from a trimmed face as the face to edit, whilst there's also an option to keep or edit the surface parametrization. Previously, the 'Match Edge to Curve' with added continuity constraints to support faces was only possible with the Curve on Surface type. Now, Project Curve, Isoparametric Curve, Section Curve and Offset on Faces types are also supported.
---
New capabilities for Bridge Surface
Newly added options now allow users to create complex surface transitions and have better control of their output shape. Users can specify continuity constraints if the input curves were created in relation to a support surface. Again, we're referring to Project Curve, Curve on Surface, Isoparameter and Offset Curve on Face here. There's also additional improved surface quality output for any G3 cases too.
---
Additional options added to Draw Shape
WHAT IS NX DRAW SHAPE?
The tool provides an environment for free hand drawing; a useful tool in both the early conceptual stages, as well as the detailed engineering phases of design. It's a critical tool for visually communicating aspects of the design prior to making more significant investment into 3D modeling.
Snap capabilities allow users to reference existing curves while creating new ones. Fillet and Offset can be added to refine the design, and users can include external curves to the Draw Shape sketch by using Project Curve, and Intersection Curve. These new capabilities added to NX Draw Shape are all aimed to accelerate workflows that heavily rely on curve creation.
---
Enhanced visual feedback with Algorithmic Feature outputs
Let's wrap things up and look at some visual feedback capabilities we've added.
Algorithmic Feature outputs with colors
We've made it much easier visually to analyse Algorithmic feature outputs with the use of colors. With this release of NX, you can now modify the color of these output entities for visual appeal and easier identification. With these updates, you can use the color nodes for the following features:
Select a color from the standard palette
Create a new color by entering RGB values
Query the color of other entities
Create rules to modify the color of any entity using these colors
By enabling these options, rule-based color settings will help in easier identification of areas of attention in the output feature, whilst also allowing inheritance of color of the geometry from a selected parent.
---
Algorithmic Features with on-screen text labels
With the focus still on Algorithmic Features, let's look at updates we've made to on-screen text labels. Now, easy to comprehend text labels attached to Algorithmic Feature outputs help users to better understand what's going on. You can use the Algorithmic Feature Label node to decorate feature outputs with rules based on screen text. Additionally, text can be constrained with location and leader points, whilst lists of strings also result in multi-line text.
REMEMBER
Outputs are simple labels and not PMI's. It's best to use the MBD logic editor for rule based PMI's
As a result of these updates, non geometric results can be defined as a feature output, whilst you can also report areas of concern in the feature output of from intermediate nodes
---
Continue your journey with NX
And that concludes this blog on new core design capabilities within NX. These are only a handful of new capabilities we've added to core design; continue your journey with NX to ensure that you can find the rest of these capabilities in greater detail.
This is just the start of showcasing new features we've added for the June 2023 release; keep checking back over the coming weeks as we continue to explore this latest release!
---
This article first appeared on the Siemens Digital Industries Software blog at https://blogs.sw.siemens.com/nx-design/whats-new-in-nx-june-2023-core-design/