Products
All-electric eVTOL design challenges aircraft manufacturers with complexity and risk (Part 3-3)
What's next for eVTOL?
In this 3-part series, we have explored the expanding world of electric vertical take-off and landing (eVTOL). What is it, what does it offer, and what are some of the challenges faced by this growing market? Also, how will companies address these challenges. Specifically, how will they deal with the need for successful electric and electronic (E/E) systems development solutions?
In Part 1, we shared an introduction to eVTOL and how to reap the benefits of this new technology. Part 2 we saw some of the capabilities and benefits of adopting advanced E/E systems development tools. In this final post, we examine the complexity and risk that stands in the way of the great opportunities. Who will solve the challenges eVTOL brings?
---
Part 3 – Meeting eVTOL challenges head-on
The electric vertical takeoff and landing (eVTOL) segment has emerged amid a torrent of change in the aerospace and defense industries. Aircraft manufacturers are under immense pressure to meet and preferably beat program cost and scheduled targets. Commercial business and defense customers expect modern platforms to satisfy the demands of increasingly complex missions. They need innovative capabilities delivered quickly and cost-effectively.
But achieving these goals is no easy feat. Growing trends compound challenges. Some of those trends include intense competition, increased complexity, subcontractor manufacturing and stringent certification requirements. Hundreds of eVTOL startups, all vying for market share, are grappling with iterative test and correct cycles. Everyone attempts to design systems with electric propulsion and vast amounts of electrical and software content.
Despite their considerable efforts, they have yet to meet the requirements for travel range and battery density that will make eVTOL viable. Capturing the market will require the ability to accelerate production, as well. However, changes to the platform design can impact the speed and efficiency of manufacturing. Model-based systems development (MBSD) can help teams tackle these challenges and reduce risk.
Forward-thinking eVTOL companies are following in the footsteps of other OEMs. They are adopting a model-based development approach, which can eliminate risks while accelerating innovation and market introduction.
What is model-based E/E systems design?
Model-based design leverages functional models, engineering data, well-defined operational rules and automation. This in turn supports design, analysis, verification and testing during E/E software development. It enables engineers to continuously build upon data from upstream processes, supporting traceability, and simplifying change management and implementation.
It is characterized by:
design tools with strong multidisciplinary integration, to support effective collaboration throughout development, accelerate the design process and reduce errors
a digital twin that helps engineers identify and prevent errors, analyze performance, and reduce risk early in the design cycle
a digital thread that connects design and certification teams, enables traceability, and helps to eliminate confusion
data continuity throughout the design process to ensure internal and external production teams have access to manufacturing data
As part of the Siemens Xcelerator portfolio, Capital supports the model-based approach E/E system development. This includes electrical system modeling, electrical system architecture design and optimization, and software and network development. All of these capabilities are fully integrated across the product lifecycle.
Capital transforms system models into end-to-end optimized, electrical, electronic network and software outcomes. Upstream, the models link to platform-level requirements and multi-domain system models. This ensuring that the E/E architect remains aligned to the overall system requirements and constraints. Downstream, they provide executable E/E system descriptions for overall system verification and validation.
By applying the electrical model-based enterprise capabilities of Capital, eVTOL market players can reduce technical and certification risks with traceability and data coherence, and achieve performance goals and other milestones faster, while lowering production costs.
The eVTOL Race is On
The eVTOL market is growing fast at a CAGR of 15.3% and could reach $30.8 billion by 2030, as consumer interest in reducing emissions and traffic on city streets and convenient, cost-effective inner-city travel grows. The race to market is definitely on, and eVTOL manufacturers who prevail will be the ones that figure out how to meet consumer requirements for performance, safety and travel range while, at the same time, lowering manufacturing costs and accelerating development cycles. Adopting a model-based approach is an essential first step.
Interested in learning more?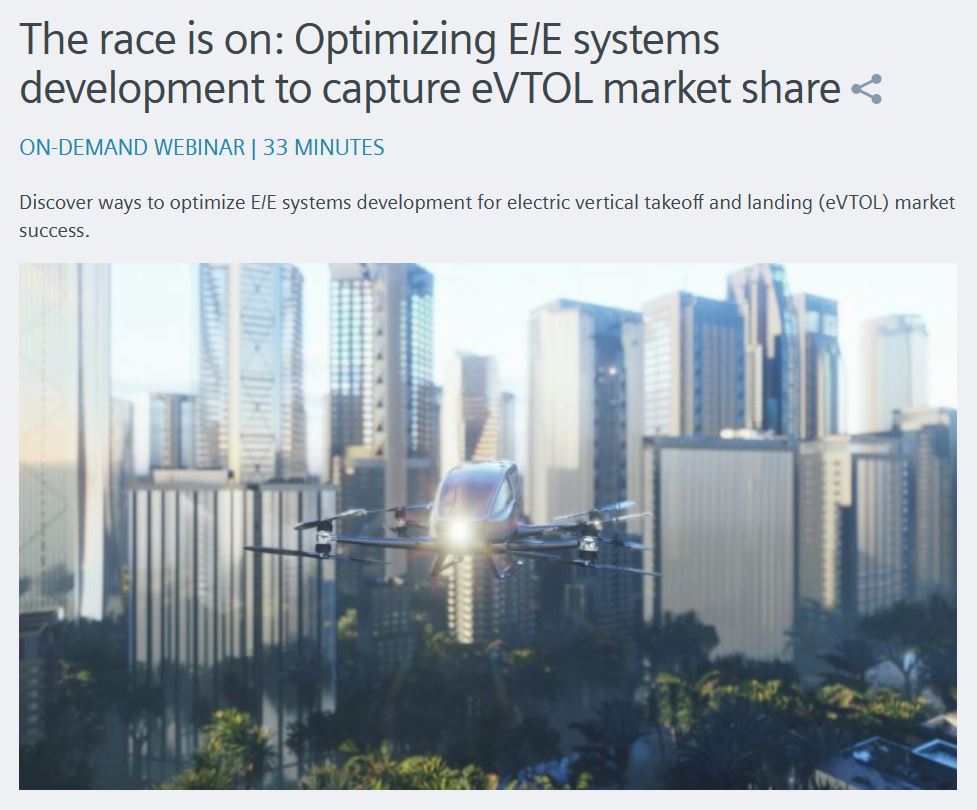 To learn more about how Siemens Capital facilitates model-based E/E systems development, watch the webinar on-demand. You can also learn more about Siemens Capital here.
This article first appeared on the Siemens Digital Industries Software blog at https://blogs.sw.siemens.com/ee-systems/2022/02/09/all-electric-evtol-design-challenges-part-3-3/