Thought Leadership
IEEE 1800™-2012 SystemVerilog Standard Is Published
Download the standard now – at no charge!
The IEEE has published the latest update to the SystemVerilog standard.  And courtesy of Accellera, the standard is available for download without charge directly from the IEEE.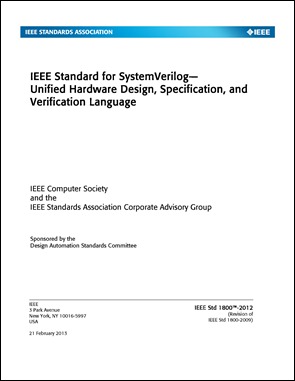 The latest update to the SystemVerilog standard is now ready for download.  It joins other EDA standards, like SystemC in the IEEE Get™ program that grants public access to view and download current individual standards at no charge as a PDF.  (If you wish to have an older, superseded and withdrawn version of the standard or if you wish to have a printed copy or have it in a CD-ROM format, you can purchase older and alternate formats from IEEE for a fee.)
Over the years Accellera came to understand that many people continued to use the freely available version that seeded the initial IEEE 1800 SystemVerilog standard.  Since it is significantly out of date, Accellera collaborated with the IEEE Standards Association to ensure the latest version of the SystemVerilog standard would be freely available in electronic form to all whom wish to download it.  Accellera now hopes all those old 3.1a versions that everyone has and uses can now be placed in the archives.
The new version of standard should be used by the UVM (Universal Verification Methodology) community as the definitive specification of the SystemVerilog standard upon which UVM is built.   It goes very well with the UVM Cookbook and the Coverage Cookbook.
From Mentor's perspective, it also makes a good companion to the Questa verification platform and complements our latest product update in which we announced support for the IEEE 1800-2012 SystemVerilog standard among other things.
If you have not done so already, download your copy now by clicking here.
This article first appeared on the Siemens Digital Industries Software blog at https://blogs.sw.siemens.com/verificationhorizons/2013/02/25/ieee-1800-2012-systemverilog-published/