Integrating model-based definitions

Product development is getting more complex. Cars are becoming computers on wheels. Airplanes are shifting away from mechanical systems to electronic ones. And consumer products are increasingly personalized to their users. Some of these challenges require increased software security others are employing innovative new manufacturing techniques with additive manufacturing. Solving this complexity will mean greater insight across the entire enterprise. For mechanical engineering, this is being driven by Model Based Definitions, often referred to as MBD.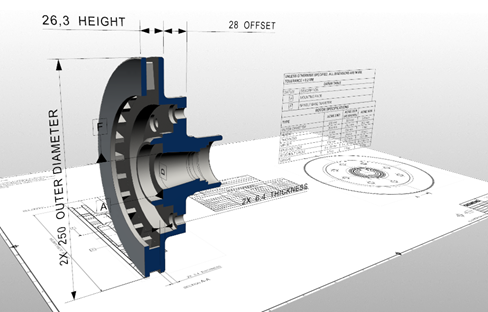 Essentially, MBD uses the 3D solid model as the single source of truth for a project. For larger projects this can be fed into a digital twin of the entire process from concept to service. MBD includes geometric dimensioning and tolerancing (GD&T) as well as surface finish, component metadata, and supplemental geometry all of which can be called out using Product and Manufacturing Information (PMI). All this information would traditionally be dispersed in the drawing of the product as notes, through additional documentation or other difficult to trace formats.
When working on safety focused projects in aerospace or the medical industry, traceability is paramount to any design. But the integration of MBD is not simply a solution for safe development, it is also a solution for efficient development. PMI data can be consumed from the model for use in manufacturing, quality assurance, and be shared with suppliers and vendors, all helping to significantly reduce errors that typically occurred while interpreting design intent The simplified transfer of information means a shorter time to market as well as a more accurate and efficient workflow, enabling engineering departments to focus on adding value. For more information on how MBD is augmenting development for the better, make sure to watch this webinar with Dave Wingrave from Siemens NX™ software and Ken Versprille, Ph.D., from CIMdata on the improvements of PMI.

The use of PMI is not a new technique, in fact NX PMI has been in use for decades in the aerospace and automotive industries. But with so many companies adopting digital transformations, the benefits of PMI, and more broadly MBD, are coming to fruition. Artificial intelligence features in the December 202 release of NX have made dimensioning a multi-click process instead of the multi-hour process it once was. Ease of use was one of the final hurdles for PMI and MBD adoption, as many companies simply saw the practice as extra effort since so few processes could take action on this information and legacy documents were still part of development.
And as discussed in an analysis of MBD and additive manufacturing (AM), the combined technologies will likely fuel a new manufacturing workflow, if not a new generation of manufacturing. This is extremely relevant in the conversation around hybrid printing for tomorrow's machine shops – retaining all manufacturing information in the model itself will enable machinists, even the machines themselves, to intelligently mix traditional manufacturing and AM techniques. MBD also maintains many of the purely AM designs. Material lattices whether for lightweighting or added stiffness rely on relative geometries, though not impossible without MBD they are much more time-consuming to create – often requiring complex programming to obtain geometry and manual modelling to create the lattices.
Model Based Definitions are at the forefront of the digital transformation wave and is where today meets tomorrow. MBD enables traceability throughout development, it opens new doors to innovative design geometries and it helps communicate this information more effectively than ever before. Siemens Digital Industries Software is driving transformation to enable a digital enterprise where engineering, manufacturing and electronics design meet tomorrow.
Xcelerator, the comprehensive and integrated portfolio of software and services from Siemens Digital Industries Software, helps companies of all sizes create and leverage a comprehensive digital twin that provides organizations with new insights, opportunities and levels of automation to drive innovation.
For more information on Siemens Digital Industries Software products and services, visit siemens.com/software or follow us on LinkedIn, Twitter, Facebook and Instagram.
Siemens Digital Industries Software
– Where today meets tomorrow.
This article first appeared on the Siemens Digital Industries Software blog at https://blogs.sw.siemens.com/thought-leadership/2021/02/04/integrating-model-based-definitions/