Products
Stay productive: Learn more about Tecnomatix software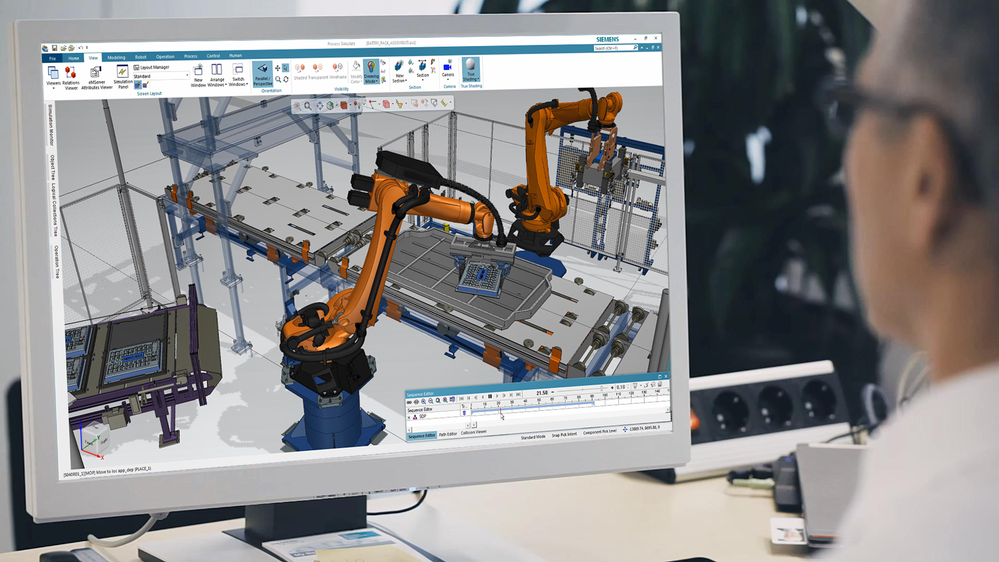 During these challenging times, we encourage you to improve your proficiency in the products that you already use and continue learning about Tecnomatix software. We have created a list of many free learning resources for your benefit.
Plant Simulation software
Model, simulate, explore and optimize production system processes and logistics.
To lessen the impact of COVID-19, we are offering a free 30-day trial subscription to our online learning memberships and virtual lab environments (cloud environment) effective immediately and for the period of the COVID-19 impact. In the Plant Simulation on-demand courseware you prepare, execute, and evaluate simulation studies to test solutions for manufacturing problems using basic objects and advanced tools. The estimated time to complete the full material is 59 hours.
Follow this link to learn and then follow the sign up instructions. We will send you a message with access information so you can get up and running immediately.
Try Plant Simulation trial software free for 30 days.
Students: Try a free, 30-day Plant Simulation Student version.
Join the Siemens Plant Simulation community. We have a strong community of professionals (users, partners and Siemens employees), supporting Plant Simulation users.
Learn more about Tecnomatix products and read our success stories.
Process Simulate software
Improve the safety, efficiency, and comfort of your workplace using Jack for Process Simulate.
RobotExpert software
Easily perform 3D modeling, simulation and validation of your robotics and automation systems.
Teamcenter Manufacturing
Efficiently plan and communicate your manufacturing processes.
Try the free, 30-day on-demand training for Teamcenter Manufacturing. You will learn how to create/view process plans and the related work instructions using the manufacturing engineering tools found in Teamcenter. There are six "learning paths" to choose from: 1) Begin a new process plan in MPP or MBM; 2) Work in the Bill of Materials in MPP or MBM; 3) Work in the Bill of Process in MPP; 4) Work in the Bill of Equipment in MPP; 5) Finish, release and revise the process plan in MPP; 6) Application and extension of manufacturing planning.
Catch up on what's new in the latest version of Siemens Tecnomatix software. Read the blog.
Read real-time updates from Siemens about what we are doing in response to Covid-19.
This article first appeared on the Siemens Digital Industries Software blog at https://blogs.sw.siemens.com/tecnomatix/take-advantage-of-extra-time-learn-more-about-tecnomatix-software/