Products
Discover what's new in Tecnomatix 2307 (August 2023)
Digitalization for advanced manufacturing.
The Tecnomatix® portfolio delivers advanced digital manufacturing software to empower businesses across diverse industries and sizes. Tecnomatix 2307 launched recently with several exciting new advancements in the areas of Teamcenter connectivity, UI updates, collaboration, augmented reality, robotics simulation, offline programming, virtual commissioning, human simulation and virtual reality.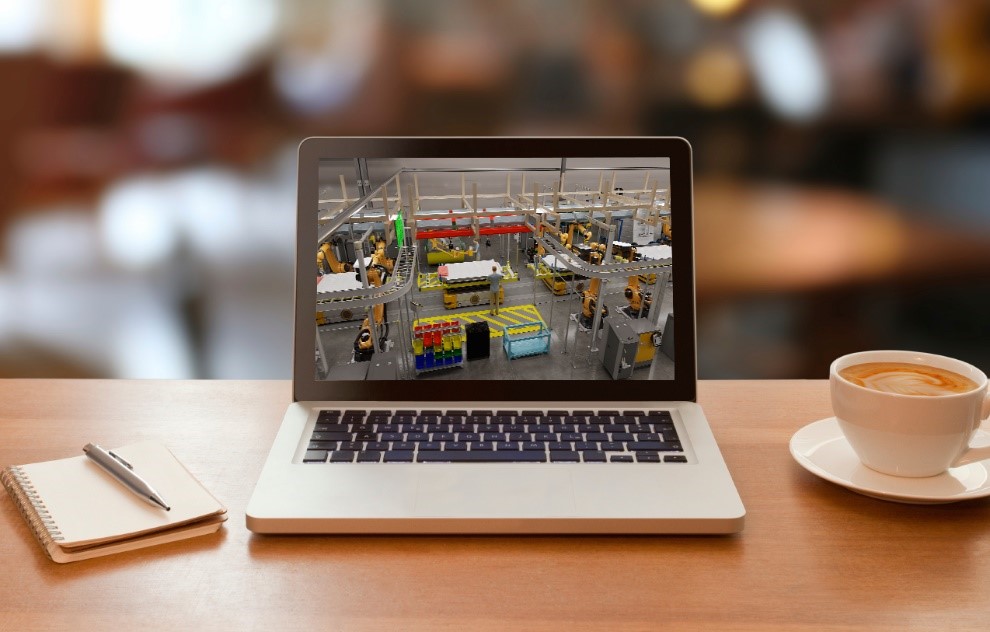 In this blog, we explore how the Siemens Xcelerator portfolio, including Tecnomatix digital manufacturing software, helps companies minimize manufacturing risks and improve their production operations. Siemens Xcelerator is an open digital business platform that enables customers to accelerate their digital transformation easier, faster and at scale.
Tecnomatix software helps companies minimize manufacturing risks and improve their production operations. We are thrilled to bring these latest enhancements to you!
You don't have Tecnomatix software?
General enhancements
The following new capabilities are available in Tecnomatix 2307.
Process Simulate Welcome Page
The Process Simulate Welcome page has been enhanced with valuable additions. Explore a "tips" section that provides new users with essential information and guidance on using Process Simulate. A link to tutorial videos has also been added, offering concise instructional content on key updates of Process Simulate operations. These additions aim to facilitate faster deployment and a smoother onboarding experience for new users, allowing them to quickly familiarize themselves with the software and optimize their productivity.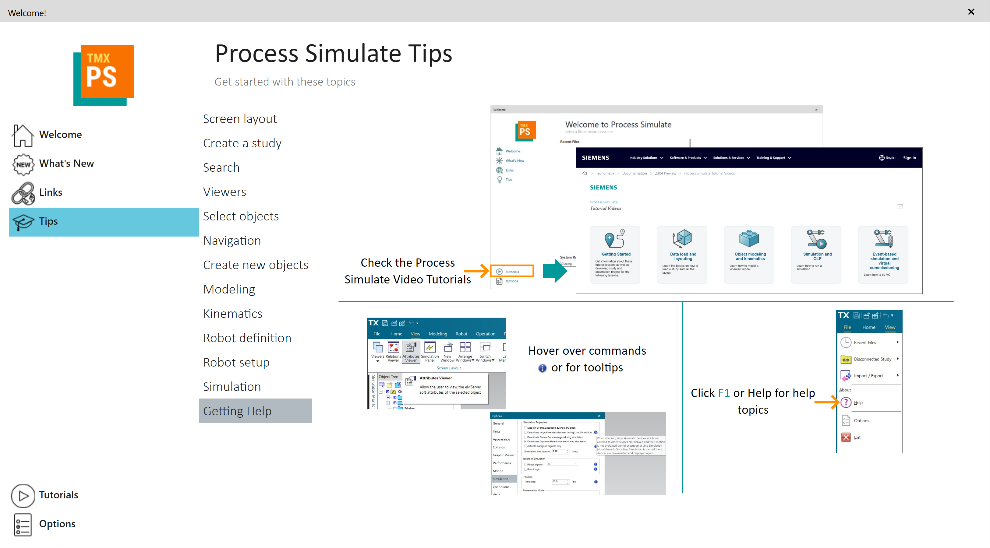 Connector for Omniverse
Siemens latest technology advancement of the industrial metaverse includes the newly released Tecnomatix connector to Omniverse, which transfers Process Simulate studies into Omniverse so that you can enjoy realistic and high-fidelity visualization simulations. With the Tecnomatix connector, you can easily transfer both geometry and simulations from Process Simulate software and work with them in Omniverse. 
The Tecnomatix connector enables a synchronized update between Process Simulate software and Omniverse so you can run simulations or apply layout changes, which are immediately reflected in both environments. The Tecnomatix connector paves the way for a seamless update of digital twins in Process Simulate and subsequent validation of the changes on the shop floor. 
Process Simulate studies can be viewed and simulated in NVIDIA Omniverse using the Connector for Omniverse command to achieve realistic visualization of the production environment. Learn more about the Connector for Omniverse in our latest blog.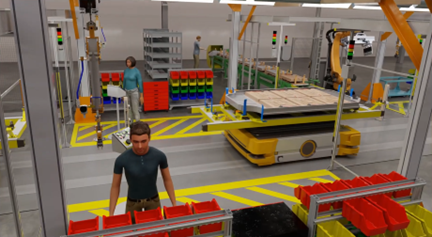 Light sources
Gain better control of the Graphic Viewer illumination which can be turned on or off individually, allowing their luminosity to be controlled as well. There are seven new light sources in the Graphic Viewer with five pre-sets of scene light that can be overwritten with your preferences. You can control the ambient light level without turning it off.
Collision detection
In the latest Process Simulate enhancement for collision detection, experience improved usage of point cloud data. Use point cloud objects and point cloud layers on both sides of a collision set to test collisions between multiple point cloud objects or portions of them. This feature enables more usage of point cloud data with greater precision and ease of use.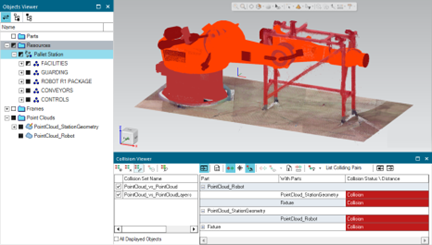 Process Simulate on Teamcenter
Explore new integration enhancements for Process Simulate on Teamcenter. A mapping file option has been introduced that configures Process Simulate to collect more information on product tree occurrences, then uses this information to identify new occurrences. This option is now enabled by default for both parts and manufacturing features (MFGs). It collects crucial information such as item IDs and positions of assigned parts, ensuring accurate recognition of replacements.
Another noteworthy addition is the "Reorder by Links" command, allowing you to sequence operations based on specific links between them. This command simplifies reordering operations in both the Sequence Editor and Operation Tree.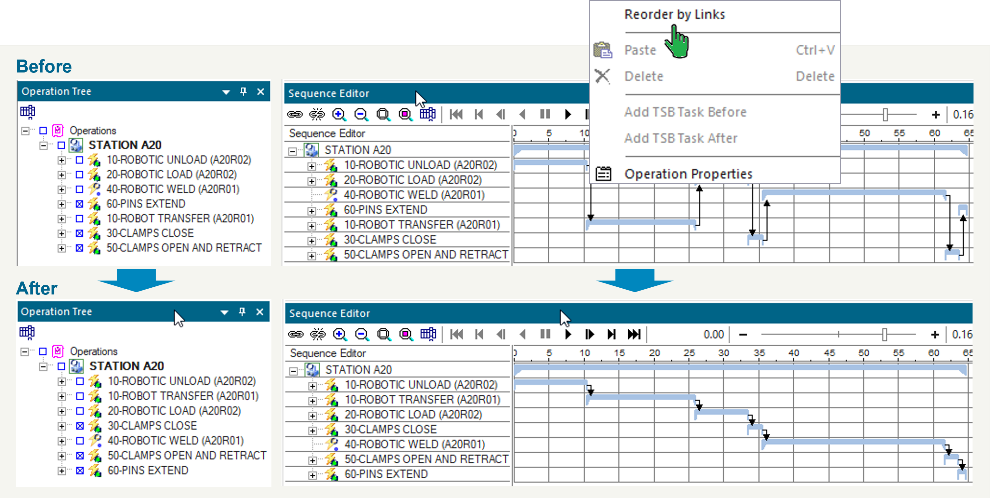 You also can now import private discrete MFGs from CSV files through the "Import Mfgs" command. Include private MFGs from external CAD software in ongoing studies. Importing MFGs from CSV files enables easy evaluation of unofficial parts without routing them through Teamcenter, streamlining the process from CAD systems directly to Process Simulate. This is particularly useful when MFG creation is defined as private. The CSV file should contain essential information such as class, name, position and leading part or connected parts.
Process Simulate Collaborate
Tecnomatix Process Simulate Collaborate, is cloud-based, 3D collaboration platform to visualize, review and analyze Process Simulate studies in a collaborative environment. You now can provide internal and external stakeholders access to the richness of your Process Simulate studies, saving time and effort. Collaboration is much improved via dynamic 3D visualization, simulation and electronic feedback.
Process Simulate Collaborate is a Siemens SaaS application that was released early in 2023 and recently was updated with exciting new features.
Collision viewer
The collision viewer helps to identify potential collisions between objects in the simulation study. You can use the collision datasets pre-defined in the study to understand the collision risk.
Snapshots
You now can activate snapshots present in the simulation study at a specific point in time, preserving the state of the study. It is useful for comparing different simulation scenarios or sharing progress updates.
Cross section
The cross section feature allows you to view the simulation study from different perspectives by slicing through the model on various planes or angles. It provides an in-depth analysis of the study and helps identify potential issues.
Process Simulate Augmented Reality
The new version of the Process Simulate Augmented Reality Digital Twin Alignment (DTA) offers improved usability and impressive automation. Achieve enhanced accuracy and consistency all while further shortening inspection time and effort.
Process Simulate Augmented Reality (PS AR) also now offers an automatic inspection process based on pre-trained AI, enabling you to inspect several weld points with a simple click. Simply load the data, position the part and select "auto inspect." Even large numbers of weld points can be inspected within minutes, enabling a much more accurate and consistent assessment. After auto-inspection, results can be viewed in the Graphic Viewer of the PS AR application or view an automatically populated report, which can also be exported for further usage by additional stakeholders.
You also can expect an enhanced workflow for aligning real and virtual information with the assisted positioning feature. By selecting points in real images from the camera or 3D window using CAD data, PS AR intelligently identifies shapes like circles and squares, refining accuracy in overlaying and measuring real-to-virtual differences. Additionally, the new repositioning option anticipates changes such as camera adjustments, allowing PS AR to reposition without user guidance. This is particularly valuable when inspecting multiple parts, such as transferring positioning from one part to another with a single click, streamlining the process. Learn more about our digital twin alignment expertise in our latest blog.
Robotics simulation and programming
Process Simulate Robotics helps you to program and validate your robotic processes in a dynamic 3D environment. It includes robotics applications for spot welding, metal processing, drilling and riveting, surface treatment and assembly.
The following new capabilities were released in Tecnomatix 2307.
Robot Center
The latest updates to the Robot Center ensure an intuitive experience for both robotics experts and new users by centralizing all robots in the study and associated features in one place. With Setup Mode, robot setup replacement is simplified, eliminating the need for complex programming. The simulation mode allows you to visualize and control a diverse set of robot features virtually, enabling risk-free experimentation and optimization. Robot Center supports industry-leading controllers such as FANUC, KUKA and ABB, while also integrating with other controllers seamlessly.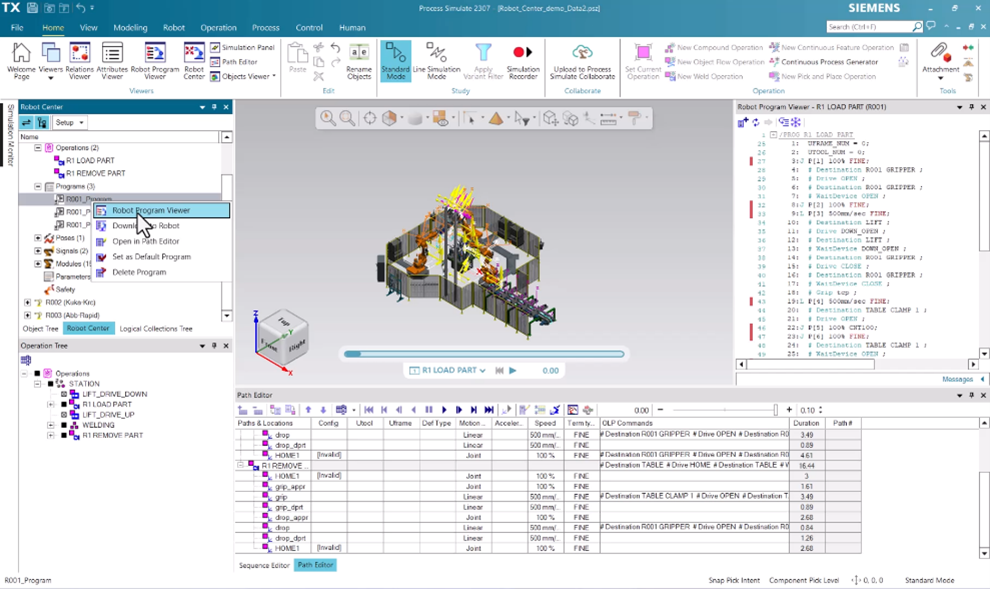 The Fanuc controller (OLP Package)
The Fanuc controller (OLP package) has been significantly enhanced for its accuracy and simulation capabilities resulting in more extensive offline programming and debugging features. A notable improvement is the addition of support for the RUN command which occurs in parallel with the main program, resulting in improved accuracy of the simulation and a more realistic representation of the controller's operation.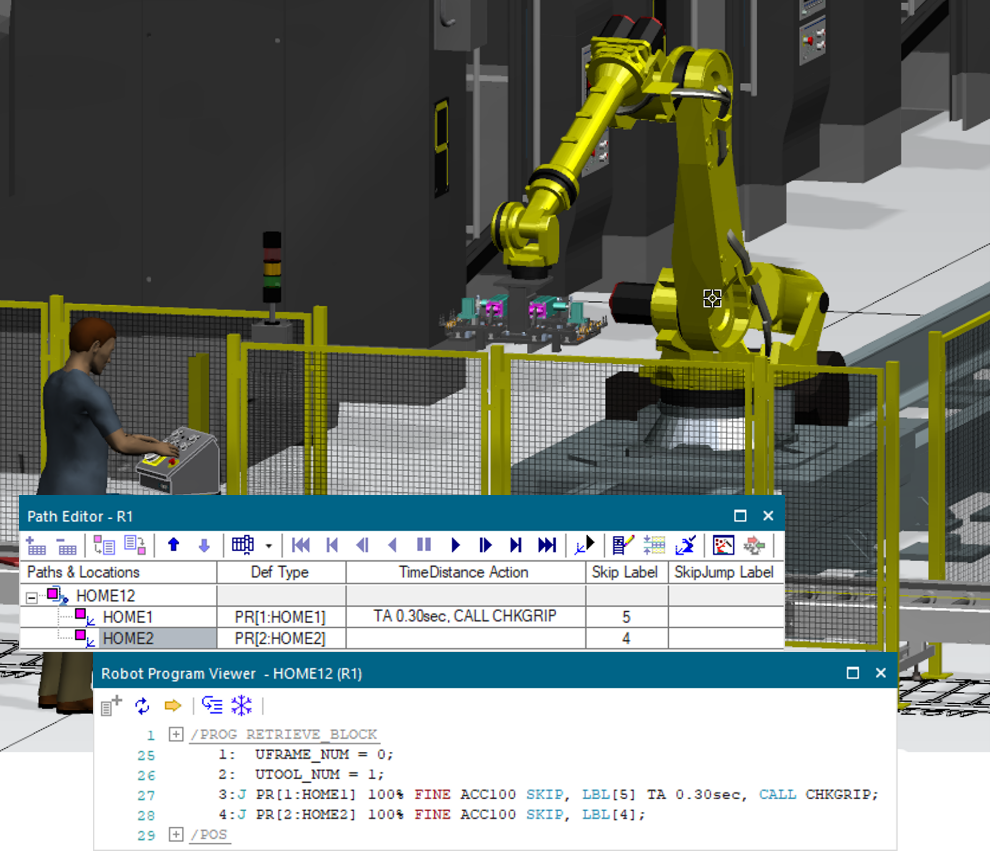 Offline programming
In the latest version of Process Simulate, several significant enhancements have improved the offline programming experience. When uploading or downloading programs, explore filters that now offer three options to classify messages and simplify the process of debugging errors caught during download. You now can experience faster loading and operation within the Path Editor itself. This improvement ensures a more seamless workflow, enabling you to view and load data more freely and concentrate on offline programming tasks without encountering unnecessary wait times between actions.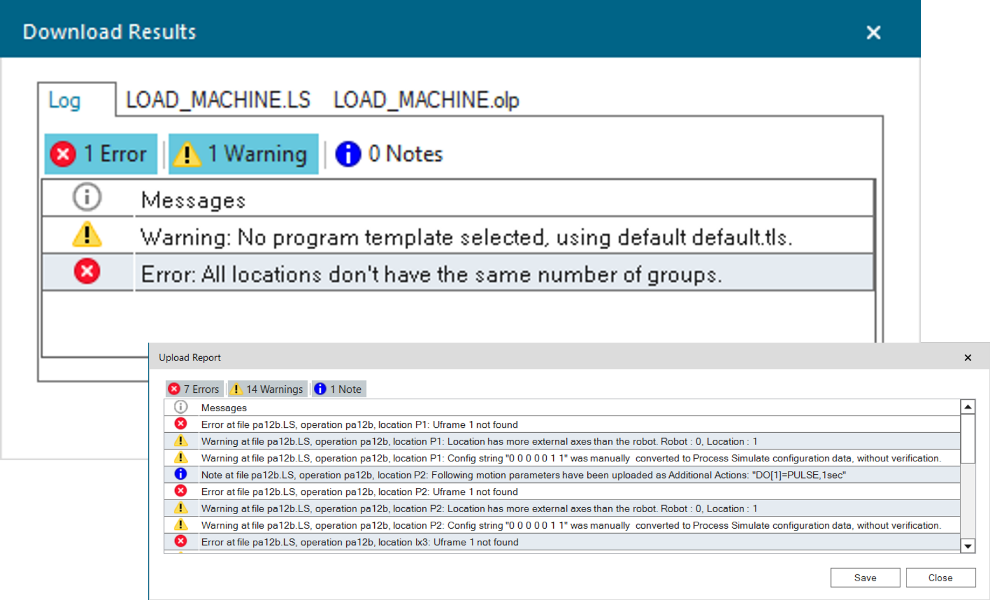 Virtual commissioning
Process Simulate Virtual Commissioning helps you to run the PLC code that controls the station to validate robot motion, robot logic, and other mechatronic components such as clamps, conveyors, and the entire process sequence. Virtual commissioning works with real PLCs (hardware in the loop, HiL) or virtual PLCs (software in the loop, SiL), or with the Process Simulate Cyclic Event Evaluator/Emulation (CEE) internal evaluation tool.
The following new capabilities are available in Tecnomatix 2307.
Behavior modeling
The SCL editor includes a number of new functions and enhancements that allow easier behavior modeling with SCL. The Templates folder in the SCL editor includes useful samples, such as conveyors, for line simulation and virtual commissioning. Additionally, the new function "OFFSET_ABS_LOC" allows manipulation of "ABS_LOC" data type relative to the SCL component, which is particularly beneficial for material flow generation when the source SCL is not aligned with the world frame.
Moreover, graphical interaction functions like "IS_PICKED," "IS_SELECTED," and emphasize functions have been upgraded to apply to individual entities within an object. This enhancement enables highlighting and detecting interactions of individual parts of a resource, simplifying tasks like creating control panels with multiple buttons without the need to split the resource into lower-level components.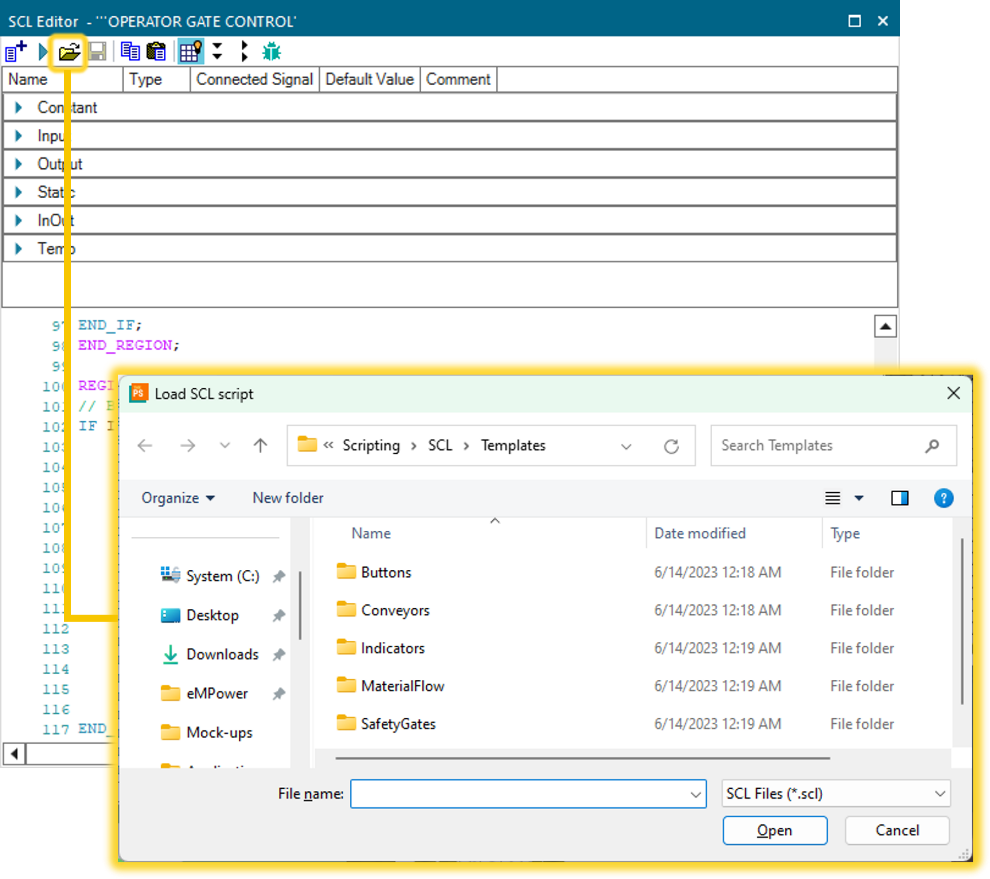 Human simulation and virtual reality
Process Simulate Human helps you to eliminate any risk to operators with walk path analysis, reachability tests, vision analysis, and ergonomics assessments.
Process Simulate Virtual Reality delivers an immersive virtual reality environment for better engineering reviews, staff training and realistic process validation.
The following new capabilities were released in Tecnomatix 2307.
Enhanced presentation of ergonomic analysis tools
In the refreshed analysis tools interface, you will find new enhancements that help you save time and more confidently select the appropriate evaluation techniques. The human performance tools have been grouped by type so that you can easily decide which evaluation techniques are required for each scenario and reduce the amount of user input needed prior to conducting an evaluation.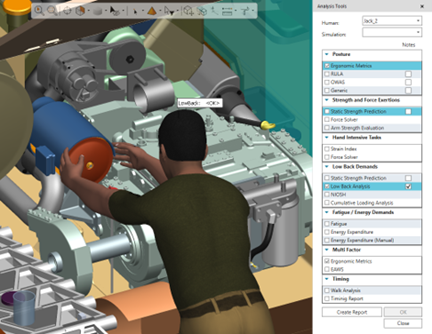 Real-time posture monitor
You now can carry out workstation design more efficiently using the Posture Monitor to assess ergonomic compliance in real-time, helping you identify problems and adjust immediately. When posturing or creating a simulation, open the Posture Monitor for continuous feedback to monitor the tasks being performed.
Motion capture: Tracking improvements
Given the increased prevalence of hand-intensive tasks in the industry, Process Simulate Human improves accuracy of human motion studies with enhanced motion tracking so postures from the human object are more closely duplicated onto human figures in Process Simulate. Additionally, motions such as kneeling, laying down, squatting and crawling can now be simulated with accuracy so users can quickly identify concerning postures.
In addition, Vicon finger tracking allows motions to be applied to humans in Process Simulate. Hand clearance and hand-intensive tasks are frequently required during product and process planning. Movements tracked include hand clearance requirements for assembly operations and hand core capabilities for a specific posture. Enhance the realism of motion and capture studies and use the Vicon motion tracking system to monitor intricate hand movements for accurate and speedy evaluations.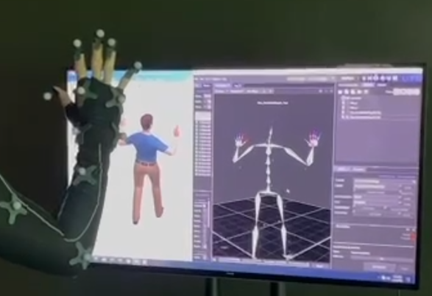 Line simulation studies
Line simulation studies can now be launched into virtual reality to allow immersive planning of robotic cells and to verify material flow. Simply enable all material flow properties and generate appearances prior to launching VR.
VR collaboration: Easier connectivity
Virtual reality collaboration can now be used with higher confidence, supporting immersive connectivity with colleagues like increased configuration flexibility in secure, rich environments. You also gain improved handling of blocked FTP ports and the ability to use static IP addresses, which is helpful when specialist routing, tunnels or other network configurations are present.
These are just highlights of the advancements delivered with the latest Tecnomatix portfolio release. For complete details on the new features of Tecnomatix 2307 and its supporting releases please refer to the release notes and new features presentations offered with the software download.
Don't forget to join the Tecnomatix public community and explore the website for even more exciting developments.
Yours in digital manufacturing,
Kelly
(on behalf of the entire Tecnomatix product team)
You don't have Tecnomatix software?
This article first appeared on the Siemens Digital Industries Software blog at https://blogs.sw.siemens.com/tecnomatix/discover-whats-new-in-tecnomatix-august-2023/