Products
Merging digital twin alignment solutions with AR technology partner
Explore the dynamic partnership between Siemens and SkillReal, an augmented reality (AR) technology provider for industrial manufacturing, that seamlessly integrates its solution with Process Simulate software.
In the fast-paced world of industrial manufacturing, staying ahead of the competition requires embracing cutting-edge technologies that drive efficiency and enhance quality. SkillReal, an augmented reality (AR) technology provider for industrial manufacturing, is a Siemens solution partner that seamlessly integrates its solution with Tecnomatix Process Simulate software. By merging digital twin alignment expertise, Siemens and SkillReal have created a strategic partnership that enhances manufacturing efficiency and optimizes production line performance.
Meet the authors
Targeting the industrial digital twin market, SkillReal's breakthrough patented technology has been specifically designed to transform production line operations, providing a safe, convenient and cost-effective system that streamlines processes, shortens timelines and delivers significant ROI at every stage.
The full integration of the SkillReal solution with Process Simulate software ensures a smooth change management process for industries adopting their cutting-edge digital twin solutions. The collaboration significantly reduces ramp-up time and minimizes operational disruptions during implementation.
Empowering production line efficiency
Siemens and SkillReal aim to simplify the day-to-day work of production line managers, workers and line builders. Their combined technology empowers users to optimize processes, reduce complexities and cut costs, all while ensuring the safety and convenience of the workforce. By catering their technology to production line use cases, Siemens and SkillReal have addressed the unique challenges faced in these environments, making it an ideal solution for various industries, including automotive, aerospace, defense and machinery manufacturing.
Core technology and capabilities
SkillReal's core technology and capabilities form the foundation of the exceptional joint offering with Siemens:
Full integration with Siemens Xcelerator portfolio: The bi-directional communication and integration with Siemens Process Simulate and Teamcenter software ensures a smooth change management process, significantly reducing ramp-up time and operational disruptions.
Integrated AI and computer vision technology: The integration of AI and computer vision ensures unparalleled precision and efficiency in quality control and process optimization.
Sub-mm accurate AR and 3D measurements: SkillReal's sub-mm accurate augmented reality and 3D measurements guarantee precision at every stage of the production process.
Low-cost, zero-footprint cameras: The use of affordable, zero-footprint cameras facilitates seamless integration into existing workstations, making the technology accessible and cost-effective.
Digital twin alignment with AR visualization: By aligning digital twin technology with AR visualization, Siemens and SkillReal enable real-time analysis and efficient identification of discrepancies, enhancing decision-making capabilities.
Significant ROI at every stage
The value of Siemens and SkillReal's solution extend to every stage of a product's lifecycle.
R&D prototype: Reduced risk of failures, rework and retests, coupled with early identification of potential issues, significantly cuts costs and saves valuable time during the prototype stage.
Launch phase: Faster inspection with closed-loop robot reprogramming, early detection of missing features and minimized risks of scrap and rework optimize the launch phase.
Serial production: Predictive maintenance for robots, sub-mm accurate inspections at every station and real-time alerts on deviations and quality issues ensure efficient serial production with high-quality outputs.
The solution: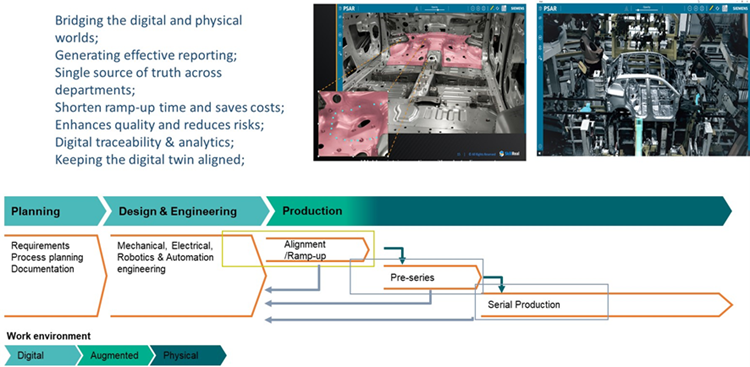 SkillReal technology roadmap
SkillReal's commitment to continuous innovation is evident in its technology roadmap, which outlines exciting developments for future use cases with the Siemens partnership. These include inspecting the quality of manufacturing features, incorporating additional manufacturing features like those for arc welding and sealants, fusing data from other quality sensors, enabling 3rd party AI models and virtual robots for teaching and aligning part positions as they arrive in stations.
Elevating industrial manufacturing with Siemens and SkillReal
Leveraging off-the-shelf cameras is a technology advantage that offers easy operation with no training required. Robot alignment without manual teaching and accurate inspection of critical features ensure optimal efficiency. SkillReal's full integration with Siemens Process Simulate and Teamcenter software empowers change management, reducing ramp-up time and enhancing productivity.
This article first appeared on the Siemens Digital Industries Software blog at https://blogs.sw.siemens.com/tecnomatix/merging-digital-twin-alignment-solutions-with-ar-technology-partner/