Products
Simplified Digital Collaboration for Process Simulate Studies
Are you looking for a modern and efficient way to optimize your factory production lines in Process Simulate? Then look no further. Tecnomatix Process Simulate Collaborate was released on Tuesday, February 14th, 2023.
In our previous blog, we discussed the opportunity to modernize collaboration in Tecnomatix Process Simulate. Today's design and simulation teams may lack collaboration efficiencies for Process Simulate studies if internal and external stakeholders rely on numerous email chains, static images with markups, and slides to communicate revisions and feedback. Reviewing and editing studies in this manner can be cumbersome and cause teams to lose track of version changes.
Share Process Simulate studies and gain real-time feedback on simulations faster and easier than ever before!
Recognizing the challenge of traditional ways of collaboration with Process Simulation teams
Design and simulation teams require collaboration across a spectrum of internal and external stakeholders. How can Process Simulate studies be readily accessible across the organization and even to external stakeholders? A cloud-based 3D collaboration application like Tecnomatix Process Simulate Collaborate enables simulation engineers and inter-connected manufacturing teams to visualize, review and analyze factory production lines more effectively.
Authoring design studies
The current workflow process of authoring and releasing design studies involves several challenges such as locating, validating, organizing, and sharing individual studies. Many versions of the same study may cause errors downstream and the concept of working on a single master design can become a labor-intensive task.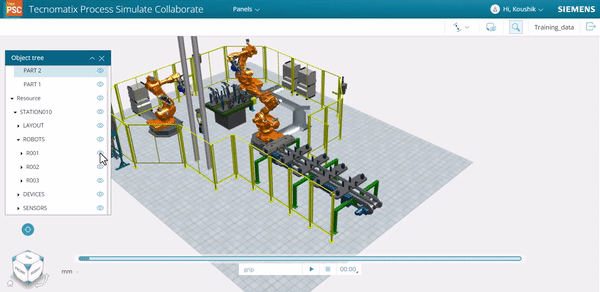 For example, engineers may spend a considerable amount of time recreating the 3D design studies of the proposed robotic production designs. These methods typically include capturing static images or 3D videos from the simulation software and revising them within a PowerPoint presentation or another file sharing service. With our latest digital solution, engineers have access to a secure application that no longer requires recreating studies.
Sharing and Collaborating
The inability to share a dynamic view of the 3D environment poses a huge challenge for manufacturing teams. For example, a 360° view of a robotic workspace can be difficult to share with stakeholders. This results in the need to schedule an online meeting that might be days or weeks away depending on the stakeholder's availability. In most cases, to access the shared robotic simulation studies, there is a requirement that all stakeholders own a license for the software to review the simulation study and work on it simultaneously. With Tecnomatix Process Simulate Collaborate, engineers can share the Process Simulate study workcell as a unique link so other users can instantaneously open and view the dynamic study from a web-based browser.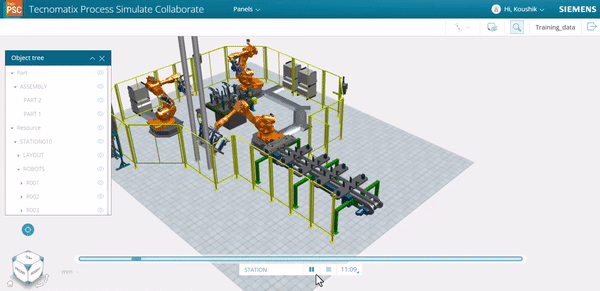 Collecting Feedback
After authoring the design or simulation work study, engineers currently distribute the study as a static image with markups and low resolution 3D screenshots or videos. To make the existing scenario even more challenging, the main channel of sharing a study is often through email or another file sharing medium. Upon receiving the shared work study, the collaborator must find a way to make revisions and share it back to the file owner. The tedious process of collecting and documenting these changes is cumbersome and inefficient. With Tecnomatix Process Simulate Collaborate, users can now join or lead a collaborative environment all from a browser to review studies independently or observe the presenter's view alongside colleagues.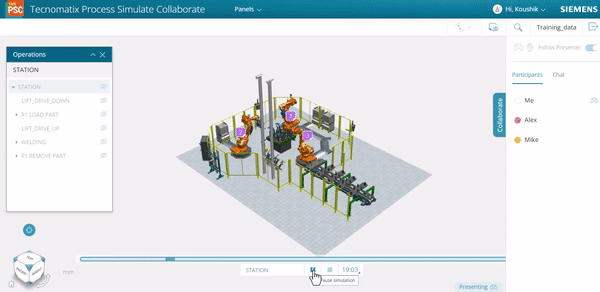 Digital collaboration in Process Simulate improves productivity
By sharing and collaborating on studies within Tecnomatix Process Simulate Collaborate, manufacturing teams can collaborate with internal and external teams and put feedback into action more readily. A cloud-based platform enables manufacturing teams to facilitate a streamlined collaboration workflow and engineers no longer need to manage multiple versions of the same Process Simulate study.
Get ready to experience a new level of collaboration and optimization with this modernized application. Gain access and experience the web-based application firsthand to see the amazing potential of this revolutionary application.
This article first appeared on the Siemens Digital Industries Software blog at https://blogs.sw.siemens.com/tecnomatix/simplified-digital-collaboration-for-process-simulate-studies/