Products
Learn How Geometric Search Enhances Innovation.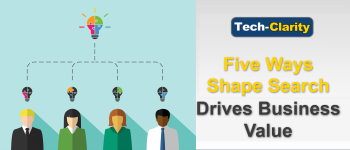 This article completes a series on the business value of Shape Search, a new technology that can help you save time, money and effort by re-using existing solutions.
Catch up on the whole series by reading part1, part 2, part 3 and part 4.
The only constant in today's world is change. To stay competitive you have to innovate. When creating a new product there are issues to solve. Some of these are new. Some you have solved before. You save time, money and effort when you recognize a repeat problem and re-use a part or process. Every instance of re-use increases the resources you can budget to other tasks.
The other articles in this series on the business values of shape search focus on:
The first article sets the scene, with a review of research that shows how common it is to wastefully re-invent rather than re-use because traditional search tools are not comprehensive. Each remaining article focuses on an aspect of PLM and provides a concrete example of how Shape Search supports increased efficiency. This final article is a reminder of what we have learned, reinforces the point that we can be better positioned to deal with new challenges, and provides one more example.
Geolus Shape Search is integrated with Teamcenter making search by geometry available in Active Workspace, the Rich Client, NX and partner products such as BCT's "aClass with Shape Search". Shape search is applicable to the entire product lifecycle. It is especially relevant in Design/Engineering, Manufacturing and Procurement.
Recently we performed a quick experiment with Geolus Shape Search and Teamcenter SAP Gateway. Teamcenter SAP Gateway shows commercial information from SAP such as price, supplier, stock and more, in a Teamcenter context. Here is very short video (don't blink) where you will see Shape Search in the Teamcenter Rich Client finding similar parts and then when the Gateway tab is selected, the SAP data for each part is displayed. Now it is easy to compare information such as price on similar parts. Only searching by shape enables us to group these items as conventional search depends on their keywords which are inconsistent.
This is just one of a growing number of uses for shape search. Shape Search finds candidates for re-use, obviating re-invention. This frees resources for other activities, including innovation.
The series was inspired by the article "Five Ways Shape Search Drives Business Value" by Jim Brown, President of Tech-Clarity.
This article first appeared on the Siemens Digital Industries Software blog at https://blogs.sw.siemens.com/teamcenter/learn-how-geometric-search-enhances-innovation/