Products
Search with Geometry to find Ideas and Concepts you can Reuse.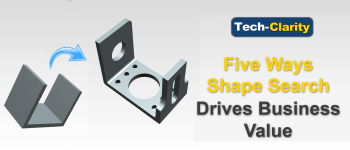 This is the third article in a series on the business value of geometry as search criteria, or Shape Search, a new technology that can help you reach greater returns on your Teamcenter investment. Here we will see how an NX user can begin a search with just a rough design that takes seconds to create and find finished parts for reuse.
Catch up on the whole series by reading part1, part 2, part 4 and part 5.
Reuse makes good business sense. The first article in this series, "Shape Search for Engineering Productivity", illustrated this with an analysis of industry findings. The second article, "Part Standardization and Reuse", showed shape search supporting a strategic classification initiative. This article shows how search by shape overcomes the barriers of language that hinder traditional search. In fact, an NX user can search with no keywords at all, using just a very coarse model created with minimal effort. This is shown in the accompanying video.
Note that the initial lack of specificity yields a broad selection of parts but the visual feedback enables the user to quickly focus, seeding follow-on searches with precise parts. Teamcenter Shape Search is architected to support the naturally iterative nature of search. Sometimes you don't know what you want until you find it.
This blog was inspired by "Five Ways Shape Search Drives Business Value" by Jim Brown, President of Tech-Clarity.
Erwin Argyle is a Senior Product Manager and can be contacted for more information on shape search
This article first appeared on the Siemens Digital Industries Software blog at https://blogs.sw.siemens.com/teamcenter/search-with-geometry-to-find-ideas-and-concepts-you-can-reuse/