Press and Drag Commands in Solid Edge – Part 1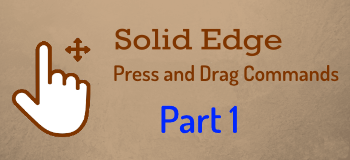 Press-and-Drag is different from click and drag in that the mouse button is kept pressed for the entire duration of the command. Since press and drag operations are not obvious hence they remain unexplored.
This article shows some of those available in Solid Edge.
1. In a Draft document, press-and-drag a DWG or DFT file from the Library panel into the sheet to insert the drawing.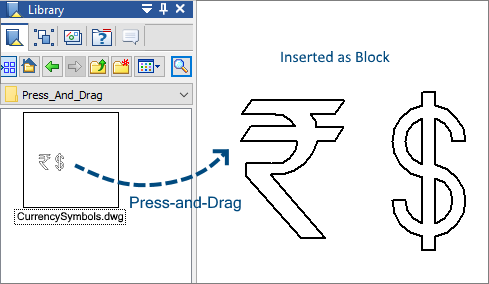 Similarly, press-and-drag Excel, Word, or PDF files and also images in the JPG format to display the contents directly on the sheet in Solid Edge.

Note: You can also Press-and-Drag files directly from the Windows Explorer.
2. On the Sketching tab of the ribbon, under the Line command drop-down, is a special command called Freehand which is a quick way to create concept sketches and subsequently create Synchronous models.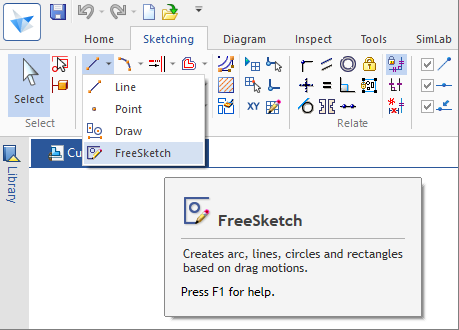 The Freehand command lets you draw shapes using press-and-drag and converts them auto-magically to fully constrained Solid Edge 2D sketches.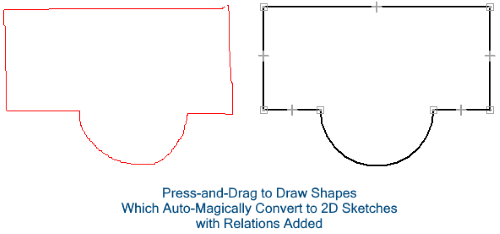 You have full control over the 2D entities recognized from the raw shapes by enabling/disabling them from the Command bar.

The recently added Draw command additionally recognizes elliptical arcs and splines or curves. The Draw command can also work in a Trim mode and this can again be switched from the Command bar.
Note: The Draw command is available on Windows 10, version 1607 and beyond.

3. Use the Trim Corner command to rectify imperfections in imported DWG or DXF files.
The image shows how a press and drag over open or overlapping corners not only trim them to perfection but also adds the Connect relation.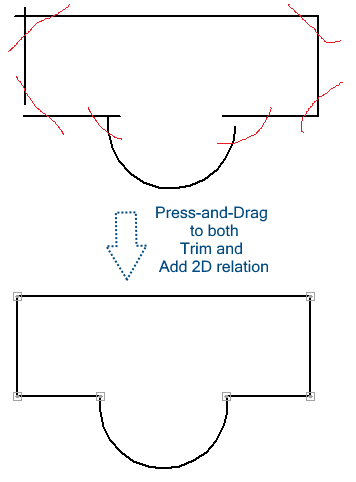 4. When you import DXF or DWG which do not have imperfections, they still do not have 2D relations added automatically. Use Press and Drag to connect endpoints quickly by dragging one endpoint over another endpoint or midpoint or center as required and the necessary relations are added automatically.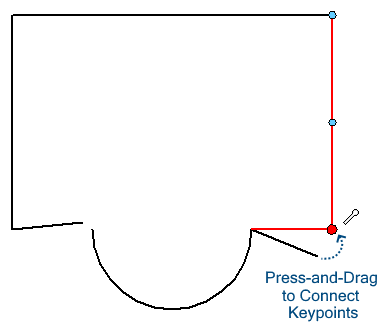 5. Selecting objects is at the heart of modifying objects. Read an in-depth article about the various selection modes that use Press-and-Drag to pick objects in Solid Edge in this article – Select and You are Set.
The next part of this article shows 5 more uses of Press-and-Drag operation in Solid Edge.
Compiled by Tushar Suradkar
This article first appeared on the Siemens Digital Industries Software blog at https://blogs.sw.siemens.com/solidedge/press-and-drag-commands-in-solid-edge/