Products
Startup Spotlight: Speedbird's new drone design takes delivery to the sky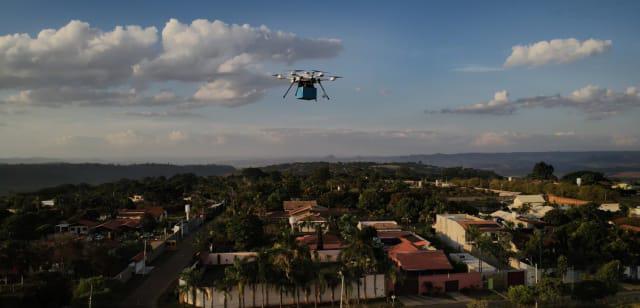 It's a bird… It's a plane… No, it's a drone—possibly one of Speedbird Aero's drones en route to deliver pizza or medicine. Speedbird Aero, a startup based in Brazil, is taking delivery methods to the sky and is transforming the delivery industry with its stellar 'Drones-as-a-Service' offerings.
If there was ever a time for change or the need for more options, it is right now, as we all have come to rely on deliveries due to the pandemic. Delivery is being used more than ever, and ordering is right at your fingertips using apps from Amazon Prime for just about anything, groceries from Instacart or fast food from Uber Eats now that businesses are opening up to some degree since vaccinations have been available. In Brazil, however, COVID-19 cases are still high, due in part to a low vaccination rate.
There could not be a better time to be in the delivery technology business. Speedbird is downsizing traditional delivery methods by offering businesses drone services for the delivery of small orders, including food, medicine and various products for commercial, industrial and health use.
Not only is Speedbird reducing congestion and emissions with their delivery approach, they are providing economic opportunities for local and regional businesses. Imagine what this could do for congested areas such as New York City or reducing congestion, pollution and getting food and medicine to hard-to-reach places.
However, due to drone restrictions and aircraft regulations, operating unmanned aerial vehicles such as drones is not yet mainstream. Speedbird hopes to change this, and was the first company in Latin America to gain approval for drone deliveries in Brazil in early 2020. Based in Franca, Sao Paulo, Brazil, the start-up specializes in aerial unmanned vehicles and logistics and was founded in 2018 by Samuel Salomão and Manoel Coelho.
Since then, Speedbird has performed thousands of flights for its customers, such as iFood in Brazil who uses Speedbird's drone services to deliver food from restaurants and supermarkets.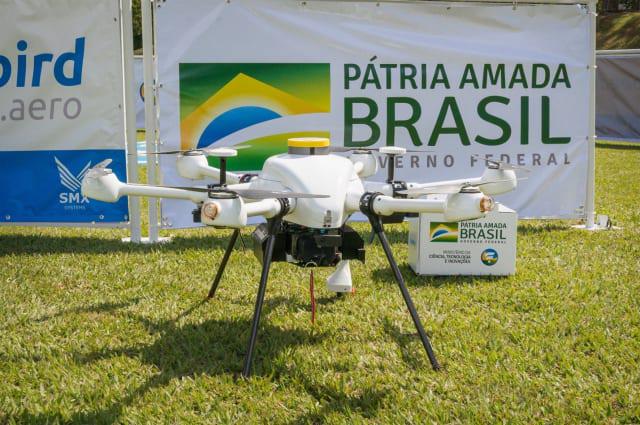 Not only are they revolutionizing the delivery industry, Speedbird is advancing the drone industry. These are not remote-controlled drones. Speedbird's drones are automated by software using coordinates, GPS, sensors and LiDAR. The transport is managed by Speedbird's operators who monitor the deliveries and the drones are equipped with specialized software created by Speedbird for routing, safety and automated take-off and landing. For instance, the operator gives the commands like "start mission" or "abort mission."
Speedbird currently offers three drone aircraft models to choose from: the DLV-1 model for urban logistics, typically used for light products such as food and medicine in neighborhoods; the DLV-2 for heavier loads, such as industrial items and beverage packs; and the DLV-4, which is a hybrid-electric vertical takeoff and landing (eVTOL) aircraft for long-range trips that connects cities, warehouses and hospitals.
Speedbird's innovations are impressive. Not only do they offer Drones-as-a-Service, but they design and build the drones in-house and develop the navigation systems to operate the drones.
"We don't sell drones, we offer drones as a service," said Mauro Hassan Tanure, mechanical engineer at Speedbird.
Tanure was at the hangar in Sao Paulo where they build and house the drones when we spoke to him recently. We even got a virtual tour.
Since joining the company in September of 2020 as the lead mechanical engineer for the DLV-1 program, Tanure said things have progressed quickly. For starters, the company has grown in size from five people to 30. They have also set their sights higher, as it were, increasing their monthly design and build volume with plans to produce 30 drones a year starting in 2022. Plus, they plan to expand their reach beyond Brazil and will be testing out flying drones in other countries—with the flight still monitored from Brazil.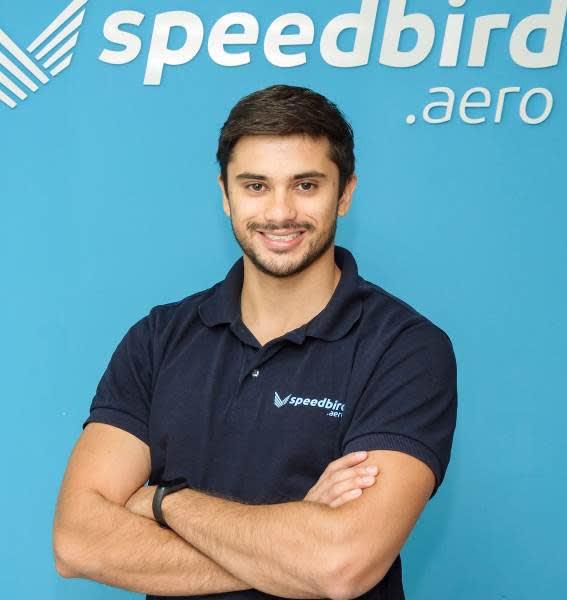 Most employees have an aerospace background and come from Brazilian aerospace giant Embraer. This is 25-year-old Tanure's second stint in the aircraft industry, as he has worked mainly in the automotive and transportation sectors, including a gig with Formula Tesla (UFMG) before graduation and designing drone ground-stations in a drone-infrastructure startup in Lisbon.
When Speedbird came on board, they started out using off-the-shelf drones and parts, which became challenging, as parts were getting harder to find on the supply chain. This caused delays with getting the drones built and ready for certification, which was a crucial part of operations because they needed to get authorization to fly the drones. During the COVID-19 pandemic, especially, it became harder to find components such as electronics, and some parts they had been using were no longer available.
"The global supply chain right now is a mess," Tanure said. "You can't find semi-conductors and components. So, we're trying to internalize and get everything we can here in our facility, because it gives us more flexibility, so we don't have to wait on suppliers."
With all those challenges, the company decided that designing and building their own drones would enable them to get their drones ready for certification at a faster pace and specially crafted for the application.
"It's better to design our own," Tanure said. "The hardest part is to integrate everything to make sure it's going to be accepted and approved by the authorities."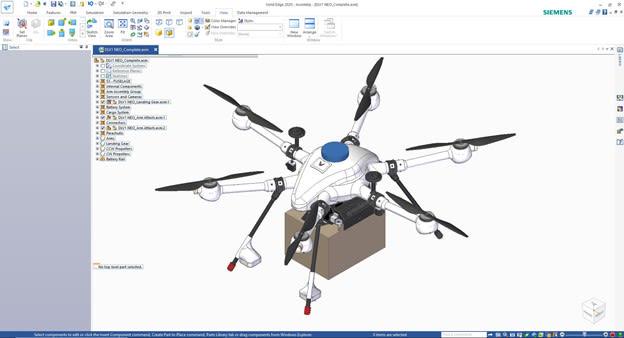 They began to shop for a 3D design solution that was capable of design, documentation and for preparing large assemblies—and one solution fit the bill. They came across the Solid Edge for Startups program by Siemens Digital Industries Software, which offers free Solid Edge software for startups and entrepreneurs. Through the program, qualifying companies are granted Solid Edge software for mechanical design, electrical design, simulation, manufacturing, technical publications and more.
Tanure said that being a startup, they had to be extra careful with their money and that the currency in Brazil was not very strong, so they had a limited budget.
"Solid Edge was really important for us because when I came here in September, we needed new software to design," he said. "At the beginning we didn't have a guy to actually design. The startup program was very important for us because our team was growing and we now had three people designing aircraft."
Tanure is using Solid Edge 2020 Desktop, and this was his first experience using Solid Edge. He has been a mechanical designer for five years, and in the past he has mainly used SOLIDWORKS. When asked which one he liked better he replied, "Solid Edge. It's easier to design with the synchronous mode. It's straight forward. There are way less bugs. It became my favorite over time."
Some of the things he likes about Solid Edge are that sketches do not have to be perfect, and that you can easily make modifications. "Assemblies are templates that I use every day," said Tanure. "The way that you can just make modifications without the need to go into the initial sketch is the stuff I really like. It really helps."
He said his team had not yet had the chance to dive too deep into the other features such as the electrical design and the technical publisher because they don't have a huge team, but the next phase was to start designing the full wiring harness inside the aircraft in Solid Edge. He said this will help with the certification and manufacturing process as the documentation will be even more professional and systemic.
Tanure said the hardest part of the design process is integrating everything in a way that the aircraft will be easy to assemble and friendly for maintenance processes. He liked that when he had a problem the Solid Edge support team was fast and he could get issues resolved quickly.
The company has evolved from a prototyping scenario to manufacturing the parts for the drones and their workflow includes 3D printing for not only prototypes but also for functional parts used on some of the components of the drones, such as the landing gear. Tanure said he uses the 3D print function in Solid Edge and exports the file to the slicer.
They typically use nylon with carbon fiber reinforcement for parts with mechanical requirements, but are exploring other materials, such as different types of plastics.
They also rely on visual computing and artificial intelligence (AI) for the automated landing process, to ensure packages are delivered to the intended destination safely. The drones land at a fixed location called a droneport, in order to prevent people from approaching and coming into contact with it as the whole procedure has been pre-certified in order to ensure safety, which is a top priority.
Precision landing is just one of the factors when it comes to certifying a drone. Embedding AI technology in the drone design can show regulators the safety of the whole system during an inspection, assuring the aircraft is able to fly safely over more densely populated areas. With Solid Edge, the team can design and assemble drones more quickly and have them ready for inspection faster, ultimately getting their drones in the air sooner, which leads to satisfied customers and the possibility of increasing their bandwidth and customer base.
Looking to the future, Speedbird envisions one operator monitoring multiple drones at the same time, so they can increase their services and flights. Right now, they operate about 20 flights per day.
When asked if there are plans for consumers to be able to use Speedbird Aero's services, Tanure was ready with an answer.
"It will take a while for drones to deliver to homes for many reasons like safety, regulations and necessity of infrastructure. What we already offer is a B2B [business to business] solution to fill the gap where you depend on a ferry boat or where the traffic is completely jammed in rush hours, for example. It's not just demos anymore, we already offer a viable and needed solution, but we are still just scratching the surface of what the drone logistic will be in the very near future. The authorities are starting to allow the drones to fly BVLOS (beyond visual line of sight) above cities," he said.
Sounds like things are looking up for the drone delivery industry. Tanure said one key thing needed to escalate the drone market is for the UTM (unmanned traffic management) to allow multiple drones flying in the same area and autonomously avoiding each other.
As for Tanure, personally he said he is looking forward to exploring more material options. "Materials is more of my forté. Materials in general is something I like to spend time on, materials for 3D printing and the aircraft. We are just scratching the surface of the 3D printing world of new materials. This is something that is very exciting for me.
Tanure is so passionate about his job that in a couple of months, he plans to pursue his master's degree with a focus on 3D printing for aircraft.
We close by wishing Tanure the best of luck with his plans for the future, and we look for Speedbird Aero to get really big—to expand services worldwide, have others will catch on and also provide these services.
---
For more information about Speedbird visit speedbird.aero.
To start a 30-day free trial of Solid Edge or learn more about our startup program, visit our website.
---
This Siemens-sponsored article was originally published by Engineering.com. Read the original article →
This article first appeared on the Siemens Digital Industries Software blog at https://blogs.sw.siemens.com/solidedge/new-drone-design-takes-delivery-to-the-sky/