Products
Expertise in impulse heat-sealing leads to new opportunities for medical device startup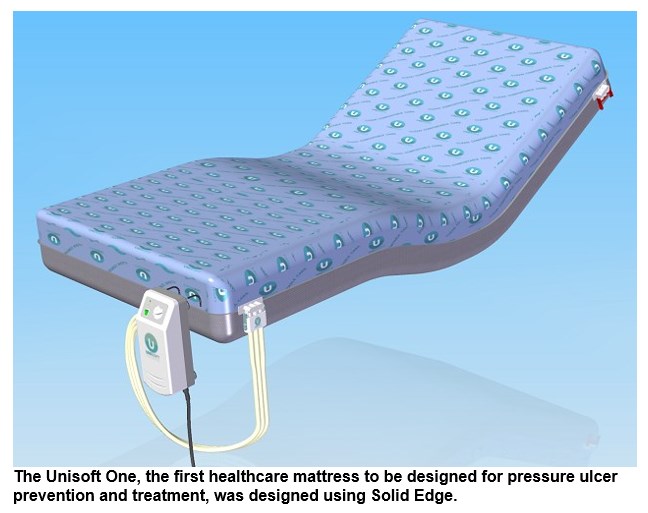 Bob Mileti, through his company Trlby Innovative, has a long history of developing innovative products and processes. One specific area of expertise is in impulse heat-sealing technology; he has been using Solid Edge for 20 years to develop machinery for his customers to perform heat sealing operations. Bob and his team of 10 people both design and manufacture these custom machines in a 1920s mill building in Torrington, Connecticut, USA.
Unisoft Medical: A new venture focused on creating an innovative healthcare mattress
6 years ago, Bob saw an opportunity to apply his knowledge in heat-sealing technology to the design and manufacture of an innovative mattress for healthcare facilities. To meet this challenge, he has set up a new venture, Unisoft Medical Corporation. Unisoft's first product is the Unisoft One, the first healthcare mattress to be designed for pressure ulcer prevention and treatment, and optimal infection control.
The Unisoft One is made from flexible thin-film polyethylene, and features integral, connected air chambers powered by a proprietary low-pressure pump. It is more stable, responsive, and comfortable than other mattresses. The Unisoft One is made from recyclable materials and can cost-effectively be single-patient use. Bob explains, "Cleaning processes used when a traditional mattress is prepared for the next patient can be very hard to perform consistently, especially when hospitals are under pressure to treat more patients. Using a single-patient mattress can relieve this pressure and increase comfort and hygiene levels for individual patients."
One group that is interested in this approach is the United States Department of Veteran Affairs (VA) that provides integrated healthcare services to military veterans at medical centers and outpatient clinics throughout the USA. "The mattress also packs into a small size for storage and shipping. This makes it a great solution for disaster relief organizations like FEMA," adds Bob.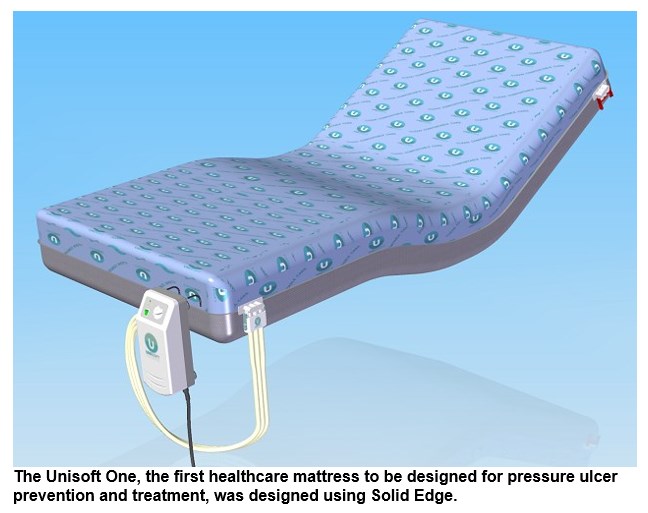 Using Solid Edge for both product and machinery design
Bob and his two design engineers are using Solid Edge to design both the mattress and the production machinery: "We have been using Solid Edge for 20 years. It is an excellent solution for us. It just gets the job done! We find that the synchronous technology embedded in Solid Edge really speeds the design process. For example, if we need to extend the length of one of our machines, we can select multiple components and drag them to the new position. The system edits multiple parts synchronously to quickly make the required design change."
Bob continues, "We even used Solid Edge to create a model of our building, a warehouse built in 1929 that has many idiosyncratic features like structural columns and immovable brick walls. We could ensure the production machinery would fit correctly with proper clearances for operators and materials."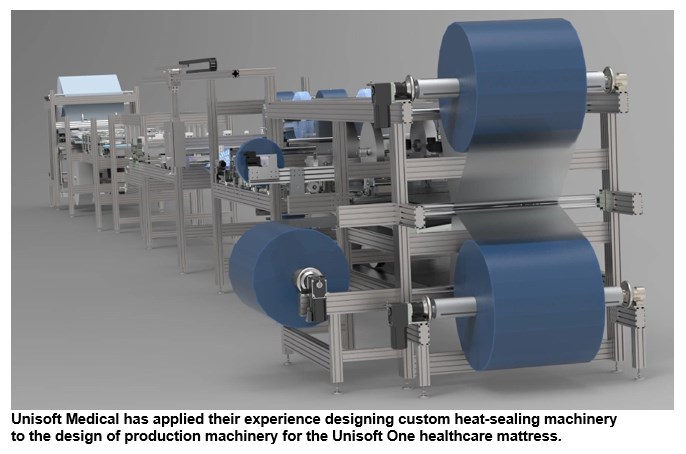 In-house machining and manufacturing
Unisoft has manufactured the first production line for the mattresses in-house. Bob says, "We looked at sub-contracting the manufacturing of the machinery we designed. We found it to be more efficient to do the manufacturing and assembly of the machines ourselves. We recently purchased a Haas 4-axis milling machine and we use CAMWorks to create the NC toolpaths to machine the parts we need. CAMWorks is integrated right inside Solid Edge and has proven to be an excellent solution for us."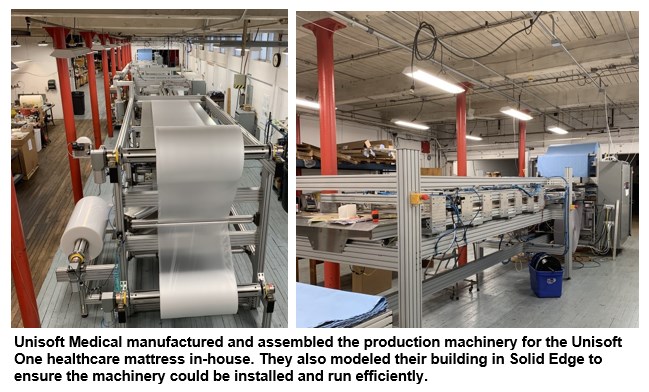 Using Simcenter FLOEFD for dynamic heat transfer analysis
Bob has been using Siemens simulation software to further extend Unisoft's knowledge and leadership in heat-sealing processes: "The heat-sealing technology we use to fabricate the mattresses is called 'impulse heating.' This has the capability to fuse multiple layers of plastic material in a single operation. We use the CFD program Simcenter FLOEFD for Solid Edge to analyze and optimize the temperature distribution in the impulse heating wires.
In the analysis electrical input conditions are applied to the terminals of the heating element and the heat generated by joule heating is calculated. The current distribution and temperature are influenced by the geometry of the heating element. Modifications can be made to the element geometry and the analysis quickly rerun to optimize the temperature profile. We are also investigating the use of Simcenter FLOEFD to analyze the performance of the air pumps that are used to inflate the mattress, and the pressure variations inside the mattress that increase the comfort of the patient."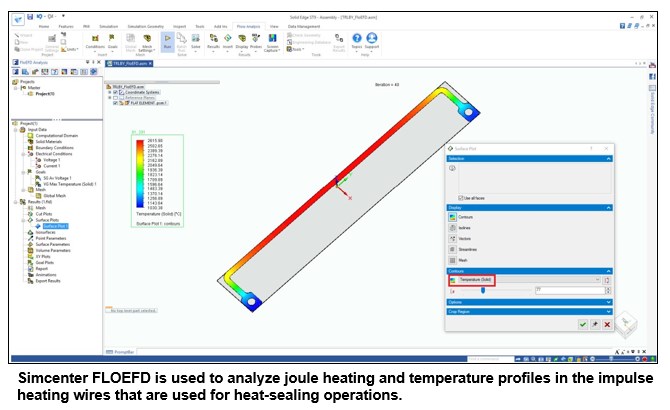 Support from MAYA HTT
Unisoft receives support from their local Siemens channel partner MAYA HTT: "MAYA set up a licensing system where we can flexibly share our 2 Solid Edge licenses between our 3 engineers. If the 2 full licenses are in use, the third engineer can use Solid Edge in view only mode to visualize how the machine should be assembled. MAYA also helped us set up a simple data management system for our design data. This uses a shared drive and the Windows search indexer to make design data easily available to all our engineers."
Future Plans, and find out more
Bob and his team have developed complementary products to the Unisoft One, including an advanced cell-matrix mattress design appropriate for critical care and a wheelchair cushion. A proprietary pump is also in development. You can find out more about Unisoft Medical, or you can watch a short video about Trlby Innovative and read a more detailed customer case study.
This article first appeared on the Siemens Digital Industries Software blog at https://blogs.sw.siemens.com/solidedge/expertise-in-impulse-heat-sealing-leads-to-new-opportunities-for-medical-device-startup/