Lidar systems simulation and validation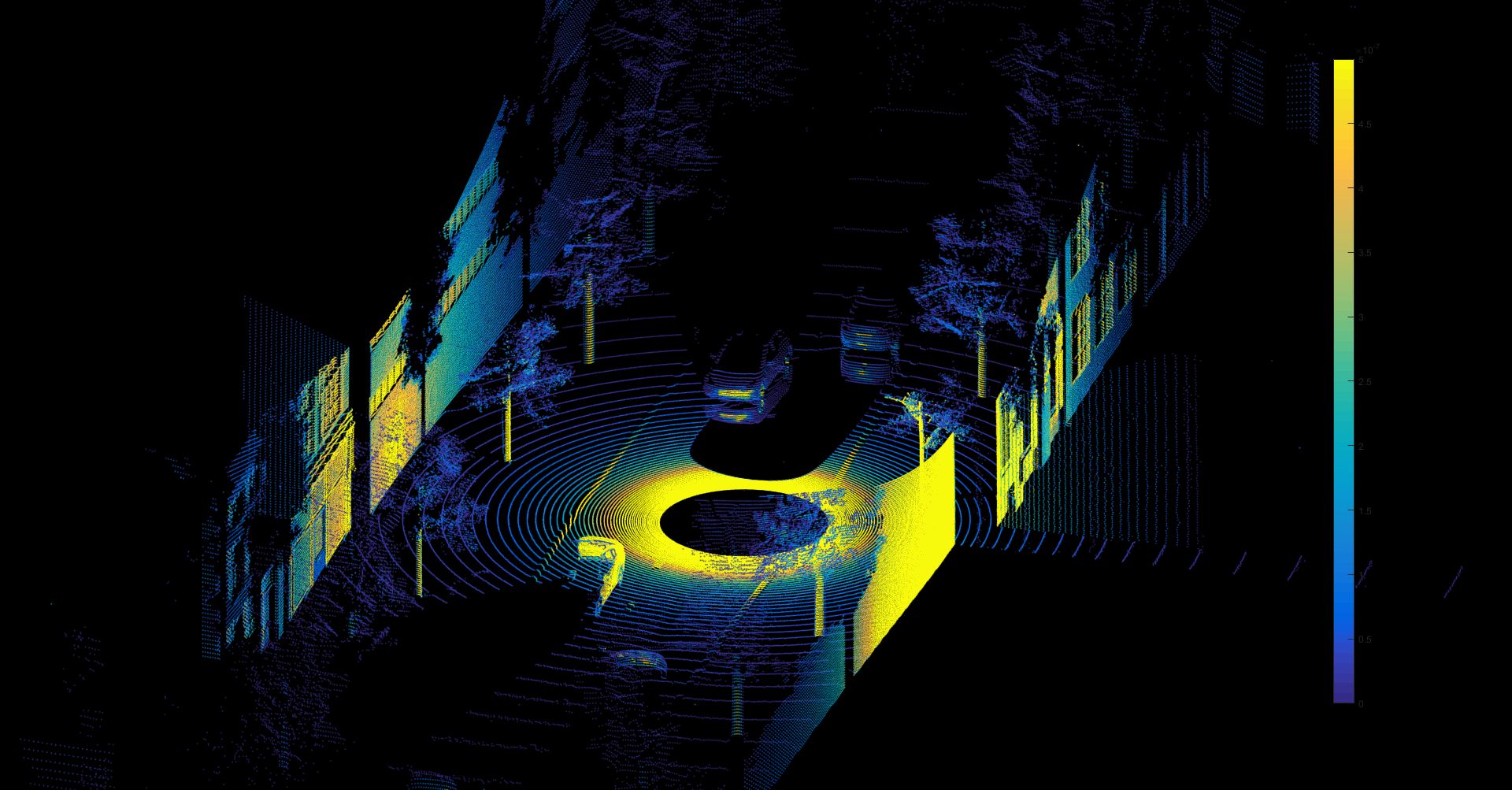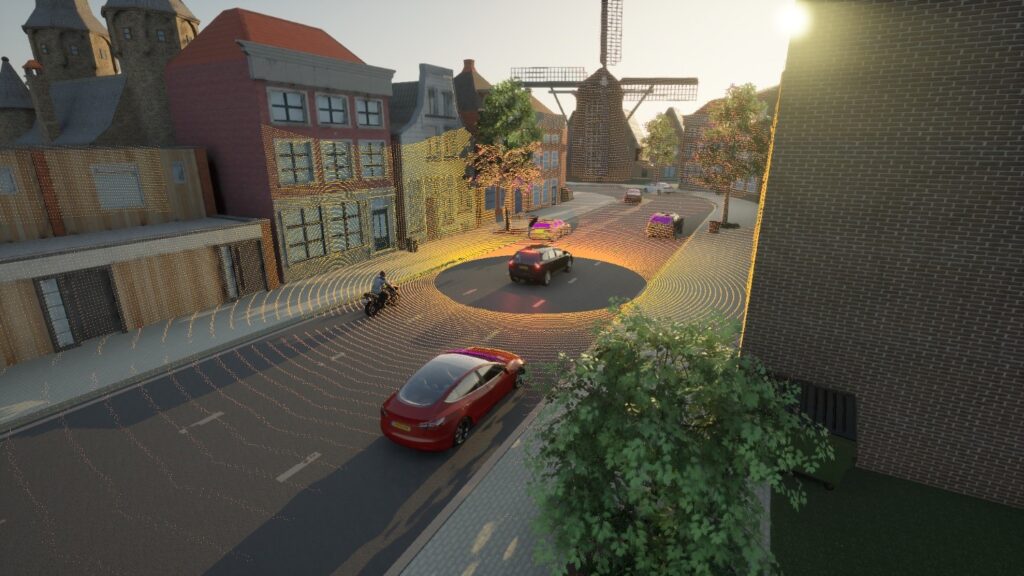 The Siemens Digital Industries Software division is working hard to develop high end simulation tools. Tools that can help customers all over the world speed up the development and testing of autonomous vehicles. One of the key challenges for autonomous vehicle is to accurately perceive the environment around the vehicle using sensors. This allows autonomous systems to make safe and intelligent decisions. In this blog post, we focus on highlighting the latest addition to our simulation portfolio. A brand-new physics based lidar plugin of Simcenter Prescan. To find out more about our solutions for lidar simulation you can check out the on-demand webinar.
Why lidar systems are important
To understand the need that autonomous vehicles have for lidar systems; we will quote Filip Geuens, CEO of lidar company XenomatiX. "Most cars today are using cameras or radars. But cameras are very sensitive to light conditions and do not provide distance information. Further, interpreting the images requires a lot of computing power. Radars do not have sufficient resolution. So, a car has to understand its 3D environment in all circumstances. This can only be achieved with Lidar technology".

Lidar has clear advantages when compared to cameras and radars. It allows autonomous systems to get a more complete understanding of their surrounding environment. It provides high resolution point clouds and high depth accuracy. The automotive industry is not widely using lidar systems. They believe that these systems are too expensive for mass production. However, many companies today are working hard to drive down the cost of lidar sensors. Many believe that lidar will become a mainstream technology in the near future. You can see this on the latest smart phones and tablets. They come equipped with lidar technology to help improve a growing number of augmented reality applications.
The importance of highly accurate sensor simulation models
People know Simcenter Prescan for its high-end physics-based sensor simulations. The simulation industry is using the term physics-based more frequently. However, you can misuse the term or interpret in different ways. For Simcenter Prescan, when we say that we have a physics-based sensor model, we are very serious about that statement. We understand that for simulation to be widely adopted, the industry needs to be able to trust simulation. For us, this is important because the higher the co-relation between simulation results and reality, the more important a role that simulation can play during testing and development of new autonomous functions.
What do we mean when we say that our sensors are physics-based? For us, when we use this term, we are emphasizing the importance of three core pillars in simulation. The physical device, the world and the simulation engine.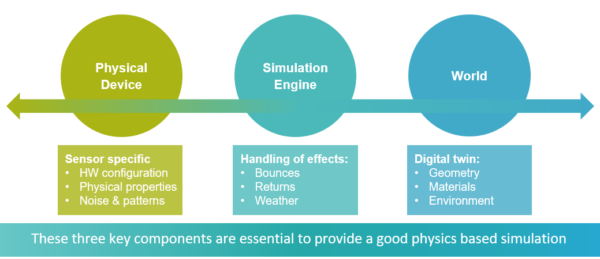 Each of these pillars needs to be handled with a great deal of care. This allows ensuring that the simulation can reproduce accurate results. The physical device ensures our sensors can be configured with the same hardware properties that we see in real sensors. The world ensures that the 3D models used in simulation have the right amount of detail. This means in terms of material properties, geometry, and environmental conditions. Finally, the simulation engine is what puts everything together. By solving real physical equations that describe the complete interaction between the sensor and the world environment. And at the correct electromagnetic spectrum.
Why we're so excited about the new lidar simulation in Simcenter Prescan
In the latest release of Simcenter Prescan, we have announced the release of a new physics-based lidar sensor. This sensor pays close attention to the three core pillars mentioned earlier. It can produce highly realistic results using a state-of-the-art ray-traced simulation engine.
We believe that the introduction of this new product will help sensor manufacturers, OEMs, and Tier 1 suppliers to rely more heavily on simulation. Specifically, for performing important tasks that have been notoriously difficult to do in the past. For example, the new physics-based lidar allows sensor manufacturers to generate raw full-waveform signals that can be used for testing and development of signal processing algorithms.
Another example is how OEMs and Tier 1 suppliers can use the higher accuracy of the new physics-based lidar to help determine the best location for integrating lidar sensors into a vehicle. They can also test early the performance of their autonomous systems based on different lidar model configurations. And they can generate raw point cloud data. You can use this for development and testing of perception and sensor fusion algorithms. These are only some of the many use cases that are enabled by this new physics-based lidar sensor.
Below we will highlight a few of the important available features in this new physics-based lidar.
Correct energy returns
When a lidar beam interacts with an object in an environment (for example a vehicle or building), the beam reflects. This causes the lidar sensor to capture energy from the reflection. The amount of energy captured depends heavily on the material properties of the object that interact with the beam. In simulation it is important to correctly compute the amount of energy returned from lidar beams. This is critical for how lidar data is processed into point clouds that can later be used by perception algorithms to detect and classify objects. In the new physics-based lidar sensor, we can prove via physical equations that the energy produced from lidar beams is accurate.
Here is an example
We can make a comparison between the reflected energy from a black vehicle against a red vehicle. Black vehicles are notoriously difficult for lidars to detect. Black car paint absorbs a lot of energy, while red car paint produces high energy returns. The image below shows the comparison between the energy returned from both vehicles. In this example we have used the new physics-based lidar sensor model.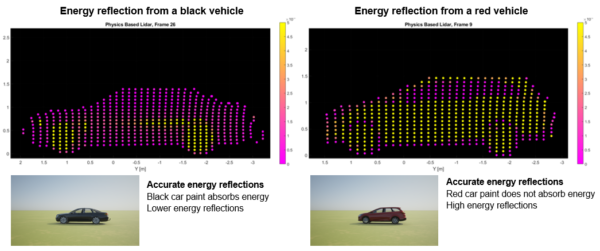 When a lidar beam interacts with an object it generates a reflection of energy. This energy can continue to interact with multiple different objects, generating a new reflection of energy per object. It is important that a simulation can compute these multiple energy returns in order to be as accurate as possible. This can cause the appearance of points (in a point cloud that is generated based on the sensor reading) that do not exist in real life. These types of imperfections are critical to ensure that autonomous systems can behave in a safe manner. As they need to be able to interpret lidar data that includes noise.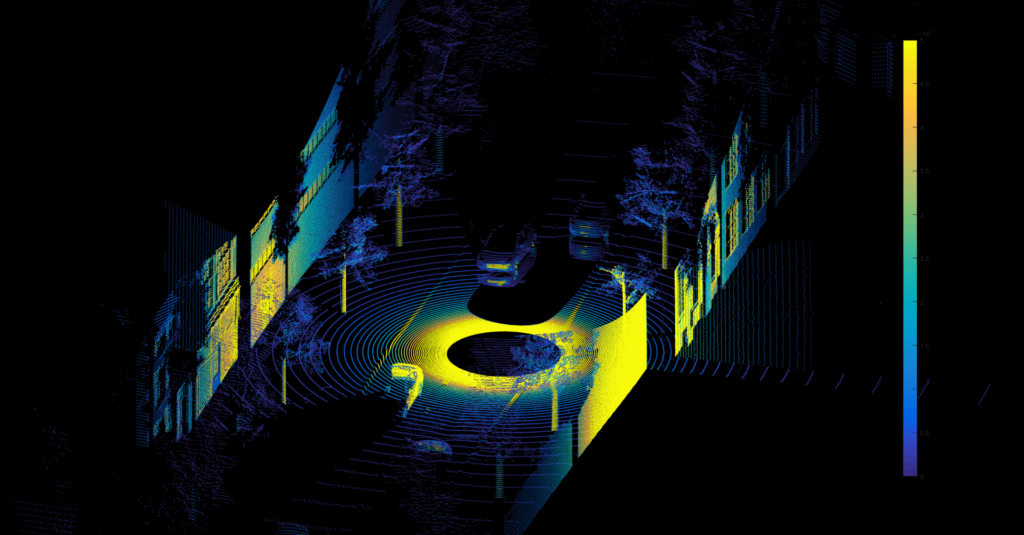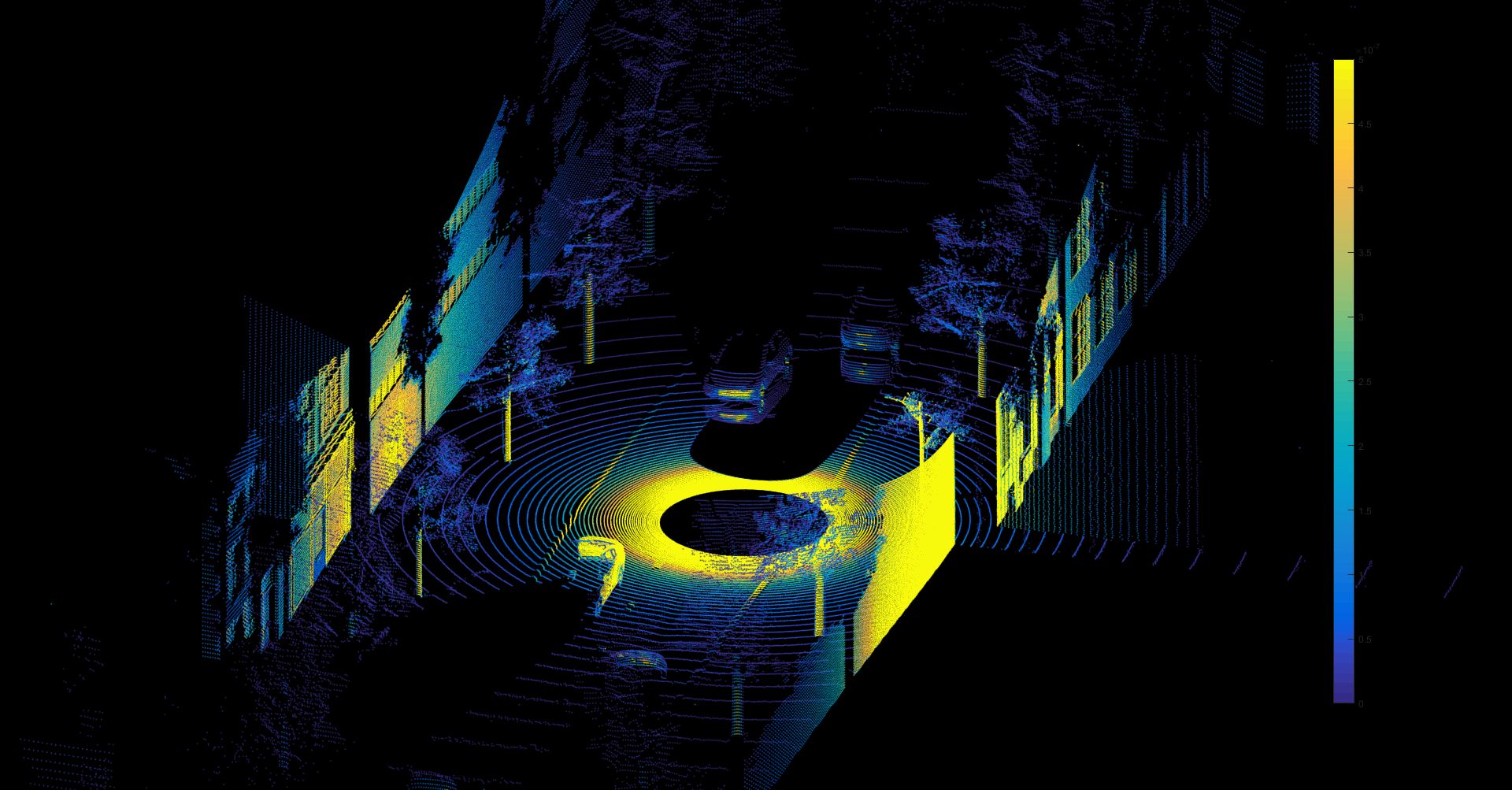 Motion effects
Most current lidar systems launch each beam in a scan pattern at a slightly different time. While this scanning pattern typically happens very fast, it means that objects moving in the environment will move slightly between each beam shot. Effectively, this means that each beam "sees" the object in a slightly different position. This will generate motion effects that make objects appear as if they're distorted in the point cloud.
Validation is key to ensure physicsbased models are accurate
By adhering to the three core pillars that make up a good physics-based simulation we are confident that we can achieve a high level of simulation accuracy. Additionally, we showed a few of the important features. Features that are important to accurately replicate in simulation the behavior of real lidar systems. However, in order to prove that simulation results can be trusted, it is absolutely necessary to validate the simulation models against real life lidar systems.
To validate our physics-based lidar we partnered with XenomatiX to perform specific tests. These tests allowed us to confirm the validity of our simulation results. They also provided insight into how close our simulation results match real world measurements. We have written a separate blog post that goes into more detail about the joint activities performed with XenomatiX.
A great beginning of an even better future
This release marks an important milestone for the Simcenter Prescan team. Because we realize we can help customers all around the globe speed up their development of autonomous systems. However, we feel that this is only the beginning. We have ambitious plans to continue innovating and bringing simulation capabilities as close as possible to replicating what sensors do in the real life.
In the coming months and years, we will continue to add important features for further improvement. We will focus on reliability, accuracy and speed of our physics-based lidar model. As part of this, we will support a wider variety of hardware configuration options. We will improve our environment simulation by creating new weather models for all different type of weather and light conditions. We will improve our material models to cover a wider variety of use cases spanning multiple infra-red spectrums. Finally, we will continue to work closely with partners to both validate our models and to provide ready to use models that replicate real lidar sensor capabilities. To find out more information contact us. To find out more about our solutions for lidar simulation you can check out the on-demand webinar.
This article first appeared on the Siemens Digital Industries Software blog at https://blogs.sw.siemens.com/simcenter/lidar-systems-simulation-and-validation/