HIRF and IEL Qualification with Digital Twins
Nowadays, aviation platforms operate in increasingly complex and severe electromagnetic environments, which warrants further discussion on both HIRF and IEL. There are an increasing number of external and internal electromagnetic sources. In addition, there is higher power levels of wanted and unwanted emissions. Furthermore, there is an extensive use of materials with reduced shielding effectiveness such as composites. Finally, with more electric aircraft, there is the replacement of mechanical and hydraulics flight controls with electric controls.
As a result, electrical and electronic devices performing safety critical functions may be damaged by the electrical current and voltage levels induced at their interface by a lightning strike or by electromagnetic field level and electrical current levels induced by external threats. This is the domain of Indirect Effects of Lightning (IEL) and High Intensity Radiated Fields (HIRF).
The use of a numerical modelling approach and high-fidelity digital twins is one way the aviation industry is seeking to reduce expensive and time-consuming testing activities and to allow aircraft hardening with respect to IEL and HIRF at the design phase.
Direct vs Indirect Lightning Effects at a Glance
When a lightning flash strikes an aircraft, the conduction of the electrical currents through the aircraft can have both direct and indirect effects.
Direct Effects (DEL) refer to the physical damage on materials caused by thermal effects, spark and magnetic forces, such as:
Arcing between joints in poorly bonded structural components
Bending and deformation of metallic components
Melting or vaporization of cables and external expanded foil protective meshes
On the other hand, Indirect effects (IEL) refer to electromagnetic interference to electrical and electronic equipment, with special interest to those belonging to sub-systems or systems which perform safety critical functions.
Aperture coupling, structural voltage drop, diffusion and "field-to-wire coupling" are the main physical mechanisms that contribute to the coupling between the external lightning environment and the aircraft equipment.
The main parameters assumed by the certification normative to verify aircraft robustness with regards to IEL are bundle current, short circuit currents and open circuit voltage transients at equipment pins.
What is HIRF Aircraft Effects and Regulations at a Glance
HIRF immunity is the ability of the aircraft systems and equipment to correctly perform their functions within any possible electromagnetic environment generated from external radio frequency (RF) energy sources (e.g., radar emitters).
What are the sources of HIRF?
External electromagnetic RF fields can penetrate the aircraft structure through specific points of entry (apertures, gaskets, materials with low shielding effectiveness, etc.) and may couple to cable harnesses or directly interfere with equipment.
Modelling Approach to Support HIRF & IEL Aircraft Design and Certification
Electromagnetic and electrical modelling are fundamental parts of the aircraft design process. Now certification authorities have recognized numerical analysis also as an option to support IEL and HIRF compliance.
So what are the merits of simulation?
Suitable design method, from feasibility to detailed phase
Allows to evaluate HIRF and IEL problems well before having a physical mock-up of the aircraft
Effectively manage the design and certification of updated configurations of the aircraft with validated digital twins
Allows preliminary computation of physical parameters to properly drive testing both at equipment and aircraft levels
Full "configuration control" being part of the certification documentation; traceability to official CAD drawings
A typical numerical modelling approach for IEL and HIRF certification compliance is the following:
Build a high-fidelity simulation model of the aircraft (digital mockup)
Validate the model with a defined set of tests: this provides a scientific foundation for the next certification phases
Prepare and agree with certification authorities a compliance analysis plan
Execute the plan and provide a compliance report
Modelling Challenges and Requirements for the Digital Twin
The technical requirements for IEL and HIRF are specifically related to:
Wide frequency range of analysis
High degree of simulation accuracy
Wide range of physical observables to be computed (bundle currents, electric field levels, transients at equipment pins)
IEL and HIRF normative
Simcenter 3D, specifically it's high frequency electromagnetic module, offers numerous capabilities for these key challenges. To clarify, you will need to perform simulations in a wide frequency range:
for IEL: from DC to about 10 MHz
for HIRF: from 10KHz to 18/40 GHz
Simcenter 3D allows for a fast setup, including the particular IEL and HIRF normative and speedy simulations based on the most advanced solver technologies.
Simcenter 3D also offers tremendous value when it comes to creating high fidelity models. Since, especially at very low frequencies, resistance and admittance values can be of the order of a fraction of an Ohm, a high-fidelity model of the system has to be realized. This means modelling small details (i.e. geometries whose dimensions are of the order of cm), bonding and grounding contact resistances, apertures, seams and gaskets etc. together with the entire aircraft structure. The vast modeling capabilities of Simcenter 3D offer great support to do that efficiently and effectively.
Which Output Data Would You Consider for HIRF and Lightning?
Simcenter 3D offers a wide range of observables covering the totality of IEL and HIRF scenarios and requirements. Specifically, one particular output relates to the currents and voltages of the cables and conductors; a critical subsystem for IEL and HIRF applications. Such cable quantities can only be obtained with sufficient accuracy through a proper 'field to wire-coupling' like that available through Simcenter 3D, consisting of a hybrid 3D full-wave solver – Multiconductor Transmission Line Network (MTLN) procedure.
The modeling of full electrical wire harnesses in context of IEL and HIRF is complex. Certainly, without the proper modeling tools, engineers will spend significant time getting it all modeled, and likely the entire process is prone to errors.
However, with Simcenter 3D, this is done differently. From Simcenter 3D, a seamless interface to Capital the leading electrical harness engineering tool, is available. This interface automatically imports cable harness electrical CAD models and translate them into models suitable for a hybrid 3D electromagnetic – MTLN simulation.
Simcenter 3D integrates the critical normative for IEL and HIRF analysis, which is directly available from the user interface. Therefore, there's no need to implement the normative or write your own scripts. Simply make a selection from the list to do your required IEL and HIRF assessment.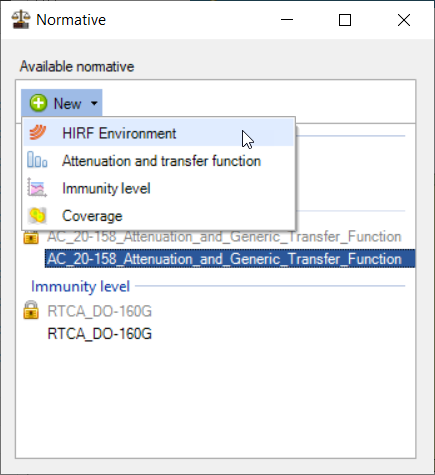 Some Application and Validation Examples
In conclusion, some typical modelling applications and validation examples are shown below. With respect to measurements, they stem from research and development activities in collaboration with main aircraft manufacturers and tier 1 suppliers (Alenia Aeronautica, Fokker, Piaggio Aerospace, Safran, Bombardier)
The upcoming Simcenter 3D 2021.2 release will completely streamline your process from design to simulation, and it will help you save time from modeling so you can spend more time engineering innovation!
For more information on simulation modeling in Simcenter 3D
This article first appeared on the Siemens Digital Industries Software blog at https://blogs.sw.siemens.com/simcenter/hirf-and-iel-qualification-with-digital-twins/