Products
From Internal Combustion Engine (ICE) to Ice Cream with CFD simulation
(It's the middle of winter here in the US. Summer, sunshine, sandy beaches and soft serve ice cream seem like a mirage right now. Hopefully, this story about ice cream CFD simulation will bring a little sliver of summer to your day. There's a full video on the ice cream project at the end with a generous dose of delicious gelato clips)
Supercars and gelato: An unlikely match
"You may have the universe if I may have Italy"

Giuseppe Verdi
Why wouldn't he? Home of alluring art, incredible history, heavenly food, stunning landscapes and phenomenal fashion, Italy epitomizes life in all its lazy, elegant brilliance. Italy is 'La Dolce Vita' – "the sweet life" – a life of heedless pleasure and luxury.
This story is a surprising marriage of two Italian things that best symbolize heedless pleasure and luxury – supercars and gelato. This is a story of how a small Italian company, well known for their expertise in super car Internal Combustion (IC) engines, helped an ice cream manufacturer make better gelato.
(Though 'gelato' is Italian for 'ice cream', there's a difference. Eat This Not That can tell you more)
Made in Modena, Italy
Our story starts in Modena, the 'City of Engines'. This charming Italian town is also the unofficial 'supercar capital of the world'. Ferrari, Lamborghini, Maserati, Pagani and Bugatti all call Modena home. A tour through Modena's famous museums is a must for supercar lovers.
This supercar themed road trip through Modena is a must-do for car enthusiasts.
It is here in Modena that Giuseppe Cicalese, a graduate of the nearby University of Modena and Reggio Emilia, established R&D CFD in 2012 with his Professor, Dr. Stefano Fontanesi. Born out of the University's Internal Combustion Engines (ICE) research group, they work on engine design for most of the supercar manufacturers in Modena. The CFD in their name is a nod to their expertise in computational fluid dynamics (CFD) simulations.
A gelato manufacturer comes calling
IC engine operation is incredibly complex.
Combustion of air & fuel, temperatures of 4500 F (2500 C), moving pistons, hundreds of chemical species, thousands of reactions some of which occur in a billionth of a second. All of this inside a small, dark cylinder. Inside a fast supercar. How do you analyze such complexity? How do you find the best engine design?
With CFD, companies like R&D CFD build a digital engine. Every process inside and outside an engine is digitally modeled, analyzed and visualized. Add in design optimization and R&D CFD can evaluate hundreds of engine designs digitally before building anything.
In 2019, their CFD simulation and engineering expertise caught the eye of an unlikely customer: a leading Italian gelato manufacturer.
The variegated gelato
The global ice cream market is worth $80 billion USD and increasing every year. Nearly 80% of the ice cream sold is machine-made, either to take home in a box or consume immediately. It's a massive market.
The manufacturer who worked with R&D CFD was famous for their variegated gelato. Excuse the fancy word here! A variegated gelato is merely ice cream with a sauce swirled into it – chocolate, strawberry, caramel, fruit, peanut butter and more (Now I'm getting hungry).
Chasing the good (looking) gelato
Ice cream was once a dessert reserved for kings. But thanks to capitalism and mass production, the common man can enjoy one of life's greatest delicacies. Our gelato maker was one such mass producer. Gelato in a box was their specialty. With years of mass-producing experience, the taste of their gelato was world class – creamy, rich and dense.
But good gelato needs to be good-looking. Eating ice cream is an emotional, evocative experience. In a competitive market, the look and feel of your gelato makes all the difference. The manufacturer's list of requirements for good-looking variegated gelato was long – soft, smooth, silky, elastic and of natural color. A handmade look meant more sales and more satisfied customers.
A simpler design; a better swirl
The secret lies in the variegator. This machine mixes the ice cream and the sauce, fed through different pipes. Their current variegator was a static one with no moving parts. But the design was complex. The ice cream and sauce came in contact with screws, baffles and walls. It was hard to control the sauce pattern or mixing. It was exposed to air, a strict no-no for good gelato. The number of parts meant cleaning the variegator thoroughly was hard.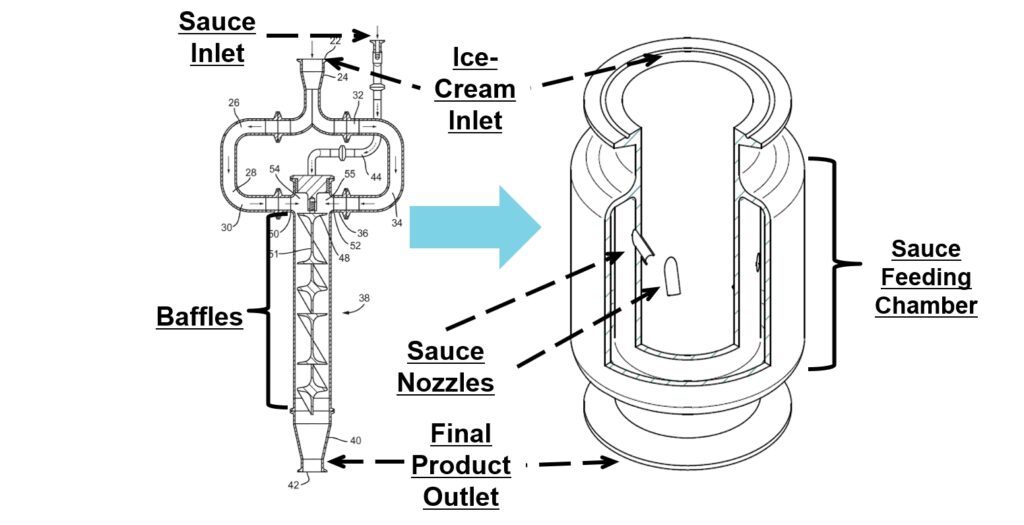 The ice cream maker found a simpler design. Just two concentric cylinders, one each for the ice cream and sauce and a nozzle connecting the two. They mix directly in the variegator – no screws; no baffles; no interaction with walls. Just simple, straight mixing. Easy to clean, better to control mixing and a more beautiful sauce swirl into the ice cream. In theory, the new design was perfect.
Improving the ice cream variegator with CFD simulation
Now they needed to make the design better. They needed to predict how the ice cream could look after manufacturing before being stored in boxes.
This is where R&D CFD's simulation and design optimization experience came in handy. They had Simcenter STAR-CCM+, a CFD Multiphysics software and Simcenter HEEDS, a design optimization software, both tools from Siemens' Simcenter portfolio. For years, they used Simcenter STAR-CCM+ on supercar engines to understand the flow and thermal behavior of engines. Simcenter HEEDS helped them analyze the performance of hundreds of engine designs and scenarios.
Now R&D CFD applied this supercar engine simulation technology to gelato making.
"We decided to use our engine simulation tools to improve the variegator design. With digital simulation, we could reduce making prototypes and save time & cost in design. It also helps us analyze hundreds of designs"

Giuseppe Cicalese
2000 designs; one perfect sauce swirl
"Simulating ice cream and sauce is not so simple as simulating air and water. They are gooey, viscous, elastic fluids. Understanding the rheology and thermal behavior took some time".

Alfonsina Esposito, CFD engineer at R&D CFD
But with Simcenter STAR-CCM+, they could model such challenging physics. The engineers came up with the physical properties from experience. The software modeled the ice cream, sauce and the interface between the two accurately, thanks to a Volume of Fluid (VOF) multiphase and rheology model.
"In the past, we worked with other simulation software where the process was way more difficult. What we enjoy with Simcenter STAR-CCM+ is the variety of physics you can simulate, from engines to ice creams"

Alfonsina Esposito, CFD engineer at R&D CFD
With Design Manager, a technology within Simcenter STAR-CCM+, Alfonsina modeled 2000 different design scenarios changing the nozzle geometry and operational physics laws to inject sauce. The software automatically found the design that produced the best sauce pattern and swirl. All done digitally in a week.
Imagine having to build and test 2000 different variegators instead!
80 designs to find the best variegation
For mass production, the variegator needed multiple nozzles for faster operation. All these nozzles need to be fed the same quantity of sauce from the feeding chamber. This way, the ice cream in every box has the same look and feel. Every customer is happy with every purchase.
With Simcenter HEEDS, Alfonsina let the software automatically analyze different geometries of the sauce feeding chamber and the resulting sauce distribution. After analyzing 80 designs, the best feeding chamber design was found. Now all the nozzles can receive the same amount of sauce in mass production.
"It's so fast to do automation and optimization with Simcenter HEEDS or Design Manager", adds Giuseppe.
You can see how the optimized design gives the same, beautiful swirl to the sauce from every nozzle compared to irregular patterns from initial design.
From ICE to Ice Creams with CFD
R&D CFD's improved variegator design is now in use in all the manufacturing plants of the customer. As predicted with simulation, the variegation is top-notch. The handmade feeling of the gelato is palpable. This didn't just excite the consumers but the marketing team as well. Pictures of the creamy, rich, soft gelato increased sales.
The team at R&D CFD got to experience something unique – eat something they helped engineer.
"I've tried the ice cream and I'm very appreciative of the job done. Looks delicious. Tastes delicious"

Alfonsina Esposito
"We live and breathe internal combustion engines (ICE). We never thought we'd be working on making better gelato. With Simcenter, we have gone from ICE to ice creams".

Giuseppe Cicalese
Postscript:
It was a chilly Amsterdam winter when I interviewed Giuseppe and Alfonsina for this story. Throw in our Sicilian cameraman and I felt like an honorary Italian for a good 30 minutes.
I might have spent a little too much time looking at pictures and videos of ice cream for this story. The neighborhood ice cream parlors now know me on a first name basis.
I know you want to try this gelato. Unfortunately, we cannot name the manufacturer. But this is reason enough for you to try all the Italian gelato brands and report back.
I have successfully managed to write about ice creams without mentioning that wretched Vanilla Ice song even once (It rhymes with 'Rice Rice Maybe')
Here's the full video on the ice cream project.
For more on Internal Combustion Engine (ICE) CFD simulation with Simcenter STAR-CCM+, my friend Simon Fischer – our in-house expert on all things ICE – has written many fantastically whimsical blogs on the topic. Links below.
This article first appeared on the Siemens Digital Industries Software blog at https://blogs.sw.siemens.com/simcenter/from-internal-combustion-engine-ice-to-ice-creams-with-cfd-simulation/