Products
Artificial intelligence in automotive engineering: why now is the time
"Artificial intelligence is a tactic rather than the answer to automotive engineering challenges. It delivers elements of a solution and should be part of a well-thought engineering process and workflow."

Katrien Wyckaert, Siemens Digital Industries
The automotive industry is ramping up on the adoption of artificial intelligence (AI) technologies. The application of AI to the automotive sector is broad, ranging from research and development to manufacturing, logistics and marketing. AI technologies also spread inside the vehicles, affecting vehicle operation. And designing AI-based automotive systems is challenging. Think about the massive amount that is acquired and processed by automotive innovators.
Artificial intelligence in automotive engineering is a vast, somewhat obscure topic. At least, it feels that way. Although many players in the automotive industry admit that AI is an important stepstone of their digital transformation, few reveal the concrete applications of the technologies.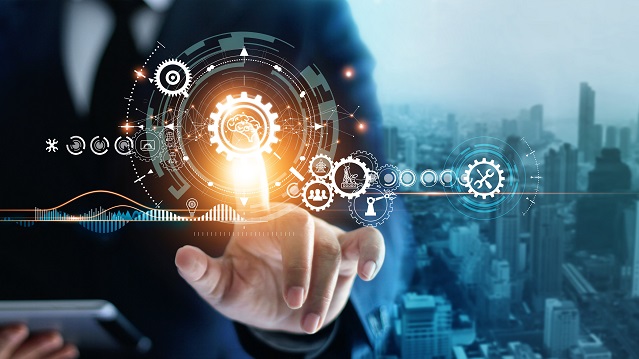 Illustrated with specific examples, it explains a 3D framework to apply AI and machine learning (ML) to their full potential.
Artificial intelligence in automotive engineering
When we think about applying artificial intelligence in automotive, we often think about self-driving cars. Fully self-driving cars haven't hit the public roads yet. However, the industry is clearly keeping a close watch on the evolution and investing a lot of time, technology, and resources to develop autonomous systems. And yes, the mastery of artificial intelligence tools will be key to successful autonomous vehicle design and development.
But are you focusing on AI solely in the context of autonomous vehicles and advanced drivers' assistance systems (ADAS) development? If so, you might be missing out on opportunities to enhance your engineering practices.
"Artificial intelligence is the next springboard that I see: it isn't merely playing a main role in autonomous driving; it is woven across domains into the process and IT landscape, and naturally the R&D field as well."

Jan Brecht CIO Daimler AG – Source: Cap Gemini
Scaled implementation of AI technologies gradually increases within automotive companies. Research by Cap Gemini also shows that focusing on AI implementation in Automotive R&D and engineering potentially results in high benefits. Source: Cap Gemini
Artificial intelligence brings a wealth of opportunities
Herman Van der Auweraer, Senior Director Technology Innovation, pioneered the usage of artificial intelligence techniques at Simcenter. He remembers: "Artificial intelligence in automotive or any other industry is nothing new. Even in the 80s, we looked into expert systems, which is one form of AI reasoning, to solve robot programming problems and control process quality. After that came the wave of neural networks: we also explored that for flight data analysis and vehicle road tests, but the structure and the possibilities of neural networks were not what they are today. We also lacked the computing power to make it work well.
Katrien Wyckaert, Vice-President of Strategy and Innovation, has 30 years of automotive engineering experience. She teamed up with Herman Van der Auweraer and other members of the Simcenter team to review the AI initiatives taken in support of vehicle engineering today. The range of applications is surprisingly broad. Various AI and machine learning techniques apply to vehicle design and development, no matter at which stage. And they bring many benefits: the possibility to evaluate more alternatives than what our human brain is capable of, the reduced time to process the information, the automatic selection of certain criteria or parameters, and more.
Of course, some applications of AI techniques are more mature than others, but one thing is certain: the possible uses of AI in automotive engineering are plentiful, and we cannot mention them all. Probably, many of them have not even been envisioned yet.
Learn more
The use of artificial intelligence in automotive engineering triggers many questions within the automotive community. Join us for a question-and-answer session with Katrien Wyckaert, Herman Van der Auweraer and other engineers and researchers of the Simcenter team.
What drives the adoption of artificial intelligence technologies in automotive engineering?
Undeniably, the driving force behind the expansion of artificial intelligence in automotive research and development is the demand for more advanced driver assistance systems (ADAS) and the emergence of self-driving cars. Driverless cars are unimaginable without the support of AI technologies. Technological advances in image recognition or smart vehicle controls have unlocked applications leading to the next level of driving automation.
Being part of this automotive revolution is exciting and challenging. At Simcenter, we monitor with enthusiasm the technological progress and take an active role in helping design and develop the vehicle of tomorrow.
Looking for an example? Find out how Simcenter engineers help craft the intelligent car of tomorrow: Autonomous Vehicle innovation, be armed with the right tools.
What are the biggest challenges posed by artificial intelligence in automotive engineering?
A first challenge is that AI is not per se a solution to engineering problems. Don't adopt AI technologies for the love of the technology. For any given R&D issue, artificial intelligence might be an element of the solution rather than the solution itself. It's important to focus on the engineering goal and combine the AI technique with deep knowledge of the engineering domain to understand its applicability. Additionally, it is important to integrate AI technologies in engineering processes and workflows rather than executing ad-hoc projects.
A second challenge is to understand which AI technique will help you solve a specific engineering issue. Once you've framed the scope of your project, there are multiple techniques at hand that could help solve your problem. Which is the "correct" one? At Simcenter, we're exploring and deepening our knowledge of AI techniques, adjusting our tools and approaches to the issue at stake.
For example, we use AI to support design decisions. We rely on generative engineering in Simcenter Studio to generate over a thousand architectures and define a "smart architecture" workflow that retains only physically possible architectures. Generative engineering also helps us develop intelligent materials tailored to engineering needs. Later in the vehicle development stage, AI techniques support the development of smart controls where model predictive control boosts the operational performances of vehicles and can be extended to learn and imitate human driving styles. In the context of model-based system testing, AI-based techniques such as model order reduction and virtual sensing lead the way to realize the executable digital twin.
For more information about the executable digital twin, read the blog post series on the topic:
Executable Digital Twin (xDT) – Blog post series
So, which AI technique should I use for which R&D application?
There is no right or wrong answer to this question. The selection of a specific AI technique depends on the envisioned application. Neural networks are good to model complex relationships between data or discern patterns. They work particularly well when a lot of data is available. Other machine learning methods may be better suited when data availability is limited. The reinforcement learning technique is ideal for developing a smart control system that learns its behavior based on a description of the perfect situation. For big, complex and time-consuming simulations, adaptive sampling is a machine learning technique that helps discover and capture knowledge based on a limited data set. It maximizes the insights gained from simulation models to extrapolate data sets.
What makes Simcenter a spearheading partner when it comes to AI in automotive engineering?
The Simcenter portfolio roots in a long history of research and development initiatives. Simcenter engineers have gathered terabytes of data and extensive knowledge in experimenting with and implementing AI innovations through research projects and partnerships with universities and innovative companies.
Various Simcenter tools embed AI techniques to help enhance engineering processes, deal with complex issues, and deliver faster results. For example, the Simcenter portfolio features the Simcenter Amesim ROM Builder as well as AI-augmented CFD simulation in Simcenter STAR-CCM+. HEEDS also relies on AI techniques for better and faster design space exploration. Last, the Simcenter Engineering Services engineers are committed to exploring and implementing appropriate AI methods to augment engineering processes.
Simcenter is also factually a provider of simulation and test solutions. It can rely on its core competence to deliver trustworthy results. AI is sometimes described as a black box that yields results that cannot be systematically repeated or trusted. Big data has been traditionally at the heart of it. But what if there's only a limited data set at hand? Exploiting simulation in the context of AI has brought a tremendous technological breakthrough. Indeed, simulation embeds deep knowledge of physical phenomena into the processes. It substitutes missing data with an understanding of physical behaviors and insights into these behaviors.
Learn more about AI-augmented Simcenter solutions:
In the future, will AI substitute the automotive design engineer?
Is artificial intelligence threatening the job of the automotive design engineer? Frankly, we don't believe so. Rather than replacing the design engineers, AI will help and support them. AI technologies enable engineers to do more, better, with greater insights and a broader reach. The technologies can offer a great reservoir of engineering expertise. Transferring the knowledge of expert engineers to the younger generation has always been a challenge. As technologies and systems are more complex than ever, artificial intelligence can draw a new path for better training and sharing of engineering expertise.
Many automakers share an optimistic view on the impact of AI on the job market, as revealed by a Cap Gemini survey. Source: Cap Gemini
---
Share your views with our experts or ask your questions for the next session. Post your comments below.
This article first appeared on the Siemens Digital Industries Software blog at https://blogs.sw.siemens.com/simcenter/artificial-intelligence-in-automotive-engineering/