3rd Advent Simulation: Feuerzangenbowle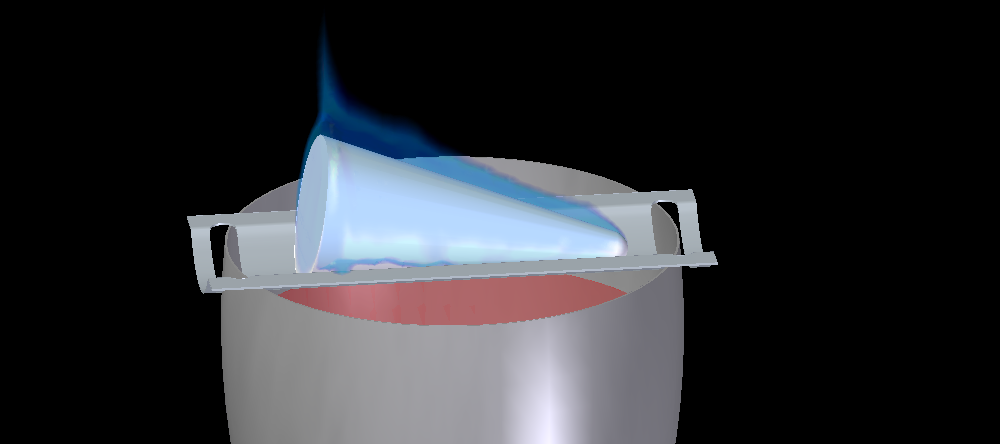 This week we'll have a look at the 3rd Advent Simulation, the Feuerzangenbowle. This post is part of a series dealing with traditions.
In Germany, we light a candle every weekend for the four weekends before Christmas. I've taken inspiration from this tradition to bring you a new tradition but in the form of simulation. My traditions will be mostly from Germany. And I invite you to share your family, religious or cultural traditions for this festive season wherever you are from.
The Feuerzangenbowle
The Feuerzangenbowle is a popular drink during the Christmas season. It's tasty and has alcohol (it won't work without alcohol as you will see in a second). It is also a nice spectacle but better not to do it within reach of small children.
We start with a big pot that is heated over a fireplace or a small one heated by a burner (similar to a fondue set). The pot is filled with mulled wine (Glühwein) or something similar. You then place a special metal grate over the pot's diameter on which a sugarloaf is placed. The sugarloaf is soaked with rum and set on fire. Now you see why it is such a nice spectacle. The blue and red color flames look wonderful while the sugar partially dissolves, melts and drops into the mulled wine.
The Feuerzangenbowle is seen mostly around Christmas or on New Year's Eve where you often see a regular bowl. By the way, for New Year's, we serve it with sparkling wine, juice and fruit (the alcohol-soaked fruit gives you the kick 😉 here), also known as fruit punch.
The "Feuerzange" (the metal grate) was originally a pair of tongs. It gave part of its name to this drink and translates literally as fire-tongs. Or in other words, the fire-tongs punch.
There's even a miniature version of it! You can buy a small holder for a coffee pot and a small sugarloaf. And you'll find many recipes for the mulled wine online.
This drink increased in popularity after a comedy movie from 1944 named "Die Feuerzangenbowle" (The Fire-Tong Punch). You can find the movie on YouTube. Unfortunately, it's only in German. The origin of the drink is not quite clear. Allegedly it first showed up at fraternity parties, but that doesn't say whether it was created somewhere else beforehand.
The CFD Simulation
The animation shows the Feuerzangenbowle simulation of burning alcohol fumes emitted by the sugarloaf. I used Simcenter FLOEFD embedded in Solid Edge with the combustion capability of the Advanced Module. Simcenter FLOEFD is a CAD-embedded simulation tool for design engineers. It's extremely easy-to-use and can handle a wide range of design problems inside NX, CATIA V5, Creo and Solid Edge.
I hope you enjoyed learning about this tradition. If you'd like to replicate it on your own, please remember to be safe when playing with rum and fire 😉
And if you have an interesting tradition, feel free to share it as a simulation (FEM, CFD, or any other simulation method). Use #AdventSimulation so we can all see it on social media.
---
Take a look at the rest of this series here:

This article first appeared on the Siemens Digital Industries Software blog at https://blogs.sw.siemens.com/simcenter/3rd-advent-simulation-feuerzangenbowle/