2nd Advent Simulation: The Mischievous Elf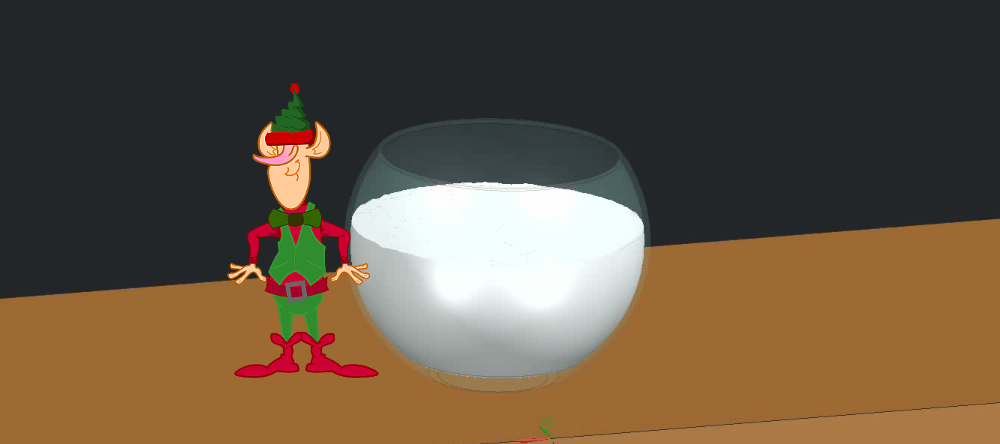 In my first Advent Simulation post on the Räuchermännchen (Incense Smoker) as part of the 1st Advent weekend, I explained a little about what this ceremony of 1st to 4th Advent is all about as well as introducing the German tradition of the Räuchermännchen. If you haven't seen it yet, read it here.
This week I want to introduce you to the tradition of the mischievous Elf which I didn't know before but my colleague Nazita told me about. I did a little research and thought about how to simulate it in Simcenter FLOEFD. If you know the tradition you might be wondering how he wants to simulate the naughty Elf in CFD. Well, that's what I thought first as well, but have a look 😉
The Elf and his escapades
In 2001 Chanda Bell and her mother Carol Aebersold sat down together and started writing a children's storybook about a tradition they had in their family for three generations. It is about an Elf, which tells Santa if the children had been naughty or nice.
The book was at first rejected by some publishers but they managed to publish it themselves. In 2007 after Jennifer Garner was seen carrying the book, it was on. Everyone wanted it and the little Elf figure that was part of the set. It was a hit and many families adopted the tradition.

So it isn't really a religious or cultural tradition but started off as a family tradition which became a somewhat national tradition in the US. In 2009, the Elf was also available in different skin tones to reflect the diversity of families that adopted the tradition. Elf has also made it into the Macy's Thanksgiving Day parade and a movie (An Elf's Story: The Elf on the Shelf).
Now the story of the Elf goes like this:
Tell the kids that the Elf will report back to Santa every night if they have been naughty or nice. If the kids touch the Elf, his Elf magic goes away.
Place the Elf in a different mischievous spot in your house for the next morning and let the kids find out what he did this time.
If you need some help on mischievous escapades for the Elf, have a look at the Elf on the Shelf website.
As you can see, the Elf is a little naughty himself. In my simulation, I placed the glass of milk on the shelf for Santa, near the Christmas tree. And while I went off to look for some cookies, the Elf apparently tipped it over or tried to drink a bit and it accidentally tipped over (I don't want to blame an Elf to get on the naughty list 😉 ).
The model was created in Siemens NX and simulated in Simcenter FLOEFD with free surface and rotation of the glass.
With that, what is YOUR holiday ritual or tradition?
Share with us your family, cultural or religious traditions or rituals in a simulation way and tell us what it means to you or where it comes from. Share it under #AdventSimulation so we can all follow it on social media.

And remember, it doesn't matter where you are from or which religion you have, even if you are not celebrating Christmas, what tradition do you have for a similar festive season?
And watch out for the coming 2 Advent posts each week. Maybe you can discover some new rituals and traditions that you had never known before.
---
Take a look at the rest of this series:

This article first appeared on the Siemens Digital Industries Software blog at https://blogs.sw.siemens.com/simcenter/2nd-advent-simulation/