Podcasts
Raising Climate Change Awareness through Motor Racing with Catie Munnings, Andretti United Extreme E Racing Driver Part 2
Extreme E electric vehicle racing, driving automotive tech sustainability.
Racing is largely seen as an adrenaline-driven sport for only the most competitive risk-takers. If you've ever been in a race car or near a race track during a race, you would agree with that. The speeds are phenomenal. Now, transfer that competitiveness, combine different racing disciplines, make all teams co-ed, introduce unique offload electric vehicles, create race tracks in some of the most extreme parts of the world and you have Extreme E racing! This is a racing competition that raises awareness of climate change and the need for sustainable living.
In this episode, part 2 of 2 episodes that are part of the Women Driving the Future series, Ed Bernardon interviews Catie Munnings, a British rally driver currently participating in the Extreme E racing series for the Andretti United team. Today we'll learn about the impact that Extreme E is having on the automotive industry and the manufacturers that are currently involved. We'll also discuss the role that female drivers play in inspiring young girls and women to join the racing world.
Some Questions I Ask:
What are some of the big names involved in Extreme E racing? (2:58)
Is Prince William a good driver? (4:08)
What impact is Extreme E having on the automotive industry? (9:35)
Is there a difference in how male and female drivers approach racing (14:59)
Where do you see yourself in the future? (26:56)
What You'll Learn in this Episode:
Who are Extreme E's target audience (5:51)
The car manufacturers involved in Extreme E (7:32)
The importance of using energy from clean sources (12:56)
Why it's important to get more women involved in motorsport (21:38)
How female racing drivers inspire young girls and women to join the sport (25:37)
Connect with Catie Munnings:
Connect with Ed Bernardon:
Ed Bernardon: Picture a typical race day at the Indy 500, Daytona, or even the Monaco Grand Prix… a lot of exhaust, a lot of burning rubber, and, well, a lot of men driving race cars.  Now imagine an evolution of that scene: cars running on hydrogen fuel cells, an isolated glacial backdrop, teams of men and women drivers, and a Gen Z audience, watching excitedly from their tablets and iPhones. It might sound pretty far out there but then again, an auto race isn't usually wholly environmentally green or watched entirely from the virtual sphere.
-intro music-
Welcome to the Future Car podcast, I'm your host Ed Bernardon and in our last episode, I spoke with Andretti United driver Catie Munnings about the Extreme E mission of sustainability, her thoughts on the series' gender equality, and what it's like to race in some of the world's most beautiful and remote locations.
In today's episode the conversation continues with Catie tells me about the younger Extreme E fans, and the part a video gaming audience plays in a race with no in-person audience. We discuss the ups and downs of having your racing face exposed to cameras, what it's like to get mainstream visibility, and how it feels to be an example for a younger generation.  We also talk about the inevitably of electric cars in auto racing and whether she might have to make room for a certain British royal to join her team. Tune in and hear part two of my conversation with Extreme E driver Catie Munnings on today's episode of Future Car.
Ed Bernardon: You leave your TV show because your first love is racing. Extreme E is a bit of a cross. It's not really spectator-based but more relies on television, and to get the message out. Really that's the only way to watch Extreme E is by television. So, in effect, you're really in another TV series now except it's racing. So, it's a true combination of your two loves, it sounds like.
Catie Munnings: Yeah, and it's nice because it's a lot easier when someone's asking you about a topic that you specialize in, it's easier from that sort of not remembering lines but still get to be around that bars of the production and especially with the behind the scenes stuff that they're filming for the championship is fun. It's fun to be a part of. I still do bits of TV when I can, and when I'm not really busy with the racing side. So, I think it's really cool to stay in that industry, and you get to experience some really cool stuff and meet some really cool people as well. But it's a difficult one, it's a really hard balance. Because at the same time, you want your name to be as a driver in the early parts of your career to have the best opportunities that you can from the performance side.
Ed Bernardon: Well, speaking of meeting interesting people, there are a lot of big names of racing that are involved in Extreme E. Can you tell us about some of those people?
Catie Munnings: Well, I was actually having that conversation with Timmy Hansen, who's my teammate. I first met him, I had a fan selfie with him when I was, like, must have been 2018 – I went to one of his races in Rallycross. And I think he won the world championship the year after, and I actually had a fan selfie with him. And then here I am three years later.
Ed Bernardon: Did he remember you?
Catie Munnings: Yeah, he said he did. I mean, I'm sure he would have said that to everyone that said that they'd met him before. So, yeah, I did have a fan selfie with him. And we were racing as people like Sébastien Loeb, who obviously I grew up watching is one of the icons of Word Rally, and Carlos Sainz, and Lewis Hamilton, and Nico Rosberg have got teams as well. And it's really cool to be associated with those names. But also, one of the conversations that we had at the start of the season was we have to remember that it's a steering wheel and two paddles, and it's electric. So, everyone's got the same tools, the same starting point, so don't give anyone any room on the track. You're all there 'cause you've got the potential and you've got the talent to do it. So, just make sure that you're not being polite just because you might be setting the grid next to your icons.
Ed Bernardon: I also heard, I believe in Senegal, that you actually gave a driving lesson to His Royal Highness Prince William.
Catie Munnings: Well, not in Senegal, actually. So, I was filming. It's actually up in Scotland, Knockhill race track.
Ed Bernardon: Oh, in Scotland, okay. So he didn't have to go very far.
Catie Munnings: No, it was just before he went to Senegal. So, I think he had some royal duties up there. And then in the evening, he was able to come and drive the Extreme E car, which is really cool.
Ed Bernardon: Is he a good driver?
Catie Munnings: He is such a good driver, yeah. So, I had no idea what to expect and I felt quite a lot of pressure because it's hard when you're sat next to somebody and you don't know if — I've been Rally instructor in my past, so I didn't know if he could drive or if I was going to have to say, "Brake now!" Or whatever. So, it was actually quite an interesting one because I was really nervous. And obviously, you don't want to tell Prince William what to do, but at the same time, you want to keep him safe in the car.
Ed Bernardon: Yeah, I know; "Your Highness, please break!"
Catie Munnings: Yeah, it was a bit like that. But actually, he was really relaxed, really friendly, really excited to be doing as well. I didn't really realize but he's got such a love for fast cars and motorbikes. And so he was excited to be doing something different out of his usual day-to-day stuff. So, yeah, I mean, it was a really cool experience. I don't think I'll be able to say that I'll be able to do that again. So, it was really exciting.
Ed Bernardon: What was the most surprising thing of driving around with the prince?
Catie Munnings: I think yeah it  just how good he was in the car really. I really wasn't expecting it. I remember sitting next to him and him saying, "Oh, I'm just having some fun." But I remember thinking, he could actually be a Rally driver. I've sat next to a lot of Rally drivers, and he was really talented behind the wheel. So, I was really surprised by that.
Ed Bernardon: Do you think that Timmy should be scared that maybe you'll switch partners in the future?
Catie Munnings: That was actually the first text I sent after we'd finished the filming. I said to Timmy like, "No pressure but we have got someone that might be a potential threat to your seat next year."
Ed Bernardon: Well, let's talk a little bit more about how Extreme E works. I think there's an intent here also to draw in a younger fanbase. You mentioned how you can get online and pledge your environmental points, that type of thing. Is that really the intended audience? Or is it all age groups? Since there aren't spectators, what are the main ways in which you actually use media – or whatever it might be – to draw attention to the race and ultimately to improving the environment?
Catie Munnings: The audience is definitely aimed at the younger generations. And we can see that in the way that you've got things like FANBOOST and the GridPlay, which is the voting for the grid on the final race. I think those sort of things really come back to the generation that play video games, and they're used to having some kind of influence over the sport that they're playing with. And so I think that's kind of direct and that makes sense when you think of the electric market and who we're trying to appeal to, and the younger generations buying electric cars in the future. Also, I think they're the older generations, you've got icons of racing, like Carlos Sainz, who would have been the pinnacle of Rally against Michel Mouton, and you have him racing as one of the drivers in the championship. So, obviously, you're going to automatically attract his following. And I think a lot of people are interested from the sporting side as well as to how the racing goes. So, I think it's actually quite a broad mix. And also from non-Rally fans, people that aren't involved with motorsport, because normally it can be quite niche and quite hidden away on TV. You've got to be really looking for it to find it on the channels. And now I think that it's actually mainstream. I'll speak to my neighbors who have got no idea about motorsport, and they'll say, "I saw you last Sunday, you were in Africa racing or whatever it might be." So, I think it's starting to become a bit more mainstream, which is cool for the offroad world.
Ed Bernardon: So, who are some of the automotive manufacturers or the big names of the automotive industry motorsports that are involved in this?
Catie Munnings: So, I think for Season One, it was kind of a bit like Formula E, and the fact that it was one championship car. So, it wasn't like manufacturers came on board and made a lot of different parts for Year One, they wanted it to be quite across the board, so we had competitive racing. And so for Year One, there's none, I think GMC is supporting the Chip Ganassi team with the Hummer. So, they've been able to do some bodywork changes to the Odyssey to, obviously, make it look more like the Hummer. But from year two, obviously, McLaren signed, I'm sure we'll see some more manufacturers signing up in the next season, which is exciting. And actually, it's very diverse for McLaren to be doing SUV electric racing like that. So, it's cool to see them branching out. And I'm sure that we'll see a lot of other brands follow suit. I'm not sure, to be honest with you, who the next ones to be revealed will be. But I think there's still a lot of control over the car for the next couple of seasons. So, I think there are small things you can start to change with the suspension and parts like that. But I think, in terms of the actual car, it's staying relatively across the board just for that reason of having a fair chance for everyone, I guess, and to have all the teams with a fair shot of the championship trophy.
Ed Bernardon: But the idea would be to ultimately get car manufacturers involved, just like you have in Rally now in the World Rally competition.
Catie Munnings: Oh, yeah, absolutely. And I know that those conversations are happening with every team all the time, the same way Formula E saw that as well, and it becomes a sort of manufacturers pool. And I think because it's electric, obviously, it's a lot more attractive, and it ticks a lot more of the boxes that those manufacturers are looking to tick now. In the UK, the ban on combustion engine sales in 2013. So, a few years off now I know that from a marketing and advertising point of view, it doesn't make sense to be supporting championships that are fully combustion engines without renewable fuel sources. So, it's making sense from that side. I think it's a good time to be involved in electric racing from my career perspective as well because it's inevitable in a way that that kind of switch in the motorsport is seen, and we're seeing a lot already with Formula E and now Extreme E.
Ed Bernardon: And I think for the automotive manufacturers when you think about it, you're racing in all these extreme conditions. And we have to admit, although the desire for electric cars is growing very, very quickly, and more and more are being sold, it's still relatively in its infancy compared to internal combustion engine cars. So, the dust, the vibration, the heat, the cold – I would imagine it's a great testing ground for this new technology – everything from batteries to electric motors to managing power. How do you think the impact that Extreme E can have on the automotive industry based on the fact it's such a great testing ground for all the new technologies related to EVs?
Catie Munnings: I actually think Extreme E is a massive platform for the future of electric cars. When you think of even just a manufacturer developing a car and then the rigmarole has to go through, and the terrains. We see them when I was working up in the Arctic Circle, I used to do some instructing on the ice lakes up there in the winter. And next to us would be the Porsche testing ground, the Audi testing ground because they all had to take them to the extreme environments to test them.
Ed Bernardon: Yeah, they all test in deserts and in the Arctic, all the car manufacturers do that.
Catie Munnings: So, I think this is almost like "killing two birds with one stone" for them if they're to get involved. I'm still new to the electric side. For me, this is a very new way of racing. And we're thinking a lot about the battery temperature, and the state of charge, and those sort of things. So, it's new in that sense. But actually, I think a lot of this crossover from traditional motorsports, so it's quite easy to kind of fit. To be honest with you, I find it easier to drive because you have a brake and an accelerator, you don't have a clutch and gears and all of those things. And you have the instant power.
Ed Bernardon: And instant torque to swing the car around, wherever you might want to do.
Catie Munnings: Yeah, you do have instant torque. So, as soon as you accelerate, you have the power so you don't have to think about carrying as much momentum, and they're powerful as well. So, I think, from the manufacturer's side, it will be really important for them to become involved because also I think there's a lot of questions about reliability with electric cars and safety. We can roll these cars and can still be safe.
Ed Bernardon: With the heavy batteries and everything.
Catie Munnings: Yeah, and they're not going live, they're not bursting into flames from that side. I think it's important to be showing that and to be showing that they are just as good from the offroading side and the performance side with the speed. I'm not saying that the technology is perfect, there's still lots of —
Ed Bernardon: Well, this is a way to accelerate that development.
Catie Munnings: Yeah, exactly. And I think when you look at it from a consumer point of view, there's a lot of things around charging points on the roads and service stations and those sort of things that when all of that starts to catch off and when it becomes a lot more accessible in the every day, I think that's when it will really come into play because people will really be considering. And when the cars come down in price – the electric cars – hopefully, they will come down to the other cars in the market when they become a lot more popular and a lot more normal, I guess, then I think a championship like Extreme E will really come into play when you're comparing a McLaren SUV electric car to a Porsche or whatever it might be, I don't know.
Ed Bernardon: Do you own an electric car?
Catie Munnings: I don't. No, I'm working with Land Rover now, so I'm getting a hybrid. So, I'm kind of going halfway.
Ed Bernardon: If you could buy an electric car, which one would you pick?
Catie Munnings: Do you know I think I've only driven one, fully electric, I've driven the Tesla. I think that was the only electric car I've driven. So, probably be the Tesla. I like the games on that. And if you've been in one, they've [  crosstalk] very cool, I like that.
Ed Bernardon: Now, there's another side to the electric car. Because if you charge an electric car with dirty energy that's from a coal-fired power plant, it's not nearly as good. And obviously far from being as good as charging it with clean energy with a sustainable energy source. And that's one of the keys to Extreme E. And in fact, Siemens is involved in wind turbines and electrolysis machines and things like that. And I believe that hydrogen is actually used for charging the cars, ultimately, in Extreme E. So, it's truly a clean energy source. And that's an important part of the future for electric vehicles for them to really achieve what they need to achieve from an environmental standpoint.
Catie Munnings: Yeah, absolutely. I mean, you have to trace it back, as you say, to the starting point because if the sources aren't renewable then you might as well be running with combustion. It has to kind of follow the environmental messages. And so it's cool to see that the only byproduct is actually water from this energy that we're creating. So, I saw it in the middle of the desert, and it's kind of these fuel cells that are kind of like containers. And we had the guy that developed them there, explained this to Prince William as well, which was interesting to hear it straight from him. And he was sort of saying — I'm no scientist, so I'm not going to try and go into the scientific ties of it, but you basically have hydrogen, and then you do something to it, you create the energy that we need, and you end up with water as the byproduct. And I think that water is actually being used then to wash the cars. So, when we got muddy, we're then able to use that to clean the cars in the middle of a desert or wherever we are.
Ed Bernardon: So, the exhaust of your cars, those big SUVs, is water.
Catie Munnings: Yes, exactly. It's pretty incredible, really, that the byproduct of that process could be something that's — and you can use it in anything really. So, I've been really impressed with that and I think it's really cool to see that because, obviously, I think that's one of the biggest questions around. I was listening to a podcast the other day when I was driving, and it was talking about how green are our electric cars, really. And it was saying, "They're only as green as the energy source that they're coming from." And I think that's not just talking about the performance side now Extreme E, that's very true from consumers when they're thinking about buying it. So, hopefully, the technologies like that will filter out and become a bit more mainstream, and maybe even make it onto the National Grid, who knows.
Ed Bernardon: The other thing about Extreme E, as you've mentioned, is the fact that there's a woman and a man on every team. And so now, throughout the entire competition, you're working very closely with your male teammate; how do you think men and women – if there is a difference, I would imagine there might be – but how do you think they approach the competition in racing? How is it different? How is it the same?
Catie Munnings: I think it's cool to be working alongside a teammate. I'm working alongside Timmy. And normally when your teammate Formula One and and Hamilton, for example, and you see that they share info but they don't share enough to let the other one have an edge on them. In Extreme E, everything is shared because the faster he can go is better for me. So, all of the info that we can gather together is brought together. And it's no secret that the men have more experience in the championship. We've got like nine-time world champions or whatever. So, when you're actually in a team with a teammate who's got experience and is able to share that, it's really invaluable. It's like having a driver coach with you there all the time. But I think what's been interesting and what wasn't really expected is the pace of the girls compared to the guys. There's not a big gap. We're mixing it in the middle of the guys' times. There's no sort of "These are the male times." And then you can see there's a 10-second gap "The female time starts," or whatever.
Ed Bernardon: Have you ever had a run where you're faster or are you usually faster than Timmy?
Catie Munnings: Oh, yeah.
Ed Bernardon: What does Timmy say about that?
Catie Munnings: Oh, no, I think it's all part of it. We did some testing at the beginning of the year and it was really cool to see everyone kind of swapping times. And obviously, we're trying different stuff all the time on the car. So, we're constantly be going with different setups and different suspensions. And Timmy, he was looking at some race data, and I was better on the slow corners, and he was better on the fast corners, and then we're able to just share that info. I mean, he's excited because he wants me to do well. And obviously, I'm the same for him.
Ed Bernardon: So, you've beat a WRC Rally champion, then?
Catie Munnings: Oh, no. He's an amazing driver. He's very, very quick. I think he's had some of the fastest times out on the track as well when we've been racing. So, that's really cool to have him as my teammate. But I mean, we don't really have separate times on when we're actually racing. It's only really interesting that we can look at the data because when we're racing, we'll actually have different tracks. So, if he starts the race, he goes off the start line. And then if I'm second, I'll be in the pit lane, and my time will start from there. And then I'll be in dust of whoever's in front or whatever. So, you can't compare the laps because they are different layouts to the finish line and that sort of stuff. So, we don't really look at it – comparing ourselves against our teammates. But you compare yourself in the way that there are no set rules for who starts the race. And you don't really know until you get to the start line and you look across to see who's next to you. But in some races, you have the guy starting against the girls, and it will be team tactics as to who's going to be starting and who's going to be starting the second lap. So, it's exciting from that side. I don't think that there's anything different in the way that the female's race or the way that the male's race. I never look at a car next to me and think "Oh, that's definitely a girl driving that." so yeah i mean
Ed Bernardon: "It's just racing. Get out there and race."
Catie Munnings: Yeah, exactly. The same as it would be if you were going go-karting; you wouldn't be thinking about who's in front of you, you just know that you want to beat them so.
Ed Bernardon: Oh, exactly. Just a go-kart with a number on it and everyone else has a helmet on, you can't tell. You just got to win. You did quite well in the desert. I believe you and Timmy came in second. Correct? When you're racing, there's all these details like, "Oh, should we raise the tire pressure 1 psi, or a quarter of an inch, or a 1,000th of an inch," or whatever it might be on how you adjust the suspension, or this, or that. But you came in second, and in one of your runs, you are running on three tires. So, basically, one tire was doing nothing. And I'll tell you, I saw the video of it, it was very dramatic and all the dirt you were kicking up. I mean, what's it like? You know your tire is blown, any second, who knows what might come off of it and get stuck? What's it like driving a car which is three wheels in a competition like this?
Catie Munnings: Let's be honest, in Rally, it's quite common to have punches. And I'll always say to my co-driver, "How many kilometers is it until the finish?" Because you know if you stop, you'll lose roughly around two and a half minutes.
Ed Bernardon: So, you've done it before, it wasn't a big deal for you?
Catie Munnings: Yeah, so you have to change tires and then, on a Rally stage, you're trying to figure out if you're going to lose more time by stopping and changing the wheel or if you'll lose more time by just carrying with it and, obviously, being a bit slow because you've got a puncture. But you try and figure it out. So, if you're at the start of the stage, you'll have to stop it and change it. But if you're at the end, you can get away with driving with a flat tire. So, I knew something was up. And it actually happened in Timmy's lap, and it was kind of a slow puncture. So, apparently, when I pulled out, the other teams mechanic saw it. And then I started to be honest, it was so loose. Because we're not racing on a prepared track, we're on bumps in the middle of the desert, and there are holes, and there's all sorts happening in the sand dunes. So, you don't really ever feel like the car is 100% in control, it's very loose, it's all over the place on the rear. So, I just thought "The track is getting worse." And obviously, then I realized when the tire kind of popped off that what was happening. And then the engineers just sort of saying, "Just keep the pace." In my head, all I was trying to do was lose as little time as possible because I knew that the qualifying time was added to the next qualifying session, and that would determine who made it to the final. So, it was really important for me try to not back off and just try and limp the car home. I was surprised because normally I'd be told off for getting a puncture but that was quite celebrated, I think because it got the coverage on TV. It probably looked a lot more spectacular outside than what it felt like inside the car.
Ed Bernardon: Well, I'll tell you something very interesting about that video. You don't have a full-face helmet. And for those that aren't familiar with racing, there's nothing in front of your face, at least your mouth and your chin and all that. Obviously, your eyes are always open regardless of what kind of racing. It was very interesting to see all the facial gestures that you were making; sort of biting your tongue maybe. I'm thinking, I wonder if all racecar drivers do that. Because you never get to see their faces, I thought that was really, really — Did you know you did all that while you were driving?
Catie Munnings: To be honest, you can watch any video of me and I'm doing that all the time. It's just the way I drive. And quite a lot of drivers Sara Price, who's from America. She's in the championship. She said, we have that conversation, apparently, she does the same. I thought you'd see it in Formula One but they all wear full-face helmets, you don't see it. I think it's just a concentration thing; some people stick their tongue out.
Ed Bernardon: I bet you, all drivers do that. Because after I saw you do that – I still race go-karts sometimes – and I noticed; "God! I'm gritting my teeth." I must be  Who knows what other kind of facial gestures I must be doing?
Catie Munnings: I get teased about it. So, I said to my team, "That's it, I'm doing a full face." But they said, "No, no, no, you have to keep." My engineer said that he can actually tell about what I'm feeling in the car now by my facial expressions. So, I think it's useful for them.
Ed Bernardon: They know exactly what to do when you come in; "When the tongue is to the left, it means this."
Catie Munnings: It's like a Morse code.
Ed Bernardon: I want to finish off and talk a little about women in motorsports. Why is it so important for you to get more women involved into motorsports?
Catie Munnings: I think it's really cool to be raising the visibility of it; of women in motorsport through a championship like Extreme E. You're not creating a championship just for the females, and it's not comparing yourself to the man. I think it's one of the spots where we can not compare ourselves to guys, which is really exciting. It's the way I've grown up, I've never thought of myself differently, or I've never been interested in just beating the girls, I wanted to be the fastest driver regardless of who they are. So, I think it's really cool to showing the visibility on mainstream TV to people that actually there are seats, and these are professional drivers at the top of their sport here, and they're females, and that they're there. Yes, of course, and the first year is one of the championship regulations. But hopefully, we'll see it start to filter into the other filters of motorsport as well, whether it's single-seater or track racing, hopefully, we'll start to see more girls coming to the top on merit in the future. And I think the only way to really do that is to encourage girls at young age to get involved with motorsport. So, I've worked with Susie Wolff a lot, actually, on Dare to be  different campaign when she started that up in the UK. And she used to help me a lot with my career as well when I was starting out. And we actually had the same manager for a while, so I know Susie well. And she did some great stuff in the high early days where we would get schools together, and we'd have a Sky Sports presenter from Formula One, a mechanic, an engineer, a driver. And we'd have little stations and we'd get people from school to come and the girls would be trying to pit stops on the Formula One car and changing tires, and talking about the aerodynamics. And by the end of the day, they were inspired and thought that they could have careers in motorsport, whereas they came in thinking, "Oh, no, there are no girls on the Formula One lineup, that means that there are no options for me to have a career in the sport." I think it will take a while to filter through to actually seeing an impact at the top level of sport because there are so many other things that affect when you have a champion or someone that's — everything that it takes to make it. The same way as every guy makes it, but I think it's just about increasing the numbers, and that's the way to do it.
Ed Bernardon: Well, if you go back a generation, young women and young girls never had the exposure to seeing women in motorsports like what you're doing here. I recently saw a documentary about Janet Guthrie. And the difficulty she went through where there the racers were saying, "Oh, a woman could never do this." But now that's not even discussed, and just seeing doing things like you're doing here shows that there are possibilities for young girls to do this. But it's not just about driving. I know you're involved in many different programs – Dare To Be Different is one of them – with Susie, I think Michelle Mouton is involved and things like that. But that brings in other aspects of motorsports. So, it could be driving, could be engineering, could be marketing. Can you tell us a little bit about Dare To Be Different? What are some of the other programs that you're involved in? And maybe give us a little story or something really impressive that's shown the impact that some of these programs have had on young girls, and really just young people in general, and making them interested in all aspects of motorsports.
Catie Munnings: I work with Women of the Future as well, which is a UK-run charity or an organization, but it's not just about motorsports, so you have people that are CEOs. I think we had a fighter pilot from India and we connect in London once a year. And now you get to have stories of the women and what they're doing and how'd they got to where they were. So, I always love to reach out and branch out of my industry. So, I think it's very inspiring when you hear stories from other people. I think it's often very difficult, even in an office space, I never really thought about it, but you hear some of the women that have gone right from the bottom of a company and now they are CEO. And you hear the challenges they face with, whatever, it might be pay gap. All of the other things that they've had through their careers. And actually, then you think about motorsport and how you can try and change that, and think about how we can improve as a sport. So, it's quite inspiring to do that. I think as I said earlier, some of the best moments that I've had, and some of the best stories are seeing it firsthand when I've been working with the young girls. And I think it's the classic thing of put your hand up at the start of the day and say, "Who's thought about becoming a racing driver or an engineer?" And just seeing none of the hands up. And by the end of the day, everyone's hands up because they're really inspired to do it. And I've seen it Rally stages as well. I've got a little Czech girl. Well, she's probably not little anymore, because I haven't done that rally for a while. But when I used to go in the European Championship, I would be literally in the middle of nowhere in a village, in the Czech Republic. And you wouldn't think that they would be into rallying but it just didn't seem like there was a lot there are really rural. And on the rally route, it would be a road section, and every day and then during the races, I'd pull up and this little girl, she'd made me a poster saying, "Go, Catie!" And I've never met her before, but I was the only one she was supporting. And she was a young girl. And I remember she sent me a letter, and then I sent her a letter back and we became sort of pen pals on that. And she sent me some gifts from her home in the Czech Republic, which is really sweet. And she sent to me some polaroid pictures that she'd taken with a camera from her disposable camera. It's cool just to see people like that, and it might not mean it'd be anything to do with motorsport, but to know that you're showing them that they can do whatever they want to do, really.
Ed Bernardon: Oh, yeah. And they won't think twice that a woman could do that. I had the CIO of Stellantis, which is a major OEM in the automotive industry. She was involved in – similar to you – teaching young women about things they can do. And in one of her talks, a little girl raised her hand, and she said, "Yes, do you have a question about what I do?" She goes, "Yeah, I really would love to do your job because I want one of those yellow jeeps like you got for free." So, to her, this young girl, being a CIO; "Oh, of course, I can be a CIO, what's important to me is how do I get that free yellow Jeep?" So, exposure is everything.
Catie Munnings: Fair. Not bad aspirations to have.
Ed Bernardon: Yes, exactly. Now, the last question, and then we'll get into our last bit here. So, now you're an Extreme E and a great series and great goals it's having. Where do you see yourself in the future? Do you think Formula One, maybe, IndyCar? What's your goal? What's your big goal in racing? It sounds like that's above your TV goals.
Catie Munnings: I think offroad is very different to single-seater. So, Formula One, they're karting from five, and then it's a completely different route to go down, really. Mine is the offroad side, so it's a lot more — I'd guess you don't have to start at such a young age; takes many more years to get to the top of it because you need so much experience with so many different lap surfaces and you need a lot of maturity in the way that you drive to not just be flat out everything because it's like an endurance race if you know what I mean – so, it's about surviving as well. So, I'm definitely on the offroad side. So, I've got no experience in karting or anything like that, really.
Ed Bernardon: When do you think we'll see you as World Rally champion?
Catie Munnings: Well, to be honest with you, I didn't even know. Like you look back to a year ago and Extreme E didn't even exist. So, it's really hard to say which championship you see yourself in the future because I think the world of motorsport is drastically changing now with everything going from combustion to renewables and electric. So, I think Extreme E is a really cool place for me to be at the minute. I started in World Rally Championship last year before the pandemic, but obviously, plans kind of went out the pan with that. So, it'd be great to revisit that at some point.
Ed Bernardon: Well, you succeeded in TV, you're doing a great job at Extreme E; I'm sure whatever you pick, you'll do a great job. Thank you so much for you know explaining Extreme E, and showing all the possibilities from potentially being a dancer and ending up as a championship racecar driver. Thank you for being on the show.
Catie Munnings: Oh, thank you for having me.
Ed Bernardon: Oh! We always end up with what we call rapid fire. It's a series of questions; very short answers or longer if you'd like. And that'll give everyone a chance to get to know the aspects of Catie that we didn't touch on the podcast. So, if you're ready, we can go. All right. What was the first car you ever bought or owned?
Catie Munnings: Oh, I've got two answers for that, because the first car, I think, would have been the one that my dad bought when I was younger and I was telling you I'd have my friends around. So, I think that was Project 106. It was an old banger, like, it couldn't drive it on the road, it was about 30. But my first road car was a Mini, and it had a checkered flag on the roof and on the wing mirror. So, I thought it was really cool when I used to drive to school.
Ed Bernardon: Definitely racing influence. Did you pass your driver's test on the first try?
Catie Munnings: No, I didn't admit that first for a while. I didn't understand roundabouts. I was just really confused because sometimes people would indicate and sometimes they wouldn't. And I think it was fine, and he said that I pulled out on a bus but I was well out of the way of the bus by the time he got to me. But, no, the second time for me.
Ed Bernardon: Roundabouts have been here in Boston forever. But I moved here from Indianapolis, and we didn't have any there at the time. And the rule of the roundabout in Boston is, "Do whatever you want but don't look at anyone in the roundabout in the eye because now they know that you can see them." Anyway, that's how they do it here in Boston. Have you ever gotten a speeding ticket?
Catie Munnings: No, I don't think I have. Maybe in Europe. Well, it's a bit confusing, though, when you pick up a hire car. Actually, I think because as I said earlier, I'm not old enough to hire a car, so my dad always comes with me. I think he's the king of speeding tickets, then puts them under my name.
Ed Bernardon: So, that he doesn't get all the bad points from the speeding ticket.
Catie Munnings: No, I think he takes them. It's always a bit of a fine line. But I don't think I've had any in England. No.
Ed Bernardon: So, we like to talk a lot on this podcast about autonomous cars. And we refer to them like a living room on wheels where you're not driving, so you can do almost anything you want. So, imagine, you have your ideal perfect living room on wheels, you're on a five-hour trip from somewhere in Scotland down to London, say – what does your living room on wheels look like?
Catie Munnings: So, I would definitely have the Rolls Royce ceiling with the stars – definitely going to have that in there. I reckon it would be like a business class flight.
Ed Bernardon: Yeah, you can think of it. But why not go first class, you can have whatever you want?
Catie Munnings: Yeah, actually, that's true. I don't know why I'm limiting myself there. I'll have like the Emirates service, I'd say. That would be the dream, wouldn't it? Nice blanket, kind of chill out, TV. Although I'm not sure I would actually trust an autonomous cars. I think I'm getting ahead of myself.
Ed Bernardon: What person, living or not, would you want to spend that five-hour car ride with?
Catie Munnings: Oh, that's a really difficult question. Oh, my goodness. There are actually so many people. I can't limit it. Well, I'm always really interested in history like Winston Churchill, I think; our Prime Minister, he'd be cool to speak with; Marilyn Monroe as well. Oh, there are so many people.
Ed Bernardon: Well, that's an interesting ride; Marilyn and Winston together. What question would you ask Winston? If you'd only have one question, only one.
Catie Munnings: Oh, I've watched so many documentaries from his time and I'm really interested to know what goes on behind the scenes that never comes out. I don't think he'd tell me. He's probably written silos of NDA.
Ed Bernardon: What car best describes your personality?
Catie Munnings: Probably the Mini, my first car.
Ed Bernardon:  With the checkers racing stripes?
Catie Munnings: Yes, checkers drive.
Ed Bernardon: What hobbies do you have that has nothing to do with work?
Catie Munnings: Oh, that's a tough one. I love music – musical instruments and stuff. I need to get back more into it. But yeah, I like playing musical instruments. And dancing as well, that's still a favorite – love Spanish music.
Ed Bernardon: What do you wish you were better at?
Catie Munnings: Oh, that's a really good one. There are so many things that I wish I was better at. Probably playing the piano, I'd love to be a lot better than I am at that.
Ed Bernardon: What do you wish you understood better?
Catie Munnings: Languages. Language is the big one. Swedish probably this year with my Swedish teammate. He keeps saying stuff in Swedish, he's like, "Oh, I wish you understood it because it's a funny joke."
Ed Bernardon: That's always a good excuse if you've told a bad joke, to an international crowd, at least. If you could have an answer to any question, what would that question be?
Catie Munnings: That's a really difficult question; what answer would I have. I was thinking something about the future but I actually don't really want to know. I think that would ruin it if you knew what was going to happen in the future.
Ed Bernardon: How did the universe begin, maybe? That's the exact opposite.
Catie Munnings: Yeah, actually, I am really interested in space. Maybe that. And that's actually quite funny because Timmy, my teammate, every time I look at his phone, he's watching physics videos on the big bang and everything. He's obsessed with it. So, that would be a good question for both of us probably.
Ed Bernardon: if you could un-invent one thing, what would it be? Get rid of it. Gone forever.
Catie Munnings: Do you know what? It was interesting because I use it a lot and I rely on it a lot for my work and I actually quite enjoy it. But telephones, I think, I'd quite like to live. I always say, "Oh, I love it when my phone goes out of signals." I would like that. I don't think I'd want to do it full-time, but maybe just like a week off.
Ed Bernardon: And if you could magically invent one thing, what would that be?
Catie Munnings: I'd love to have a fast form of transport. I spent a lot of time in airports and stuff; just like a click of the fingers and you're there, I feel I can save so much time.
Ed Bernardon: Tell us something about yourself that would surprise your friends and your family.
Catie Munnings: Surprise my friends?
Ed Bernardon: Friends, family, people that know you well. Dig deep. If you told them this, they'd say, "Oh, my goodness! I never would have expected."
Catie Munnings: I think my family knows me better than myself. To be honest with you, I always think I've got so many things that are quite unique, and then they're like, "No, I knew that." "I knew you're bad at parking." My sister always says that to me. I always think I'm a good driver, and then she's like, "You're really bad at parallel parking." To be honest, I think everything's out there. I think my family knows everything about me. Yeah, I really do. Too many boring answers.
Ed Bernardon: Well, I tell you what, if we ever have you again on The Future Car podcast, they'll have to tune in to figure out what that is.
Catie Munnings: Yeah, I'll have to have some more time to think about that one. Maybe that means I'm an oversharer, maybe that's the fact about me.
Ed Bernardon: It could be. A lot of posts on Instagram. But if you come up with an answer to that, just send it to us, we'll put it in the show notes, so everyone will know.
Catie Munnings: All right. I'll let you know.
Ed Bernardon: Catie, thank you so much. That was a fun interview and very, very informative. And good luck in Greenland and beyond.
Catie Munnings: Thank you so much. It was great chatting to you guys. I look forward to speaking to you again soon.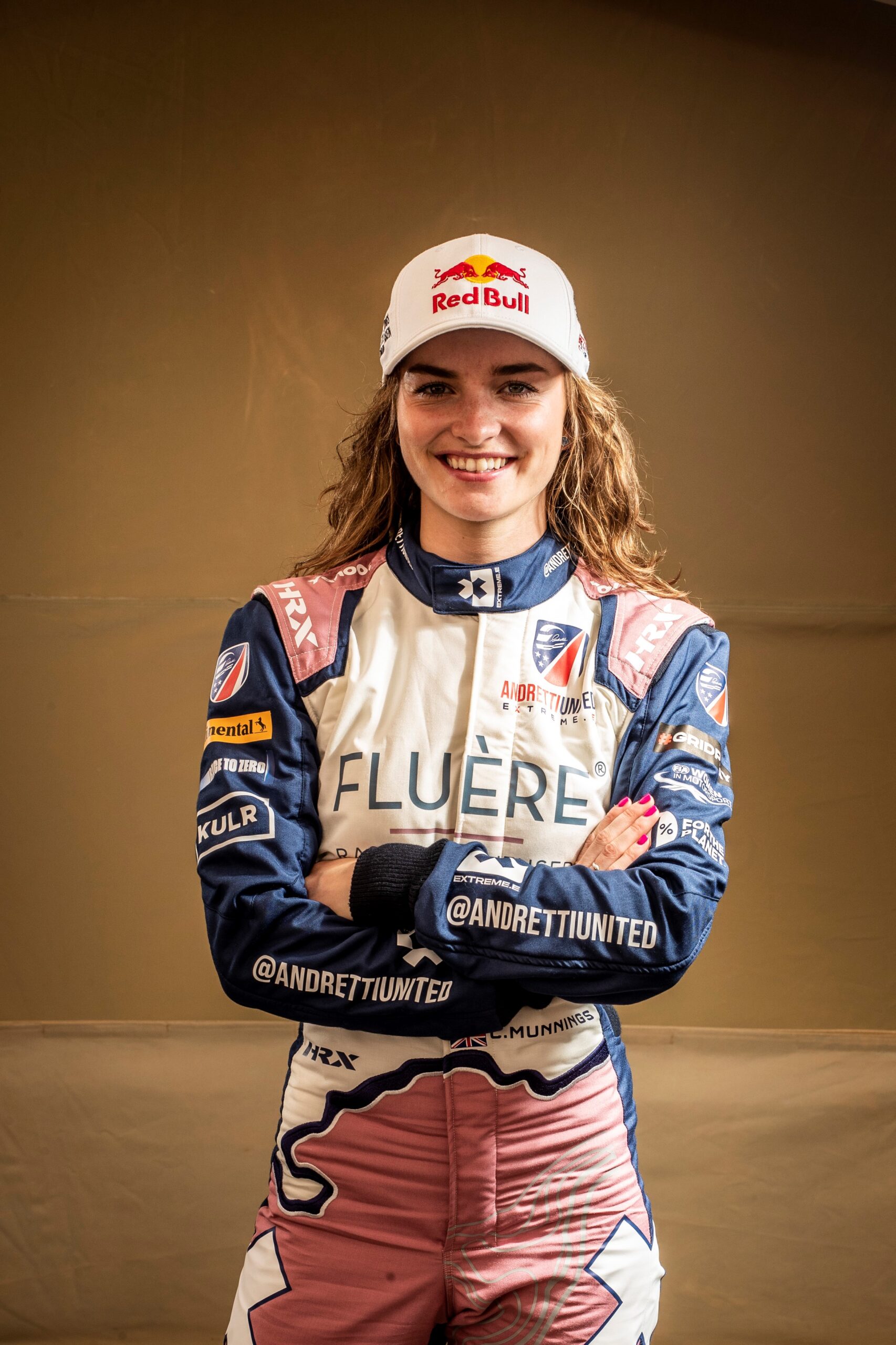 Catie Munnings- Guest, FIA Extreme E Andretti United Driver
A rising star in Motorsport who inspires both on and off the track. In her first year in the sport, and while she was completing her final A-level exams, Catie won the Ladies European Rally Championship, making her the first Brit to win a European Rally title in 49 years. Her continued success led to her becoming a Peugeot Brand Ambassador and the UK's first ever female motorsports athlete to sign a sponsorship deal with Red Bull. Catie advocates for causes close to her heart, and has partnerships with a number of organizations. Her ambassador roles for the Sean Edwards Foundation and IAM Roadsmart promotes driving safety awareness, and her work with the 'Women of the Future' programme and 'Dare to be Different' campaigns encourage girls to get involved in motorsport and celebrates their achievements. Catie has also built a successful TV career, presenting her own CBeebies TV series "Catie's Amazing Machines". Catie continues to inspire generations through public speaking engagements, speaking passionately about all the different aspects of her work.
Ed Bernardon, Vice President Strategic Automotive Initiatives – Host
Ed is currently VP Strategic Automotive Initiatives at Siemens Digital Industries Software. Responsibilities include strategic planning and business development in areas of design of autonomous/connected vehicles, lightweight automotive structures and interiors. He is also responsible for Future Car thought leadership which includes hosting the Future Car Podcast and development of cross divisional projects. Previously he was a founding member of VISTAGY that developed light-weight structure and automotive interior design software acquired by Siemens in 2011, he previously directed the Automation and Design Technology Group at MIT Draper Laboratory.  Ed holds an M.S. in mechanical engineering from MIT, B.S. in mechanical engineering from Purdue, and MBA from Butler.
If you like this Podcast, you might also like: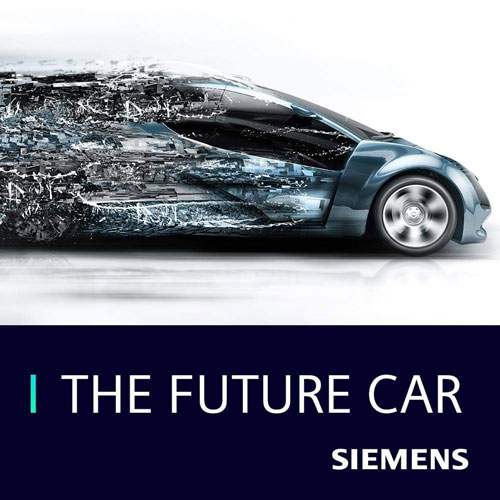 The Future Car Podcast
Transportation plays a big part in our everyday life and with autonomous and electric cars, micro-mobility and air taxis to name a few, mobility is changing at a rate never before seen. On the Siemens Future Car Podcast we interview industry leaders creating our transportation future to inform our listeners in an entertaining way about the evolving mobility landscape and the people that are helping us realize it. Guests range from C-Level OEM executives, mobility startup founders/CEO's, pioneers in AI law, Formula 1 drivers and engineers, Smart Cities architects, government regulators and many more. Tune in to learn what will be in your mobility future.
Listen on:
This article first appeared on the Siemens Digital Industries Software blog at https://blogs.sw.siemens.com/podcasts/the-future-car/raising-climate-change-awareness-through-motor-racing-catie-munnings-pt2/